Are you looking for the best gun safe? There are a lot of these available, but I have done a thorough research and come up with a list of the top ten gun safe your money can buy.
To further help you decide, I offer a comprehensive review of each one so you will have a simpler time finding the one to fit your needs. I also have tips for buyers, so if you want to look around, you will know what features matter.
To get the best gun safe for the money, understanding of the fundamentals is important. These safes have two purposes: to safeguard your firearms in case of burglary and to keep them out of reach of children.
Made from heavy duty materials, these units also provide you with easy access to your firearms when you need them.
Today's top rated gun safes are more than just plain containers: many now come with LED lights for easier viewing of the content inside, sliding drawers for small pistols and fire resistant finishes.
Top Rated Gun Safe Comparison Chart
Now here are some buyers' tips.
How to Choose the Best Gun Safe
If you're looking for the best biometric gun safe, you have to know the pertinent features: the most expensive gun safe isn't necessarily the best. Before going through the reviews, here are some buyers' considerations.
Size
If you're going to store long firearms in the safe, the interior needs to be at least 58 inches high. That gives you more than enough space for a 52-inch rifle with a 30-inch barrel. The ideal width is 36 to 40 inches, good enough to store half a dozen rifles and with room for a side rotary rack.
The larger the safe, the harder it will be for attackers to steal, but a very large safe (i.e. a ton) requires professional installation.
Gun safe weights range from the ultra-portable for single pistols to those weighing over 2000 lbs.
Construction
Continuous welding is characteristic of high-quality gun safes/cabinets, so avoid those with stitch welds as they're not durable. Cheaply made safes also use plastic filler instead of welding: avoid these as they are flammable.
For wall thickness, 18-inch gauge is the minimum, with 8 gauge preferable for large gun safes.
Avoid anything less than high-quality steel as they're too thin and can be penetrated by cutting tools.
Locking System
Different locking systems are available, and your best options are high-quality electronic locks and rotary dial locks. Combination locks take more time to open, but they are built to last. However, you can now find professional and commercial level keypad control locks as well.
If you're buying an electronic lock safe, make sure the keypads are sturdy and won't wear out with repeated use.
A good pistol safe must have a solidly designed lid, one that cannot be easily lifted off.
Layout
There should be at least a couple of locking bolts on the sides of the door, and the bolts must be constructed of heavy duty material. Some of the high-end safes have diagonal bolts similar to what is used in bank vaults.
Some gun safes employ a jigsaw design for the door frame to make it harder to break.
The safe must have re-lockers and protection against attempts to drill the walls.
Door Seals and Hinges
Some gun safes don't have any sealing at all, and if you're looking for high-quality gun safes for a large firearms collection, this is a must. First of all, a good seal keeps moist air out of the unit, and second, it helps prevent rust from coming in and causing damage. A tight door seal is also one of the prerequisites for resisting smoke, flames, and fire.
Given a choice between external and internal hinges, as they let you open the door to a greater extent than those with internal hinges. With large gun safes, external hinges are also ideal because it makes for easier servicing and transport.
Fire Resistance
Fire resistant safes often use ceramic wool blankets or sheet rock. Ceramic wool has a superior insulation rating compared to sheetrock, but sheetrock is quite effective if set between plates.
Aside from being fire resistant, a lot of gun safes today are also resistant to flooding and leaks.
The ideal fire resistance UL Rating is 350 F for an hour. If you can find a gun safe that can do better at an affordable price, get one.
Other Considerations
There are a lot of other features you may want to consider when purchasing a fingerprint gun safe. Interior lighting is important if you're storing a lot of firearms. Don't forget about rust and corrosion: you don't want your guns rusting away.


Top 10 Gun Safe Reviews
There is a difference between affordable and cheap gun safes, and the ones I review here are the best gun safe available. Let's check them out.

#1: Sentry Safe Biometric Quick Access Pistol Safe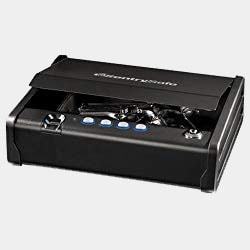 One of the best home gun safe for pistols, the Sentry Safe is a compact and secure safe, providing you with an affordable way to keep your firearm secure. There is sufficient interior space so you can place a full sized semi-auto in it.
The Sentry Safe was designed to safely store your automatic pistol, and the way it has been designed makes it difficult for attackers to pry the lid open.
Just like any quality gun safe, the Sentry Safe has features that prevent unauthorized access. The Sentry Safe is also notable for its quiet operation as no part of the hardware makes a sound.
The Sentry has exterior dimensions of 3.2 in x 12.0 in x 9.9 in (height x width x depth) while the interior measures 2.2 in x 9.7 in x 6.6 in (height x width x depth). It is more compact than other gun safes but provides room for a good sized handgun.
4 AA batteries are required for its operation (not included). Once you have installed batteries, you can start programming the Sentry with your personal code and fingerprint. Bottom line: the Sentry Safe is easy to use.
Quick Access Provided
The Sentry comes with a compression gas strut which keeps the lid open and in position. It is this feature that allows for convenient one-handed access, and you can do this without making a sound, essential if there's an intruder.
Quiet Operation is Guaranteed
The Sentry was designed from the ground up for quiet operation. The bolts don't make a sound and neither does the locking system. The combination of the compression gas strut and zero feedback also ensure whisper quiet operation. This is what enables you to open the safe without alerting possible threats.
Solid Construction All-around
The Sentry Safe is built with solid 12 gauge steel, so it is difficult to penetrate with cutting tools. Even with regular use, the Sentry Safe won't break down and can be depended upon.
Easy to Use
The Sentry Safe is one of the easiest and most intuitive gun safes available today. Press a button and it turns on the other lights on the unit, making it easy to operate even in the dark or dimly lit environments.
Highlighted Features
The keypad is programmable
Doesn't make audible sounds
Easy to open but difficult to pry
Fingerprint program included
Heavy duty 12 gauge steel
Sale
SentrySafe QAP1BE Gun Safe with Biometric Lock, 1 Capacity
Biometric gun safe provides secure storage for one standard handgun; pistol safe with fingerprint scanner for advanced protection
Pistol safe features a gas strut to instantly and quietly open safe door for single-handed access to your handgun; ideal for use as a bedside gun safe. Capacity - 0.08 cubic feet
Handgun safe is constructed with solid steel and a pry resistant door for strength and handgun security; manual keypad and override key for back up entry; California DOJ certified gun safe
Exterior: 12.1 in. W x 9.9 in. D. x 3.2 in. H; Interior 9.7 in. W x 6.7 in. D x 2.2 in. H; weighs 12 pounds; four AA batteries required (not included)
For optimal performance, SentrySafe recommends the use of four high-quality, name branded, alkaline AA batteries with an expiration date of 8-10 years from the current year. Generic and rechargeable batteries often do not have the lifespan needed to support long term usage
Last update on 2020-09-24 / Affiliate links / Images from Amazon Product Advertising API
#2: GunVault SV 500 SpeedVault Handgun Safe
The SV 500 is a fireproof gun safe that you can rely on for storing your gun and other valuables. There are a lot of handy features on the SV 500 and that includes multiple mounting options.
The electronic keypad ensures convenient entry, and you can mount the unit in such a way the keypad and other functions are not hindered.
The SV 500 is fully programmable, but it's easy enough even a first timer can figure out how to use it. While fully digital, it comes with a physical key. This is one of the more interesting aspects of the SV 500 as it shows they cater to different demands.
The SV 500 also scores points for its interior lighting, which is one of the best I have seen in a handgun safe. The lighting is just right and does an excellent job of illuminating the interior.
Going back to the keypad, you can turn the beeping sound off; the first few times you use the SV 500 you may want the keypad to beep, but for security reasons, it's best to have a quiet gun safe. Overall, the SV 500 is a well-designed product.
Powerful Locking Mechanism
The lock mechanism on the SV 500 has been designed in such a way so it cannot be pried open. This makes the SV 500 ideal for storing not just guns but also other valuables.
Backup Override Keys Included
No matter what the situation is, you want access to your GunVault, and that is what you get here thanks to its backup override keys.
Interior Lighting for Easy Viewing
The SV 500 is equipped with the Interior Courtesy Light so you can easily see your firearm or whatever valuables you have stored in it. In case of emergency or a break-in, you don't want to alert the intruder; here you can still see the interior of your gun safe and grab the content.
Durable Built and Design
The SV500 was built with your protection in mind. For this reason, it is built from 18 gauge solid steel. With this type of housing, you can feel confident about the security of your weapon.
Highlighted Features
Runs on a single 9V alkaline battery
Soft Foam Interior provides protection for your firearm and other valuables
Has a 5-year warranty for burglary and fire
Digital keypad provides quick access
Drop down drawer for quick activation
Sale
GunVault SV500 - SpeedVault Handgun Safe
For handguns
Exterior dimensions: 6.5 inch high x 3.5 inch wide x 13 inch depth
Interior dimensions: 2.75 inch high x 5.75 inch wide x 8.5 inch depth
Mountable, protective foam liner, audio/LED low battery warning, interior courtesy light, tamper indicator, computer black access after repeated invalid entries and backup override key included
California DOJ approved/requires 1 9V battery
Last update on 2020-09-23 / Affiliate links / Images from Amazon Product Advertising API
#3: BARSKA Biometric Safe
Most home and car gun safe products have limited functionality, but the Barska is a notable exception to the rule. Barska is known for manufacturing quality safes and this lives up to their high standards.
Measuring 16.5 x 7.75 x 14.5 inches (W x H x D), the Barska is large enough to store small handguns, jewelry, documents and other valuable items.
The compact dimension of the safe means you can conceal this box in a safe spot where intruders and prying eyes won't be able to see it.
There are several security features built in the Barska including keys and fingerprint scanning. These are easy to set up and once configured, you have full control over who has access to the unit's contents.
The fingerprint scanner also has an extensive memory and can accommodate up to 30 different users.
The safe runs on 4 AA batteries (included) and under regular use will last up to two years. The box includes the safe, the instruction manual, a couple of backup keys and the mounting hardware.
The safe also has anchor points pre-drilled so you can secure this on a wall.
Latest in Biometric Technology
The Barska safe uses the latest in biometric technology to ensure the security of your firearms or whatever valuables you have stored there. Thanks to its superior construction there is no need to recall complicated combination numbers.
Fingerprint Scanner for Enhanced Security
The Barska uses fingerprint scanning to safeguard the content. Register your fingerprint and those of anyone else you want to have access to the safe, and only those people will be able to open the Barska.
Backup Keys are Available
Backup keys are provided for further security. While a lot of digital gun safes no longer feature keys, Barska has included them here for your convenience.
Casing is Solid Steel
This affordable gun safe is built from solid steel. It won't be easy to break the safe, an indication this is designed for long term use.
Easy Maintenance and Upkeep
The Barska safe is easy to clean as you just need a dry cloth to wipe the fingerprint scanner. Once you have used the scanner, use the said cloth to remove the prints.
The built-in battery indicator beeps three times and flashes a red light when the batteries need replacement.
Highlighted Features
Motorized lock mechanism
Has a one year warranty
Fingerprint memory good for up to 30 users
Steel housing
Spacious interior
BARSKA Biometric Safe
Secure Storage: Our DOJ approved safe comes with a 120 fingerprint biometric module that is easy to program.
The Optional Silent Mode: Safe features a silent mode that enables stealthy home defense.
Solid Construction: This safe is built with durable steel, tamper-resistant edges, and 2 built-in pry-resistant steel deadbolts.
Mounting: Pre-drilled holes and hardware allow the safe to anchor in practically any place.
Mortorized Deadbolts: Safe comes with 2 solid steal motorized Deadbolts
Last update on 2020-09-23 / Affiliate links / Images from Amazon Product Advertising API
#4: Verifi S6000 Smart.Safe Fast Access Biometric Safe with FBI Fingerprint Sensor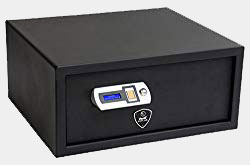 The S6000 may be a small fireproof gun safe, but it is one of the most practical to use. Measuring 17.1″(W) x 11.8″(D) x 7.3″(H) with a door clearance, there is more than enough space here for small guns and other important items. Easy to use and store, you can bolt this on the floor for added security.
Set up takes no more than five minutes and the instructions for the fingerprint scanner are clear too.
Once you have the S6000 set up you can rest easy knowing your gun is out of reach of children while still being accessible when you need it.
The design is beautiful and sturdy, and at 30 lbs. is just the right weight for setting up in your bedroom by the table.
One of the most frequent complaints with gun safes is the difficulty in setting them up, but even for a first timer, the S6000 should pose no problems.
The LCD screen provides clear instructions, and the menu style settings make it easy to navigate and change options, and these are scrollable for added convenience.
Built in LCD
The S6000 conducts a thorough self-diagnosis following each use, and the results are displayed on the LCD. The battery status is displayed as well and the system will notify you if there is something wrong.
Smart Safe Sensor for Fingerprint Scanning
Its Smart Safe Sensor uses 3D imaging technology to produce its fingerprints. Its Smart Safe Sensor has been certified by the FBI and is used by many US government agencies.
Smart Safe AutoLock for Added Security
The Smart Safe AutoLock is a proprietary feature that detects when the safe door has been closed. When this is detected the safe locks the door automatically, perfect, so you don't have to remember to do it.
LED NiteLite for Convenient Viewing
When you open the S6000 its LED NiteLite is activated, lighting up the interior. In a case of a power outage or it is dark, you can still see the contents, and you can turn the light on and off anytime.
Advanced User Management
User management is top of the line. You can add or remove users, adjust the settings, designate privileges and so on. Event and Access logs keep you notified and the alerts and openings can be recalled.
Highlighted Features
Tampering attempts are recorded in a log
Solid steel construction
2 high-security keys included
Can register up to 40 fingerprints
2 lock bolts included
Verifi Smart.Safe. S6000 Biometric Gun Safe with FBI Certified Fingerprint Sensor, w/Nite Light, Self-Diagnostics, Tamper Alerts and AutoLock
LARGEST and ONLY FBI CERTIFIED FINGERPRINT SENSOR in any gun safe captures high-resolution fingerprint images to enhance recognition for QUICK ACCESS
SELF-DIAGNOSTICS are performed on the electronics and batteries to ensure they're ready for use in the moments you may need them the most
YEARS OF OPERATION on a single set of 4 AA batteries (included)
TAMPER ALERTS are timestamped and logged to keep you informed of unauthorized access attempts, backup-key access and reset attempts
AUTO-LOCK, LED night light, backup-key access, wall/floor mountable, stores 40 fingerprints, easy user management, solid steel construction, FSD approved, engineered in the USA
Last update on 2020-09-23 / Affiliate links / Images from Amazon Product Advertising API
#5: BARSKA Top Opening Biometric Fingerprint Safe
In terms of security and features, the Barska is comparable to any top quality hidden wall safe. The top opening design is well-implemented, and when set on the floor is easy to access.
The fingerprint scanner runs smoothly and works as well as advertised: only those that have been registered will be able to open it.
The construction is solid, and with interior dimensions of 14.5 by 11 by 2.5 inches has more than enough room for small firearms as well as passports, jewelry, and other small items.
Aside from the fingerprints and the locking mechanism, the safe also emits a beeping sound if the door is left open after some minutes.
While some people have complained about this, it is actually a good safety feature, so you don't forget to leave the safe open. If you do not like the beeping sound, there is a silent mode option as well.
The Barska Top Opening safe is well-made and doesn't disappoint. The solid contrition is only matched by its security features, and even first timers will have an easy time with it.
Construction is Top of the Line
The Barska is built out of solid steel and was designed specifically to prevent attackers from getting its contents. The safe may have an unassuming look, but it's sturdy.
Fingerprint Scanning for Security
The Barska fingerprint scanner ensures access is limited only to those you give privilege to. For security reasons, clean the scanner after each use. The safe opens only when a registered print attempts to unlock it.
Locking Mechanism for Safety
The motorized deadbolt lock keeps your firearm safe from prying hands. The safe uses a hydraulic system so when opened, gives you quick access to the content. Combined with the fingerprint scanner and you have a robust safe for storing valuables.
Special Access Keys
Aside from fingerprint scanning, the Barska comes with two special access keys you can use in case of emergency. Some people are just more comfortable using keys, so it's a nice addition.
Mounting Options Available
The Barska can be mounted on the floor or walls, and the required mounting hardware is supplied. The hardware is top of the line too so they're going to last a while.
Highlighted Features
One year warranty
Batteries can run up to 2 years
Top opening provides convenient access
Can store up to 30 different fingerprints
Silent mode option
2 back-up keys
Sale
BARSKA AX11556 Biometric Fingerprint Top Opening Security Drawer Safe Box 0.23 Cubic Ft, Multi, One Size
Secure Storage: Our safes comes with a 120 fingerprint biometric module that is easy to program.
The Optional Silent Mode: The safe features a silent mode that enables stealthy home defense.
Solid Construction: This safe is built with durable steel, tamper-resistant edges, and 2 built-in pry-resistant steel deadbolts.
Mounting: The safe comes with pre-drilled holes and mounting hardware, allowing the safe to be conveniently mounted inside large drawers.
Motorized Deadbolts: The safe comes with 2 solid steal motorized Deadbolts
Last update on 2020-09-24 / Affiliate links / Images from Amazon Product Advertising API
#6: SentrySafe SFW123DSB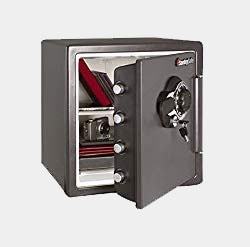 The Sentry SFW123DSB is a top of the line bedside gun safe that is built with convenience and protection in mind. There are several features a good gun safe must have, and the Sentry checks out on all the important ones.
Apart from its solid construction, the safe offers protection from the elements, something other safes in its class cannot match. The Sentry has also been tested for 15-foot drop tests which show the content remains intact.
The safe also has several smart features to simplify access and use. Open the safe and you will see the door comes with a tray, a key rack and a container for small stuff like DVDs, and CDs.
The shelf is adjustable so you can quickly organize your stuff, and the dials and locks provide extra security. The safe weighs 100 lbs. and has exterior dimensions of 17.8 by 16.3 by 19.3 inches.
Sentry has made a lot of high-quality budget safes, and this is one of the best yet. The construction is superb, and the fire and water protection are as good as they come.
The fact that it weighs a 100 pounds is added security as it won't be easy to steal, plus the there is no way to pry it. If you are after quality, this is as good a choice as any.
Construction is Solid
The SentrySafe is constructed from heavy duty materials. The exterior is solid steel and comes with four 1 inch locking bolts, and these are much larger than the ones that usually come on safes. There is also a pry resistant bar built in.
Fire and Waterproof Housing
The Sentry Safe is certified for one-hour fire protection by the Edison Testing Laboratories (ETL) and the Underwriters Laboratories (UL). The Sentry is also capable of withstanding up to 8 inches of water.
Multi-positon Shelf and Racks
The multi-position shelf and several racks give plenty of room to store small items.
Outstanding Security Features
The safe can be bolted down, and you can use a mechanical combination lock too.
Bolt Down Kit is Included
You can set up the Sentry Safe anywhere you want, and the bolt down kit makes it easy to bolt the Sentry on the floor.

Highlighted Features
Certified 1 hour fireproof
Has a one year warranty
Dual key and combination lock
Has 4 live steel lock bolts
ETL verified for water resistance
Sale
SentrySafe SFW123DSB Fireproof Safe and Waterproof Safe with Dial Combination 1.23 Cubic Feet Gray
Fireproof safe is UL Classified to endure 1 hour at 1700°F and keep interior temperatures safe for irreplaceable documents, valuables, DVDs, and USBs; ETL Verified to withstand a 15 foot fall during a fire and remain closed
Waterproof safe is ETL Verified for 24 hours of protection in water up to 8 inches deep offering peace of mind in the event of a flood
Preset dial combination fire safe with secondary locking key for strong security; combination safe features four live-locking bolts, steel construction, pry-resistant hinge bar, shelf, and bolt down hardware
Exterior: 16.3 in. W x 19.3 in. D x 17.8 in. H; door requires 14.75 in. of clearance to fully open; Interior: 12.6 in. W x 11.9 in. D x 13.8 in. H; large 1.23 cubic foot capacity; weighs 86 pounds
Should your fireproof safe be damaged by fire or water, SentrySafe will provide a replacement safe so the things that matter most are protected for generations to come; US based customer service for product-related questions and services
Last update on 2020-09-24 / Affiliate links / Images from Amazon Product Advertising API
#7: Hornady Security Rapid Gun Safe
The Hornady Rapid pistol safe is more than a match for the other gun safe products in the market today. Measuring 15.5 x 9 x 3.5 inches, it is just the right size for storing in your room.
The construction and feel are solid, meaning it doesn't feel cheap, and it functions as advertised. While a lot of safes have the same features and work pretty much the same way, the Hornady Rapid takes it to the next level by using state of the art Radio Frequency Identification (RFID) technology.
Radio Frequency Identification (RFID) for Quick Access
The Hornady uses their proprietary Radio Frequency Identification (RFID) technology for easy access to your gun. Just set the RFID bracelet, key fob or card on the reader and the safe opens up. There are few, if any, other gun safes that use this technology and its convenience is hard to match.
Resistant to Tampering
The Hornady design exceeds the standards set by the ASTM International, so children and youths won't be able to open the safe without the proper authorization. Only those with authorization can open the safe and the built-in safe springs ensure your gun is presented properly.
Several Access Options
The Hornady Rapid Safe comes with several access points. You can use the aforementioned key fob, card, bracelet or a personal program code. A key lock is also included for your convenience. You decide which option to use, but all of them are available when you need them.
Built Specifically for Handguns
Its use of AC power means your handgun is fully protected and can be accessed anytime, so there's no need to worry about batteries running out. The safe does come with a battery backup in case you want to use that as the main power source. Whether you prefer battery or AC power, both can be relied upon here.
Heavy Duty Construction
The Rapid safe is built from solid materials, but at 15 lbs. is not too heavy. The 16 gauge steel construction ensures it is built to last and it also has a 1500 lb. rated, 39 inch cable to deer theft. A lot of attention is focused on the Rapid technology, but its heavy duty construction should not be ignored.

Highlighted Features
16 gauge steel housing
Comes with a special access key
Quality assembly
Easy to use controls
Difficult to pry
Hornady 98150 Security Rapid Gun Safe, Black
Fast, Touch-Free Entry
Child-Resistant Design
Multiple access options
Handgun is always Safe and Ready
16-gauge steel construction and a heavy-duty 1/4" steel dual-lug locking system
Last update on 2020-09-24 / Affiliate links / Images from Amazon Product Advertising API
#8: BARSKA Mini Biometric Safe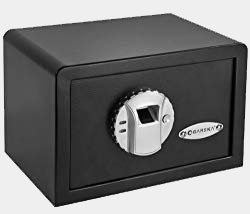 At 7.8 x 11.8 x 7.8 inches, the Barska Mini should qualify as a small gun safe, but it is just as convenient to use anywhere in your home. The design puts emphasis on convenience but does not compromise when it comes to security. Setting up the fingerprint scans is quick, and there is a silent mode option if you don't like the beeping sound.
A frequent complaint with the fingerprint scanner used in most gun safes is they don't work, but this one does. Once your finger and / or thumb have been scanned, the safe will recognize it and open immediately.
The Barska Mini is also notable for being quiet: when you open it, you can barely hear it as it is no more than a whisper. When you want to put your gun back it, just close the door, press the button and it will lock up quietly.
There are a lot of gun safes in the market today, but few of them have any special features that make them stand out. The Barska Mini is an exception as it combines safety with convenience.
Biometric Technology for Secure Storage
The Barska Mini Safe uses the latest biometric technology to ensure rapid access to your guns and whatever items you have stored in it. There are no complex controls here so in case of emergency you can open the safe quickly.
Full Content Protection
The Barska has a spacious interior and has a specially designed mat so your gun and other valuables don't get scratched.
Different Configurations Possible
The Barska Mini can be mounted on floors and walls, and the required mounting hardware is provided. For extra convenience, a set of access keys are provided which you can use to open the safe.
Can Store Several Fingerprints
Oftentimes it takes more than just keys to deter attackers, and that is why the Barska Mini uses fingerprint recognition technology. Capable of recognizing up to 30 sets of fingerprints, this provides extra assurance that only those with clearance will be able to open the safe.
Construction is Professional Grade
The Barska Mini Safe has been constructed from heavy duty materials that ensure its longevity. Compared to other safes, the Barska is built to withstand regular use.
Highlighted Features
Silent Access
Solid steel lock bolts
Comes with floor to protect content
Mounting options
Fingerprint recognition technology
Sale
BARSKA AX11620 Biometric Fingerprint Mini Security Home Safe Box 0.29 Cubic Ft, Black, 12" x 8" x 7.75"
Secure Storage: Our DOJ approved safes comes with a 120 fingerprint biometric module that is easy to program.
The Optional Silent Mode: The safe features a silent mode that enables stealthy home defense.
Solid Construction: This safe is built with durable steel, tamper-resistant edges, and 2 built-in pry-resistant steel deadbolts.
Mounting: The safe comes with pre-drilled holes and mounting hardware, allowing the safe to be easily mounted.
Motorized Deadbolts: The safe comes with 2 solid steal motorized Deadbolts
Last update on 2020-09-24 / Affiliate links / Images from Amazon Product Advertising API
#9: Gunvault GV2000C-DLX Multi Vault Deluxe Gun Safe
When it comes to hidden gun safes, GunVault is one of the best in the business, and the GV2000C-DLX is proof of this. This pistol case design not only prevents prying but provides enough space for storing other valuables.
The GV2000C-DLX has a couple of extra shelves that you can use to store money, credit cards, and other personal items aside from your pistol.
Just like other GunVault safes, the GV2000C-DLX uses the proprietary No-Eyes keypad for quick access. As the name implies, this keypad makes certain you don't have to grope in the dark to gain access.
If you're concerned about intruders prying the safe open with hand tools, don't be, as the construction makes this impossible.
For further peace of mind, the safe provides audio feedback so you will know if the keypad entry is correct. Alternatively, you can switch to stealth mode, so the safe does not make a sound.
The Gunvault GV2000C-DLX is one of the most versatile gun safes today. There is sufficient space for most handguns and pistols, and the way it's been set up makes tampering difficult if not downright impossible.
Add the solid construction design and it is hard to deny the benefits.
High Strength Lock Mechanism Built in
The GV2000C-DLX uses the patented High Strength Lock Mechanism to make certain your firearm and other important items are tightly secured.
Interior Foam for Protection
The GV2000C-DLX is fitted with a Soft Foam Interior, an essential element that keeps the content from rattling and being damage.
Anti-Tampering Technology
The Gunvault safe knows how important security is, so it comes with computer blocks built-in that restrict access following repeated failed entries in the keypad. With this feature, it becomes impossible to try and "guess" the keypad combination.
Learn Buttons for Programming
The GV2000C-DLX is programmable with more than 12 million access codes. With the Learn Buttons, it is easy to learn programming.
Secure Design and Construction
The exterior casing is solid and discourages prying, and the spring loaded door is tamper resistant as well. A close look at the safe's design also reveals the fittings are so precise it is impossible to pry open.
Highlighted Features
Backup override keys for easy access
No-Eyes Keypad for quick access even in the dark
LED and audio warning for low battery
16 gauge steel housing
5-year full warranty
GunVault GV2000C-DLX Multi Vault Deluxe Gun Safe,Black
Unique no eyes; Keypad for quick access
Heavy gauge steel housing with tamper proof spring loaded door; Exterior dimensions (hxwxd) 8.125 x 10.3 x 14 inches; Interior dimensions (hxwxd) 6 x 9 x 12.75 inches
Built in computer blocks access after repeated invalid keypad entries
Learn buttons make it easy to program over 12 million user selectable access codes
Foam lining inside to protect the firearm or other valuables
Last update on 2020-09-23 / Affiliate links / Images from Amazon Product Advertising API
#10: BARSKA Large Biometric Safe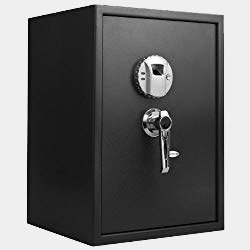 The Barska quick access gun safe is crammed with several features to safeguard your firearms. A protective floor mat keeps the items inside safe from the effects of rattling and bumps. There are also a couple of adjustable shelves to store ammo and other accessories.
Some of the features on the Barska are similar to what you would find in other models in the Barska line, like manual keys and pre-drilled anchor points so you can secure the safe on a wall or the floor.
If you do decide to mount the Barska, the required mounting hardware is provided so you won't have a difficult time getting it done.
Reviews for the Large Biometric Safe show that a lot of people use it to store guns and ammo, but really you can use this to hold a lot of other items.
Once you have set the safe up and stored the contents inside, it takes about a second for the reader to confirm your fingerprint, so it's efficient.
The Barska safe runs on four AA batteries, and they are included in the package. Just like the other Barska safes, the Large Biometric Safe makes good use of its batteries and will last a couple of years.
Large Fingerprint Memory for Convenience
Most fingerprint safes can only store up to 30 different users, but the Barska can store up to 120 unique users. Fingerprint and Biometric technology are the in-thing when it comes to large gun safes, and the implementation here is exceptionally well done.
Backup Keys are Provided
All good gun safes come with emergency access backup keys, and this one is no exception. In a case of an emergency or some other unforeseen event, the keys make certain you will be able to open it.
Plenty of Room for Guns and Other Items
With dimensions of 14.3 x 13 x 19.75, the Barska is large enough to hold small pistols, jewelry, documents, credit cards, documents and electronic gadgets. So this is really more than just a gun safe as it can be used for other items too.
Biometric Technology for Reliability
Barska uses the latest in biometric technology for all its safes and this one is not exempted. Its biometric technology has been rigorously tested and registers fingerprints quickly.
Easy to Use Even for Beginners
The instructions are easy to follow, and even novices will have no problems getting it to work. The finger scanner is intuitive and reliable too.

Highlighted Features
Fingerprint scanning technology
Up to 2 years of battery life
Multiple mounting configurations
2 large removable shelves
Solid housing
BARSKA Large Biometric Safe
CHILDPROOF BIOMETRICS – Foolproof fingerprint security lets you save up to 120 fingerprints and safeguard all handguns away from your kids!
INSTANT HOME DEFENSE – The advanced fingerprint lock grants fast, 2-second access even in the dark or during critical moments
THEFT DETERRENCE – Fortified with steel and state-of-the-art biometrics, the home safe resists tampering, prying, and lock picking
ROOM TO SPARE – Sized for optimal compact storage, the Security Safe mounts nearly anywhere and boasts 1.45 ft³ of space for all your valuables
RELIABLE BACKUP – Use the hidden keyhole and included keys or plug in the emergency battery pack for easy, manual access anytime
Last update on 2020-09-23 / Affiliate links / Images from Amazon Product Advertising API
Top 10 FAQs About the Best Gun Safe
Whether you're looking for the best tactical gun safe or you'd settle for cheap gun safes, there's no denying that a gun safe is a worthy investment for any gun owner.
However, many gun owners are hesitant in getting one because they have lots of unanswered questions about gun safes.
Interested in buying a gun safe but unsure what to get? Maybe you're not sure of the right size of the gun safe for you. Or you're not sure if you want a second hand or new gun safe. The following are the answers to questions you've always had in your mind about the best gun safe:
What is the ideal size?

Many gun experts will tell you that you should get the biggest gun safe that you can afford. It really doesn't matter whether you're eyeing a fingerprint gun safe or a fireproof gun safe.

You would want to buy the biggest safe that you can get because you won't know how many guns you would be acquiring in the years to come.
How will I know the size of a safe?

Get a calculator. Multiply its height, width, and depth, and divide the total by 1728.

For example, a safe that measures 60 x 30 x 24 inches is equals to 43,200 cubic inches divided by 1728 or 25 cubic feet.
What is the best type of fire rating?

One of the top considerations in choosing a gun safe is the fire rating. Buy a safe with at least 1-hour fire rating.
What type of door should I look for?

The gun safe should have a door made of at least a quarter of an inch of a solid plate or composite equivalent.
A gun safe with ½ inch of steel plate in its door is arguably the most secure.
Should you anchor your safe?

Yes, as this is an effective way of securing your gun safe. This would protect your investment, especially in case it is discovered by a burglar. And you don't really have to work hard in anchoring your safe, as it is fairly simple to do it.
What is the ideal steel thickness?

Aim for at least a 7 or 7 gauge steel. Of course, the thicker the steel is, the better. Thinner steels are easier to cut or hack into.
Should you buy a mechanical or a digital lock?

Mechanical lock is still more reliable than an electric or digital lock. Rotary-combination dial clocks may seem like a few years behind in technology.

It is also less convenient and slower to open compared to digital locks. But mechanical locks are far more reliable.

It's something you wish you have at home when a burglar gets into your house, and a split second difference could prove fatal.
Where should you put your safe?

Look for a place where you will likely use it. Most people have drawers under their bed. Other put discreet gun safes placed near their window or door.

The point is that the safe should be in a place where you are most likely to use it. If you put the safe in the basement, then it is unlikely that you will go there just to store your gun after a day spent in the shooting range.

Another consideration in determining where to place the safe is the lighting. You would want a place where there's sufficient lighting. This could spell the difference between life and death, especially if the safe doesn't illuminate.
Should I get a cheap gun safe?

If you're just trying to keep your guns out of your children's reach, then a cheap gun safe isn't a bad buy. Aside from being inexpensive, it can be relied upon to prevent accidents.
Is it OK to buy a second-hand gun safe?

Buying a used gun safe can save you up to 20 percent. The downside is that it doesn't come with a life warranty.

If you're really interested in the savings, you'll get, buy a used gun safe direct from a factory. Just don't buy one from a private party.
Gun Safe Maintenance Instructions
It's nice to have a gun safe, but how do you keep it in good condition? Since you're going to store all your valuables in there, the gun safe must be well maintained.
Use the following tips to keep your gun safe and its content secure. These are general guidelines, but they'll work for most gun safes.
Safety Precautions for Gun Safes
Gun safes are deliberately heavy to discourage thieves from attempting to lift it. However, you need to be careful to avoid injuries and accidents.
Place the gun safe on an even surface. Leaving the door open on an uneven surface might cause the gun safe to fall forward, resulting in damage, injury or death.
Do not leave the door open in the presence of small children. They might crawl in and get trapped.
Inspect the gun safe before using it. Carefully unpack it and if there are signs of damage, ship it back to the retailer and ask for a refund or replacement.
Opening Manual Locks for the First Time
Gun safe locks are randomly set during its construction. They also come with a dial key with which you can open the gun safe.
When testing the combination, test without closing the door. It's easier to fix problems if the door isn't closed.
Manual lock combinations should be changed by a professional lock technician. This is not necessary with an electronic gun safe lock.
Electronic Lock Handling and Maintenance
Gun safes come with a default lock combination. Change it and make sure the numbers are not in order. Refer to the instruction manual.
Don't change the electronic lock combination until you've removed any static charge on you. Do this by touching the gun safe's body.
Electronic locks don't need any other type of maintenance aside from wiping dirt.
Battery Replacement
Follow these steps:
The battery compartment is usually under the keypad. Find the latch and draw the house in the direction of the keypad.
Slide and pull it out.
Open the case and take out the battery.
Replace with a new battery (or batteries). Slide until you hear a click.
Test the keypad.
Gun safes have a low battery indicator. There will be a beeping sound, or a message appears, meaning it's time for a replacement.
Tips for Anchoring a Gun Safe
You should anchor your gun safe on the floor or wall for security reasons. Place a rubber mat or carpet between the gun safe and the floor, so the gun safe surface doesn't get scratched.
Anchor your gun safe on an even surface.
Use the appropriate tools to anchor the safe on cement or wood. This information is provided in your user manual.
If your gun safe doesn't come with anchoring tools, you can purchase an anchoring kit in gun shops. Look for those with a UL rating.
Anchoring a gun safe takes time, but it's necessary. A determined thief won't think twice of hauling your safe if he can't open it on the spot.
Troubleshooting Tips
Key won't turn: make certain you inserted the key fully. Some gun safes also require you to set the combination dial to zero first.
Combination won't open: there are many possible reasons.

You entered the wrong combination.
Redial the combination. It could be due to lock bolt pressure.
If it's an electronic lock, it may be time to replace the battery.
Cleaning and Maintenance
Most gun safes need very little maintenance. However, the following guidelines are going to prolong its life.
If the safe has manual locks, have it inspected annually by a lock technician. This isn't required for electronic locks.
Some gun safe lock pins have chrome coating. Apply grease cleaner once a year on the front side and bottom.
Internal locking mechanisms don't need any maintenance.
Do not attempt to repair damage to the front panel. Let a professional lock technician do this, as it could void the warranty.
Use a clean cloth to wipe the gun safe's exterior. Damp the cloth in a bit of water to remove excess dirt.

Clean with non-abrasive cloth material for textured, powder coat or glossy finishes.
Carefully wipe any logos or images on the gun safe.
Do not use solvents and other harsh chemicals. Just wipe with a clean piece of cloth.
Tips for Using and Maintaining Your Gun Safe
Read your gun safe's manual for more specific information. However, there are steps which apply to all types of gun safes.
Place your guns securely in the safe. Put the ammo and other items in the gun safe shelves.
Make sure the guns are nestled in the cutouts. This ensures the gun doesn't get tipped when you close the door.
Store paperwork and other documents in the lowest part of the gun safe for protection.
If you're going to store electronic equipment in the gun safe, install a media cooler to prevent damage.
To prolong its lifespan, use the weapon safe only as directed with regards to storage.
Proper maintenance is essential regardless of the gun safe you own. If you're going to buy a high-quality gun safe, it must be properly maintained.
Aside from the suggestions I have given above, there are other ways to keep your gun safe and guns in pristine condition.
Don't let dust and dirt build up around the safe. Clean it once a week to prevent dirt from piling up.
Clean the interior as well. Open the gun safe, remove the content and clean the interior.
Remove the shelves if possible. Carefully remove any items there and clean them.
Clean your guns on a regular basis. Even if they're stored inside the safe, regular cleaning is still necessary.
If you're careful with your gun safe, there won't be any problems. If there are scratches and blemishes, apply touch up paint.
Follow the guidelines above and your gun safe should be fine. Don't forget to read the user manual for more specific instructions.
Four Rules of Gun Safety
The Final Verdict
A gun safe is essential if you are a gun owner. If you have kids in the house, you don't want them having access to the weapon, but at the same time, the firearm needs to be accessible in case the need for it arises. A gun safe is a perfect solution, and with so many options there is no reason not to have one.
The ten gun safes I have reviewed here all have unique features and benefits, and any of the ten would be more than capable of matching your needs. If you are looking for the best gun safe, then I would recommend any of the products I have covered here, and you won't regret the purchase!