When you buy guns, usually you also buy a safe too so you have a place to store your guns safely. You can't just tuck them in a drawer by your bed. So to pick the best safe that protects your guns from kids and fires, you need to read lots of fireproof gun safe reviews first.
One of the problems is that you may have curious kids who can find the gun and tragic accidents can occur. In 2013, 1,670 children were killed by gunshots, with 9,718 more children suffering injuries because of guns.
A thief may also just take it easily. Over a 6-year period from 2005 to 2010, about 1.4 million firearms were stolen during household burglaries. Each year, about 234,000 firearms are stolen from homes.
But you also have to think about other possible disasters such as fires. They're not as rare as you think. There were more than 1.3 million fires reported in the US, and that was just for the year 2015.
You can prevent the destruction of your guns by fires easily by just procuring a fireproof gun safe instead. They're very affordable, too.
So to help you pick the right safes to buy for your guns, I've listed several fireproof home safe reviews here that can help you out.
These are best fireproof gun safe in the industry and each safe in these home fireproof safe are very popular and quite highly regarded. With these fireproof safe reviews, you should be able to pick the ideal gun safe for your home.
Best Fireproof Gun Safe Comparison Chart
Top 5 Recommended Fireproof Gun Safe Reviews
Most of us today would want to protect our important tools, documents and so much other stuff not only just from burglary, fire but also against many other risks.
A fireproof safe is a remarkable responsible safety option to store your guns away from kids. You also stand a chance to enjoy insurance benefits covering guns for owning a safe, saving the extra dollars, and lives.
#1: First Alert Fire Safe with Digital Lock 2096DF Review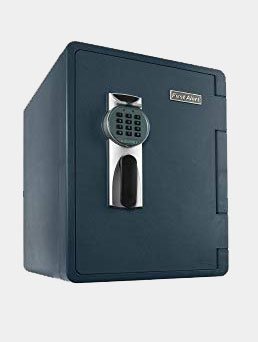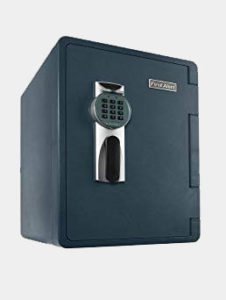 This is a safe which you can use for many other items besides guns. Here you can put in electronic media like USB sticks, DVDs, and external hard drives. You can also secure documents and other valuable items.
This safe is designed to protect your belongings from fires, floods, and would-be thieves. This is the largest, most secure, and easiest to use among all the First Alert safes.
Fire Protection
So let's talk about this one first. After all, it's a real danger—and I did say we're dealing with fireproof home safe reviews.
With this safe, you don't have to worry about fires at all. It can resist 1,700-degree fires for up to an hour. That's more than hot enough to melt silver coins.
While the fire is raging outside the safe, inside the safe it's a much cooler 350 degrees F. That means even your documents are safe, since paper auto-ignites at about 480 degrees.
Water Protection
How does the safe protect against submersion in water? It's not just about floods, but about fires too. After all, firemen use lots of water to put down fires.
Your electronics and documents are also safe against any water damage. The waterproof seal keeps the water out even if it's submerged in water.
It also won't be submerged for long. It's designed to float in case of flooding, so you'll find it easier.
Protection against Thieves
What if thieves use tools to attack the safe? Usually, they go at the hinges since these are traditionally the most vulnerable spot on the safe. But the hinges here are hidden, and they're also resistant to prying.
It also uses a programmable battery-operated digital lock, and you can use a code containing 3 to 8 digits. You have to enter the code and insert the right key to open it. If you use the wrong codes several times, the keypad will lock up.
Emergency Access
But what if you really need to get your gun right at that instant? In that case, you can use your emergency override keys. You don't have to use the code. This will open the safe even if the keypad is locked or the batteries have run out.
Warranty
This is designed to last for quite a while since it comes with a 5-year warranty. The after-fire warranty is actually for a lifetime.
Pros
It offers fire protection at even extremely high temperatures.
It protects against water damage.
It can hold electronics safely.
The digital lock is reliable.
The emergency override keys let you get you guns quickly.
Cons
The fireproof material is made from durable resin, not steel.
Not everyone will understand the manual instructions for the programmable lock.
Sale
First Alert 2096DF Waterproof Fire Safe with Digital Lock, 2.14 Cubic Foot, Gray
Digital safe protects valuables from fire, water, and theft
2.1 cubic feet capacity offers plenty of storage space for files, electronics, and more
Fire-resistant design withstands temperatures of up to 1700 degrees F for up to 1 hour
Composite construction and waterproof seal keep contents dry even when safe is submerged
Pry-resistant concealed hinges deter thieves and resist crowbar entry
Last update on 2020-08-06 / Affiliate links / Images from Amazon Product Advertising API
#2: Stack-On FS-24-MG-C 24-Gun Fire Resistant Safe with Combination Lock Review
This is a safe that's designed to hold firearms as well as other valuable items. It's tall enough to hold firearms up to 54 inches long, and wide enough to contain 24 of these firearms.
You can also use it to store 12 firearms, and the rest of the space can be used for other valuable items. You also get 4 adjustable shelves for the safe.
Fire Protection
It offers more than sufficient fire protection with its fire-retardant wall, as it resists 1,400-degree fires for 30 minutes. Keep in mind that the average home fire burns at just 1,100 degrees.
When the safe is exposed to very high temperatures, the door stripping expands. This seals the contents of the safe from the fire.
Protection from Thieves
It features 5 locking points with 1-inch steel live action locking bolts. It uses a 3-digit combination, which deters thieves while it also lets you access your firearms more quickly.
What about drilling thieves? That's not really a problem. The safe uses a hardened steel plate that's resistant to drilling.
It's also not that easy to just lift up and take away. It weighs about 400 pounds, and that's not counting the weight of the guns and other valuables inside.
Firearm Accommodations
It's very well-suited for guns, as you can see from the dimensions of the safe. Inside, it measures 26.89 inches wide, 14.47 inches deep, and 52.72 inches high.
The barrel rests inside lets you store shotguns side by side, as well as rifles. The design keeps the scoped rifles from the back of the safe. These barrel rests won't compress or deteriorate over time.
Warranty
It offers the basic 5-year warranty with a limited lifetime warranty for the fire protection.
Pros
It offers enough protection from house fires.
It features barrel rests for your long firearms.
It keeps thieves from drilling through the safe.
It's heavy enough to keep thieves from just carrying it off.
Cons
It won't protect electronic storage devices.
The combination dial isn't all that easy to read.
Last update on 2020-08-06 / Affiliate links / Images from Amazon Product Advertising API
#3: First Alert Fire Safe with Combination Lock 2087F Review
Here's another First Alert Safe. This time it uses a more traditional combination lock instead of a new-fangled digital lock.
It offers the smallest capacity among the First Alert safes, but it does come with some of the great security features you see on the most expensive models from First Alert.
With this safe, you won't have to worry about finicky digital locks that you may find difficult to program. It also keeps your belongings inside safe from fires, water, and thieves.
Fire Protection
It offers a very robust protection even against extremely high-temperature fires. You get 1-hour protection from fires that reach up to 1,700 degrees F.
Very few home fires get that hot. The average temperature for home fires is only 1,100 degrees F.
Inside, the temperature is maintained at just 350 degrees F. That's not enough to light up your documents, which auto-ignite at about 480 degrees F.
Water Protection
Some homes have automatic sprinklers in case of fires. This safe keeps everything inside safe from the sprinkler water.
It also keeps your secured items safe from the water used by the firemen to quell a house fire. In fact, it even protects against floods, and it will even float so you can find it easily.
Protection from Thieves
Thieves tend to target the hinges, which are usually the weak points of safes. But this time they won't find it easy to attack.
That's because the hinges are very well-hidden. They're also resistant to prying attempts.
Add the protection of the locking door bolts made of solid steel, and thieves won't find it easy to get at your secured items.
Item Organization
You can use this safe to secure guns and even electronic items. It also keeps documents neatly, since it can fit standard 8.5 by 11-inch documents when you lay them flat.
There's a removable and adjustable shelf you can put in to maximize the use of the space. There's also a door pocket and a hanging key rack for easier item organization.
Pros
It offers fire protection as strong as to what you get from the more expensive First Alert safe models.
The water protection is excellent too.
It can store electronic devices, which some other safes can't because they don't protect well from moisture.
The emergency override key offers easy access. You don't need batteries for the combination dial.
It's easy to organize your belongings inside the safe.
It's very affordable.
Cons
It's a bit small, with just a 0.94 cubic feet capacity.
It's very light for a safe at 82 pounds, and there's no easy way to bolt it to the floor.
#4: SentrySafe SFW205CWB Water-Resistant Combination Safe Review
This is another safe that uses a combination dial. It's also rated for home fires while it also offers protection against water. It's even fairly safe against thieves, although for greater security you'll have to bolt it to the wall or the floor.
Fire Protection
This offers an hour of fire protection even from conflagrations that reach 1,700 degrees F. This has been verified by 3rd party labs.
So it's very safe against home fires since they only reach an average temperature of 1,100 degrees F.
However, the fire retardant materials do emit some moisture inside. So you may want to use desiccants inside. You get 3 heavy desiccant packets which you should use. You also need to store your electronics and your documents in airtight containers to protect them from moisture.
Water Protection
It also very water resistant, but that means the moisture inside is trapped with no way to get out. That's another reason to use airtight containers for your items. Also, the water resistance will be compromised if you bolt this safe to the floor.
Deterrence from Thieves
The hinge bar is pry-resistant, there's a combination lock, and the safe uses 6 large 1-inch bolts.
You can bolt this to the wall, but it won't be water-resistant anymore if you do this. But you can buy a kit from SentrySafe so you can mount this on your wall without compromising the water resistance.
Plenty of Room Inside
This offers 2 cubic feet of storage, and that's a lot. Inside, it measures 14.8 inches wide, 11.9 inches deep, and 19.6 inches high.
To organize your stuff more efficiently you also have an adjustable 5-inch deep organizer and tray. There's also a door pocket, along with a key rack and a compartment for small items like earrings and rings.
Pros
It uses a combination lock, which many feel is more reliable than electronic locks. At the very least, you won't need batteries.
The bolts used to secure the safe are 70% bigger than the bolts on traditional safes.
It's very easy to organize your stuff inside, and you can put a lot of items in.
It's also resistant to water.
You also have the option to bolt the safe to the wall or floor. But even if you don't, the 138-pound weight keeps a single person from carrying this easily from your house.
Cons
You have to remember to use the desiccants inside the safe.
You also need to air the safe out every month.
Sale
SentrySafe SFW205CWB Fireproof Waterproof Safe with Dial Combination, 2.05 Cubic Feet, Black
Fireproof safe is UL Classified to endure 1 hour at 1700°F and keep interior temperatures safe for irreplaceable documents, valuables, DVDs, and USBs; ETL Verified to withstand a 15 foot fall during a fire and remain closed
Waterproof safe is ETL Verified for 24 hours of protection in water up to 8 inches deep offering peace of mind in the event of a flood
Preset dial combination fire safe for strong security; combination safe features six live-locking bolts, steel construction, pry-resistant hinge bar, tray, drawer, and bolt down hardware
Exterior: 18.6 in. W x 19.3 in. D x 23.8 in. H; door requires 17.5 in. of clearance to fully open; Interior: 14.8 in. W x 11.9 in. D x 19.6 in. H; extra large 2.0 cubic foot capacity; weighs 125 pounds
Should your fireproof safe be damaged by fire or water, SentrySafe will provide a replacement safe so the things that matter most are protected for generations to come; US based customer service for product-related questions and services
Last update on 2020-08-06 / Affiliate links / Images from Amazon Product Advertising API
#5: Steelwater Heavy Duty Gun Safe AMSW592818-blk  Review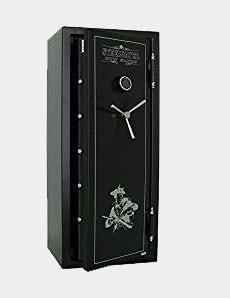 Now if security, and not the cost of your safe, is your main priority for your gun safe, then this is the safe you may want to consider. It's the most expensive safe of them all, but its security features are formidable.
Fire Protection
This can protect the items contained inside from fires that reach up to 1,550 degrees F for 45 minutes. Since average home fire temperatures are at 1,100 degrees F, the fire protection is for a much longer time period.
Water and Moisture Protection
It's very resistant against water too. It has to be in a case of fires since firemen use water to put down the fires.
In this case, the heat of the fire activates the expansion of the door seal, so the water and the smoke cannot come inside the safe at all.
It also means that the door seal doesn't normally trap the moisture inside. But just in case you still have moisture problems inside the safe, you also get a free 200-gram box of rechargeable silica gel to dehumidify your safe.
There's also a pre-drilled half-inch hole so you can install a dehumidifier.
Storage Capacity
You can store an average of 12 to 16 long firearms here. With the right long guns and the right arrangement, you can fit on up 20 long guns at the most.
The inside dimensions offer a storage capacity of more than 10 cubic feet. On the inside, it measures 59 inches high, 28 inches wide, and 21 inches deep.
Aside from guns, you can also put lots of other items. You have a full-length shelf plus 3 small shelves to organize your items inside.
Anti-Theft Features
First of all, a thief (or even 2 of them) can't just lift this up easily from the floor. It weighs 425 pounds.
There are also 4 pre-drilled holes anchor holes so you can mount this to the floor. That should keep it in place.
Then you have 9 bolts, with 6 active bolts plus 3 inactive bolts on the hinge sides. These bolts measure 1 inch in diameter.
These bolts are extremely durable. They're resistant to drilling, prying, and punch attacks.
To open the lock, you have to use a digital keypad. The code can be reprogrammed to use 3 to 8 digits.
The electronic lock is even EMP-proof. There's also an emergency bypass key for quick access to your guns.
As for the plate used for the safe, it's 8 times more resistant to drilling.
Pros
It can contain a huge number of guns and other items.
It protects well against home fires.
It keeps water and moisture out too.
Ordinary thieves won't be able to get through the safe or lift it off the floor.
Cons
It's very large, so you need space for it.
It's the most expensive safe on the list.
New and Improved Steelwater Heavy Duty 20 Long Gun Fire Protection for 60 Minutes AMSW592818-blk
New and Improved-Automatic LED Interior Lighting -60 Minute Fire Rated @ 1875˚F - EMP Proof-Maximum 20 Long Gun Capacity/Average Capacity 12 to 16 Long Guns
- EMP Proof Electronic lock system with High security Double sided bypass key lock so you practically will never be locked out of your safe (1 key included).1/4 inch steel reinforced bolt down holes to maximize safe removal from home - 8X the drill resistant hard plate to prevent drilling in 8X more area than our competitors.
Outside Dimensions: Height: 59" Width: 28" Depth: 18" Weight: 453 lbs.--Gear Drive System to maximize against pry attacks, punch attacks, and drill attacks(not cheap cam drive) 8X Hardplate Than Competitors
PLEASE READ BEFORE PURCHASING: Undeliverable to New York with zip codes beginning in (100-104) & (110-119), some remote areas such as islands, areas accessible only by toll bridge or ferry service, union states, etc. Please contact us to verify. THIS PRODUCT IS SHIPPED BY TRACTOR TRAILER. Please read over shipping details to prevent delivery issues. Contact us for questions and/or other delivery options.
SEE MORE IN-DEPTH DETAILS ON THIS PAGE BELOW ADVERTISEMENTS
Last update on 2020-08-06 / Affiliate links / Images from Amazon Product Advertising API
What is Fireproof Safe?
A fireproof safe is a specially designed secure and protective storage compartment normally used to store firearms, ammunitions but you can equally store documents among other valuables. The fact of the matter remains; a fireproof safe can store quite a lot of things.
These cabinets are crafted to prevent unauthorized access and any damage that might be caused to its contents as a result of a fire breakout, flood disasters, among other hazards. This is complemented by their secure protective locking system.
A fireproof safe can be installed in homes, business to defend against intruders or buglers to your guns and other treasures.
What is a fireproof safe made of?
Undoubtedly, there are so many fireproof safes designs in the market today that match your needs and applications.
There are those designs made of a fireboard, a reinforced fireboard but the most popular in protecting your guns against fire and theft is fireproof that is made of composite clad.
But, generally, a great safe is made of a dense composite steel core with reinforced barrier contacts and a nominal shell.
The solid steel core comprises of thin steel metal that may directly linked to the interior panel. It is a remarkable lining to prevent against burglary.
A fireproof safe could have different locking systems including sturdy deadbolt locking systems to biometric fingerprint scanning system among others.
Is a fireproof Safe waterproof?
Yes, there are designs of fireproof safes that are waterproof too. Some have a closed-cell foam gasket such that when closed, a long-lasting barrier is formed by the pressure in between the water outside your and the valuables in your safe.
Nevertheless, many manufacturers are adopting many designs to create modern fireproof and waterproof safes.
How does a fireproof safe work?
Given the sensitive and invaluable nature of the kind of things that are stored in a safe, the designing of a fireproof safe ensures that no moisture levels or heat penetrate the interior of the safe. A fireproof safe works by taking into consideration these aspects:
A fireproof safe is crafted to keep its interior cool, as much as possible, throughout the fire breakout.
Its double-walled steel body construction ensures the interior maintains a standardized level of coolness, thanks to a cavity normally filled with a composite to provide maximum fire resistance.
In most cases, different models come with various composite crafts but most fireproof safes have a composite made of hydrate like gypsum or alum that are impressive in releasing water vapor, especially when experiencing heat.
When the water vapor in generated, it is directed to the safe's interior in order to control and adjust appropriately the internal temperature at the same time creating pressure sealing against the external fire and incoming heat. This ensures the valuables stored are protected even while the safe is under fire for long hours.
To make sure that the humidity and pressure levels are effectively controlled, normally, a fireproof safe will have vents or holes that are meant for external release crafted in different parts of the safe's body. This ensures that the steam is able to escape the fire. The safe's body is completely sealed to ensure that protected materials remain safe by all means.
The safe's main cabinets are also designed to swell under the heat of the fire than its normal size to seal the safe tightly for extra safety.
Fireproof safe vs safety deposit box
Are you caught up in the midst of deciding whether to go for a fireproof safe or a safety deposit box?
Well, a fireproof could be invaluable in storing very important things like computer backups, sensitive information and so much more.
Check on the level of protection your fireproof provides, application plus cost involved. Pay attention to the safe's ratings for a quality safe that will suit your expectations while protecting your valuables against fire and burglary.
A safety deposit box is great in keeping your important documents safe, since it is difficult to break into and superior in limiting unauthorized access. But if you want to quickly access its contents, it might take that extra minute.
Advantages of owning a Fireproof Gun Safe
Guns are durable, however they are not invincible. One of the dangers they need protection from is fire.
When your home gets hit by a fire, your guns are probably the last thing on your mind. Fireproof gun safes for home use will ensure that you don't have to worry about them.
Even better, a fireproof and waterproof gun safe will keep your guns safe during the fire and while the firefighters pump water into your home to put the fire out.
There are several advantages beyond fire safety for getting a fireproof gun safe. Here are some of them.
Gun Safety
Firearms are pretty dangerous to leave lying around. A sensitive trigger only needs light pull and it will go off.
If you have children in your home, you do not want them to end up shooting themselves accidentally. A gun safe keeps your guns from their curious hands.
It is not just young hands you want to keep guns safe from. Even adults have fallen to gun accidents.
Having a set storage area for your firearms stops any of these accidents from happening.
Anti-theft
If you are a gun collector, you recognize that guns can be pretty valuable. This is why you want to keep them away from thieves.
A locked gun cabinet is not going to be enough to keep these at bay. This is why a solid gun safe is what you need.
Even if you are not a serious gun collector and only have a few pieces, keeping your firearms safe is a good idea. You wouldn't want to hear about any crimes done with the help of your guns.
Tips for Using and Maintaining Fireproof Gun Safe
Fire proof gun safes are tough. They need to be to do their job.
However, they can still break down if not given proper maintenance. Letting dust and rust build up in your small fireproof gun safe is a recipe for disaster.
With good maintenance, your gun safe will be able to last a long time. The main thing to remember is to dust can clean it at least once a month.
Dusting can be done with a simple soft cloth, to avoid any scratches on the safe. Wipe away the dust with it and your safe should be good for another month.
For more stubborn dirt, you will need to use a cleaning solution. Water and soap should be enough, since metal cleaners can eat into the tarnish protection of some of the metal parts of your safe.
Besides cleaning, you should also do your best to oil the moving parts of your safe. Apply oil to top, bottom and sides.
After the oiling, wipe the extra oil away with some cloth.
Usage
Maintenance is just one part of the equation. You should also know how to properly use your gun safe.
For example, don't bang the metal doors when closing. This can result in a broken locking mechanism if you are not careful.
Other usage tips for your gun safe include how to properly lock it and how to store guns inside.
For example, you should make sure that the locking mechanism sticks before leaving it alone. This ensures that the safe is secure.
Top 5 FAQs about Fireproof Gun Safe
Are cheap fireproof gun safes good?

It is possible to get a fireproof gun safe under $500. However, the question is whether it is worth it.

It depends on how many guns you want to protect. You also want to consider what you want to protect your guns from.

If you just want to keep your guns from young hands, a cheap safe should be enough. Anti-theft safes will cost more.
What rating should I look at?

There are several security and fire ratings for safes. These give you a hint at what level of punishment the safe can take.

Depending on how much you value your collection, the higher the rating the better.
Why get a fireproof safe?

The contents of a normal safe will not be able to survive the hot environments of a raging fire. They will often end up cooking their contents as the metal heats up.

A fireproof safe will keep its contents cool despite the high heat. This is a good choice to keep your firearms secure during a fire.
Where should I place my gun safe?

The best place to locate a gun safe is in your bedroom. This is because of its accessibility and privacy.
What locking mechanism should I use?

Though dial locks are popular, electronic locks seem to be more effective. Use a mix of both to be sure.
Bottom Line
While any of these items are suitable for most, perhaps the best of them all is the Steelwater Heavy Duty Gun Safe. That's because it protects from just about everything, unlike the other dials.
There's simply no weakness here that can be easily exploited. It protects against home fires, water and moisture, and various types of burglar attacks.
This protects against drilling, prying, and punch attacks. It even protects against EMP.
The storage capacity is also terrific. If you like to collect rifles and shotguns, this is he safe you need. It can offer protection for other items too.
The Steelwater Heavy Duty Gun Safe may be expensive, but you really get your money's worth and more. Check out the other fireproof gun safe reviews online and very few other safes can compare.
Feedback or Question? Feel free to let me know leaving a comment below!