Whether its home protection or self-defense, finding the right handgun and Holster that you can rely on every day is very important. Many potential handgun buyers tend to spend a lot of time analyzing their options before buying a handgun, but sadly, they minimize the importance the holster plays in carrying a handgun.
It doesn't matter what you read, how fantastic it sounds or even its physical appearance. Unless you try it yourself and become comfortable and skillful with it, whatever you read will only remain words. Surely, this guide will point you in the right direction to finding the right handgun and holster. You need to check out the following 4 important things before you make your purchase.
Ultimate Control
You need to find out what works and doesn't work for you. Try a shooting range with guns for rent and certified instructors for target practice as well as training, there you will have the opportunity to try out different handguns, and from this exercise, you can tell what you can handle regarding firepower and stable accuracy.
If the handgun is lighter and has a larger caliber, the recoil will be greater, although, a number of people are not that sensitive to recoil, for example, some may nail a target with larger calibers well as others can't and choose not to shoot with that type of handgun. All these trails can help you find the right handgun.
Custom Concealment
It is important to find the right handgun and holster combination in order to have three major components. Whatever your choice, maybe these three components will always have to remain the same: easy to carry, the effort used to recover the handgun, and the ability to hit the target.
It doesn't matter the size of the handgun or even how large the caliber is, but how good it is at nailing those targets. Buying a handgun, which is easy to conceal no matter what you're wearing would be a better option because the lesser the handgun, the lesser the holster, then the lesser the exposure.
Out of Sight
A long time ago shoulder holsters had been the only means of concealing a handgun, and it didn't matter where you were, individuals with carrying permits were required to wear an outer garment in order not to expose the handgun.
With many choices available on the market today, plenty of holsters are designed to fit the fashions of today. Vertical shoulder holsters, canted holsters among others, are specially designed to conceal specific handguns. Pocket holsters or an Own holster is also very comfortable for deeper concealment on a daily basis.
Nail Targets
Choosing between a revolver and a semi-auto can be tough at times because they both have added advantages like easy to use and caliber. A revolver can easily be used by drawing it, cocking the hammer manually, aim and pull the trigger. Single fired shots in most cases increase accuracy, semi-autos are better when it comes to reloading, but with accuracy, both handguns excel highly because they are extremely identical in calibers and barrel lengths.
Check out reviews of top gun holsters for everyday use.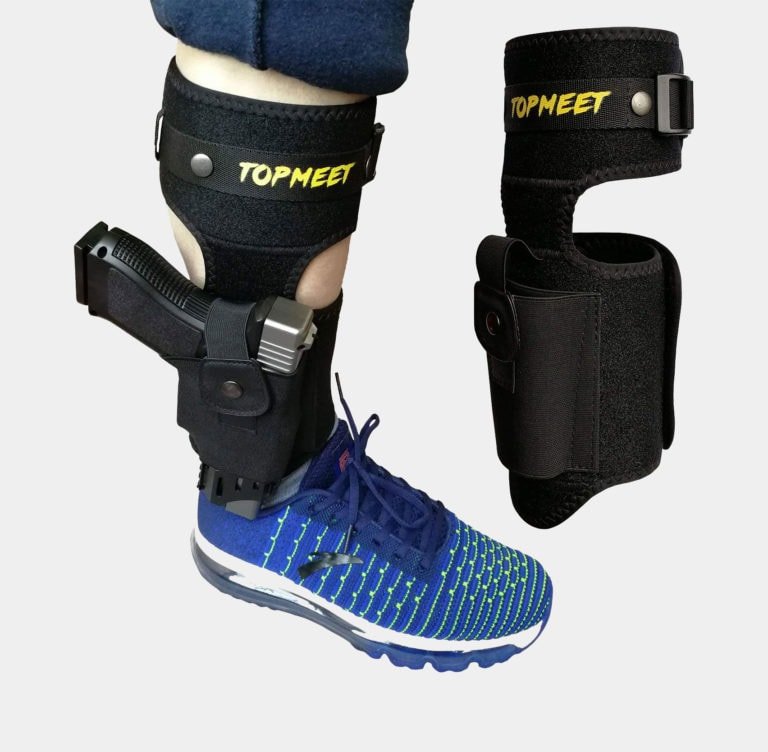 The soft foam innards that are fitted at the back help secure your ankle to be more comfortable without any irritations. Also, the extended paddle keeps the handgun barrel from scratching your ankle.
In case you have a heavy gun, the top meet ankle holster has strong Velcro straps which will hold your calf to avoid the holster from slipping off your ankle. In addition to that, the extra nylon belt wraps the holster and this keeps your handgun in place.
The holster also comes with an elastic handgun bag and extra magazine pouch, the elastic bag is designed to keep any handgun model and it can be moved in case your more comfortable drawing your weapon from the left or from the right. Whether you're want to carry an extra weapon like a knife, teaser, pepper spray, the extra mag pouch helps with that perfectly.
Designed with breathable material of neoprene, this keeps your skin comfortable because you won't feel any kind of pinch. The weight of the handgun is also handled properly by the great thickness of the neoprene.
Fits subcompact,compact pistol and full-size gun. Like glock 19 23 26 42 43 22 27 21 hk vp9 ruger bodyguard lcp 380 38 ec9 ec9s security 9 sccy cpx-2 lc380 smith and wesson s&w m&p shield 9mm springfield xds sig p320 urban carry Taurus pt111 g2 walther pps m2 springfield xds xdm xd mod 2 kydex lc9 lc9s db9 etc.
Pros
Holds the handgun securely
Very comfortable and light
Extra spot for extra accessories
Durable
Fits all size handguns
Cons
Too small for larger calfs
Doesn't work with compact handguns
It is specially designed to meet your draw preferences. Whether it is the left or right-hand draw, you can easily rotate it to the side you're more comfortable to draw your weapon from.
Comes with an extra zipper pocket, which can accommodate your other extra accessories like your credit card, flashlight, teaser, etc. With this built-in pouch, your extra necessities are kept close by and are always safe.
The holster also has elastic retention straps with metal snaps. They are very essential especially if you want to make quick and silent draws in order not to alert the threat approaching you.
It is specifically made from very high-quality neoprene which has air holes. Due to its high-class design, it is sweat resistant, soft and durable and this will keep your skin very comfortable.
The holster is extremely versatile in a way that it gives you the comfort to wear it when doing extra leisure activities like hiking, jogging, exercising, and cycling among others. It keeps your weapon intact and discreetly concealed while you enjoy yourself.
Pros
Durable
Compatible with different types of guns
Can be worn in different concealed positions
Very comfortable
Extra pocket pouch
Cons
Magazine pouch is only big for sign compact 9mm magazines
Some users cited that the elastic strap snapped back on their side when they drew the weapon.
Conclusion
Finding the right handgun and holster can be very challenging, in most cases when you don't know the basics and considerations to keep in mind before making a purchase. Hopefully, that has been broken down for you and right now you know what handgun and holster suits you best. Whether its personal or home protection you will be able to defend yourself perfectly and accordingly.