The BARSKA Mini Biometric Safe is ideal for use for individuals who are looking to store and protect their handguns, personal and sensitive documents, as well as jewelry.
This BARSKA biometric safe aims at upholding safety while at the same time ensuring that it is not exposed out to other individuals. This has been made possible by it adequate dimensions.
You do not have to worry about unauthorized access as it comes with a fingerprint sensor. You do not need to get bothered about hiding so you can key in a password or look around before you can hide a key. This delivers on safety, convenience, as well as efficiency.

Sale
BARSKA AX11620 Biometric Fingerprint Mini Security Home Safe Box 0.29 Cubic Ft, Black, 12" x 8" x 7.75"
Advanced Biometric Security - Biometric home safes provide advanced protection through 2.5-sec access via fingerprint recognition, ensuring that only authorized individuals can enter.
Built to Withstand - These safes are meticulously crafted with robust materials, designed not only to safeguard your valuables but also to resist tampering and unauthorized entry attempts effectively.
Ample User Capacity - Biometric fingerprint module with the capability to securely store data for up to 120 unique users, ensuring versatile access management.
Discreet Operation - Equipped with a silent mode, this safe ensures noise-free usage, making it ideal for situations where quiet access is essential.
Emergency Access - Included backup keys offer a fail-safe solution for accessing the safe in unforeseen circumstances or when alternative methods are needed.
Last update on 2023-11-24 / Affiliate links (#ad) / Images from Amazon Product Advertising API
[/su_row]
Highlighted Features
Has a compact biometric fingerprint sensor
It has a solid deadbolt locking system
Pre-drilled holes to allow mounting of the safe on a surface
Multiple user capabilities for up to 30 users
Solid steel construction
It weighs about 15.8 pounds and measures 11.5″(W) x 8″(D) x 7.75″(H) internal dimensions
Whom is BARSKA Mini Biometric Safe designed for?
Small gun holders
Office custodians who have to store and protect important documents
Expensive jewelry holders
Key features of the BARSKA Mini Biometric Safe
To deliver on functionality, the BARSKA Mini Biometric Safe comes with some essential functions that make it stand out in the market. These will include:
Has a compact biometric fingerprint sensor
This safe allows access to your content by just using your finger rather than using a password that you may forget or a key that may be misplaced.
This biometric gun safe makes the safe easy and fast to use. Also, it is convenient as you can gain access without spending so much time.
With a fingerprint sensor, you can also be sure that it does not leave room for any errors as fingerprints offer a unique and exclusive identity. This goes a long way into upholding the aspect of security.
The sensor is strategically placed for convenience.
It has a solid deadbolt locking system
The steel locking bolts are responsible for upholding security and quick access for its users. These are strong and adequate for a smooth operation.
The bolt locking system keeps the door locked and does not allow any spaces to be left ensuring that nothing can go in or out of the safe.
Pre-drilled holes to allow mounting of the safe on a surface
Many may think that with the weight of the safe, it would easy for thieves to get away with it with very little struggle.
This will not be a major concern as it comes with pre-drilled holes that allow you to mount it on a surface, so it remains firm and does not allow for portability once it is mounted.
This lets you mount it on your wall, a countertop surface, or onto a shelf if you want to keep it away from view.
Since it comes already pre-drilled, this makes it easy and convenient to mount that even a first-timer can complete the task.
Multiple user capabilities for up to 30 users
This BARSKA Mini Biometric Safe allows more than one individual to gain access to the safe as long as the individual had registered his or her fingerprint.
It has a maximum user of 30. Only the authorized personnel can gain access to the content inside it.
Any unauthorized personnel cannot gain access under any circumstance. If you will be using it with members of the family or with office staff, you do not have to keep changing the people who use it as you can authorize several people as long as you do not surpass the 30 number users.
Solid steel construction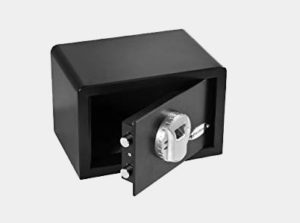 The overall body design may appear simple, but it is strong and sturdy thanks to its steel construction. Steel material makes it hard to access even when thugs are trying to break it.
Its design comes with pre-drilled holes making it easy for you to mount it on different surfaces. The placing of all features is convenient.
If the fingerprint sensor develops a malfunction, you will be glad to know that you can use a key, which comes with the package for any emergencies.
The dimensions are adequate so you can store a number of items.
Pros
It is accurate and fast to use leaving no room for error when using the fingerprint sensor
It allows multiple users to use it at the same time without necessarily deleting the current users
It allows for diversity allowing you to store different items ranging from guns, jewelry, to important documents
The dimensions are great as several items will fit with ease and without forcing anything inside
There is a backup plan in the event the sensor develops any concerns as you can use the provided keys
Cons
It is rather light in weight and this can be a worry especially for those who will not mount it as thieves can carry it along.
FAQs
What are the dimensions of this safe?

The outer dimensions are 12 x 8 x 7.75 whereas the inner dimensions are 11.5 x 7.5 x 5.75 inches and it comes with an average weight of 15.8 pounds.
Does the BARSKA Mini Biometric Safe come with shelves?

It does not come with any shelves. However, it comes with adequate space to store more than one item.
Can I access my items in the safe in the event the fingerprint capability develops a multifunction?

If there is a problem and you have to access your items, it comes with backup keys that will come with the safe.
Final Verdict
The BARSKA Mini Biometric Safe ensures that your sensitive and important items are safe at all times. For parents who own handguns and are looking to ensure that the rest of the family members do not access them thus ensuring their safety will love this small gun safe as it can hold two handguns.
This is considered one of the best biometric gun safes and you have no reason to expose your gun(s). Because fingerprints vary from one person to another, this safe only provides authorization to only those who are allowed. Its diversity offers the best and it looks into meeting your objectives as desired.
Feedback or Question? Feel free to let me know leaving a comment below! 🙂