Firearms, like any other mechanical unit, require proper care and maintenance. Gun owners need to clean their weapons frequently to keep them in optimum condition and this means having the best bore cleaner around to do the job.
Acquiring excellent bore cleaners mean you can make the whole procedure quick, easy and simple. Just using your gun then storing it without minimal cleanup can have a negative effect on its precision and the dirt buildup will also make it harder to maintain.
That is why in this guide, I am going to provide you with 3 bore cleaner reviews, products which have acquired good feedback from lots of gun enthusiasts. By the end of this article, I am going to choose which among the three will bring loads of value to your money.
If you have some difficulties choosing which product to purchase, let this handy article provide the information you need.
Top 3 Bore Cleaner: Comparison Table
Best Picks of Bore Cleaner
#1: Hoppe's No. 9 Gun Bore Cleaning Solvent, 1-Quart Bottle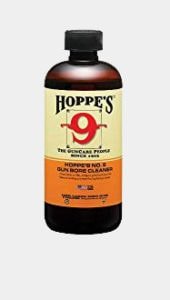 Last update on 2023-11-18 / Affiliate links (#ad) / Images from Amazon Product Advertising API
Hoppe's No. 9 Bore Cleaner has been around since the early 1900s and the brand never changed or tweaked with its formula. This means the potent formula is effective and works as it claims.
Gun owners use the product to keep corrosion at bay and take away gun powder. It is known to pass through the firearm for a deep, efficient clean.
You can use the item to clean pistols, rifles and shotguns. The formula is a bit on the thick side of things and if you are used to using foaming cleaners on your guns, you may have to get acquainted with the workings of this formula first.
Plenty of gun owners depend on this product because it has a quality formula which can take away traces of lead, rust, powder and metal contamination. There are people who like utilizing this product with other items to maintain their rifles and handguns however it also works on its own pretty well too.
Furthermore, it does not have an overpowering smell so if you are the type who has a sensitive nose, you will not be put off with this product. For better results, you can utilize the product with a bore snake.
Cleaning your gun could only take a minute with this cleaner—yes, it is that fast and efficient!
Highlighted Features
Has effective formula which penetrates quickly
Safe and user-friendly
Comes with child-proof cap
#2: Gunslick 92098 Foaming Bore Cleaner (12-Ounce)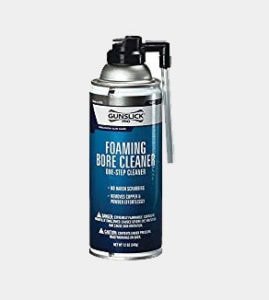 For people who are not into liquid bore cleaners, you can try out the foaming kind like this Gunslick product. The cleaner is simple and easy to use so this is one advantage of this item.
As mentioned previously, complete cleaning only needs 3 steps to fulfill; you spray, wait then take away the dirt. Fill the barrel with the cleaner and allow the barrel to soak in the solution.
Following the soak, you need to wipe it clean with a patch. There's no brushing needed for this step however if you want faster results, you can use a bore snake for this procedure.
If your firearm has lots of residue or buildup, you can do the whole procedure for the second time. If the foam shifts into a blue color, this means it dissolves the metal buildup, but the foam will also shift into a black color in case it is dissolving powder.
The foam is quite thick so it will not dribble and leak out of the barrel compared to other foaming bore cleaners. However keep in mind not to allow the foam to get into wooden parts, painted sections of the firearm or synthetic stock. If this happens wipe the foam away ASAP.
In case you have firearms which contain serious copper buildup, this is the product that might solve the problem due to its intensive performance.
Highlighted Features
Composed of excellent quality materials
Only requires 3 simple steps to completely take away dirt buildup
Cleaner color shifts to blue once copper residues liquefy
Distinctive foaming action assures complete cleanup of the barrel
Comes in 3 sizes
#3: Hoppe's No. 9 Black Powder Gun Bore Cleaner and Patch Lubricant, 8 oz. Bottle
Last update on 2023-11-22 / Affiliate links (#ad) / Images from Amazon Product Advertising API
If you use black powder shooters, then you know how messy cleanups can get. Gun owners make use of hot water often to do this then make attempts to scrub and brush the buildup away. However those in the know make use of No. 9 Black Powder formula from Hoppe's.
It does not matter what type of handgun or rifle you use—following target practice or a competition, the gun requires cleaning since it gets packed with contaminants which can damage the firearm if left dirty. You need to clean the firearm with a solution that is especially engineered to get rid of the offensive carbon residue that can accumulate inside.
The product does not only function as a cleaner, it also acts as a patch lubricant hence I am giving this big points for versatility. Another advantage of this cleaner is the fact that it is gentle on the skin so this is great news for sensitive-skinned users.
However the cleaner though comes with a strong smell that could be overwhelming and off-putting for some. If you don't like overpowering scents this might not be the product for you.
Another minor drawback that you might consider is the squeeze bottle—while it comes with a top, it does not really function as a squeeze bottle. You might need to do a bit of shaking the bottle to get some product.
Highlighted Features
Has special formula to take away powder contamination
Lubricates while it cleans at the same time
Can deep clean both deep and shallow-grooved barrels
Recommended for black powder firearms
What is the Best Bore Cleaner?
There are lots of cleaning solutions for firearms being sold in the market right now. However, what is the best gun cleaning solvent indeed?
A great product will accommodate your needs and assure you that your gun will be in spic and span condition at all times. It should be capable of ridding the barrel of the buildup that can harm its functionality.
That is why a little bit of research on bore cleaners is something that all firearms buffs and owners must consider. There's regular maintenance and then there's actually investing in quality products, and with the latter, you can be guaranteed that your precious weapons will always be safe and ready to use.
Things to Consider Before Buying the Best Bore Cleaner
Excellent bore or gun cleaners can lend a hand in faster cleanup and maintenance of your firearms. Guns and rifles do need frequent upkeep and if you skip on this important task, it might lead to a decrease in your firearm's functionality.
Keep in mind that you must clean your gun following each shooting session. Thus it is a good idea to stock up on cleaning materials at home so you can get rid of the layers and layers of buildup off of your firearms fast and easy.
The best cleaning solutions for guns come with special formulations that can easily penetrate deep into the barrel and remove carbon, copper and other sorts of residue that can damage your firearm. Formulas are important since you need to avoid fouling from accumulating inside the barrel of the weapon.
Another thing you should consider is whether the product comes with a strong smell or if it can irritate the skin. Some of us cannot stand formulas with overpowering scents so keep in mind to check out if a certain product has a strong smell or can aggravate skin on product reviews.
Price of the product is also another factor which can have an influence on buying decisions. This factor will help you zero in on what item you really need.
There are different price points for a variety of budgets on this kind of product. While there are some gun owners who feel like they must invest on high-end formulas, there are mid-range and inexpensive ones who can do the job well too.
The important thing to remember is that you need the best cleaner for your gun that you can find. If you need any assistance in your search, allow reviews of such products to become your guide on this quest.
Who Makes the Best Bore Cleaner?
There are lots of brands in the market like Hoppe's who make excellent bore cleaners however the product that best satisfies the gun user is the product that is best in their view.
Final Verdict
To conclude, the best bore cleaner in my case would have to be Hoppe's No. 9 Black Powder Gun Bore Cleaner. A crucial aspect of this product which made it stand out is its versatility—other than deep cleaning, it also serves as a patch lubricant.
It is formulated with ingredients that can deeply penetrate and take away ingrained metal fouling within the barrel and it makes the whole cleanup process simple and fast for gun owners. Hence, this is a great choice and something you may want to try out.
Featured Image by Greg Walters/ CC BY