Are you searching for the best combination safe reviews? There are many gun safes online, but the quality varies from the high quality to poor. To help you decide, I've looked over the top combination safes so you can get maximum value for your money and of course provide security.
I also have buyers' tips here, so let's start.
Introduction to the Best Combination Safe
If you want a good combination gun safe, you have to consider its features and capabilities. A combo safe is no longer just for guns as you can use a well-made safe to store jewelry and other valuables.
A combination safe keeps your firearm or valuables secure, and they're also easily accessible. Aside from solid construction and security, many are water resistant and have fire protection.
These combination safes are more versatile than ever, and in the following reviews I'm going to show you what features make for the ideal safe.
Top 5 Combination Safe Comparison Table
How to Choose the Best Combination Safe
If you're looking for the best combination gun safe you have to consider the following factors.
Size
Combination safes come in all shapes and sizes. If you're going to place a rifle in it, the interior must have enough vertical space for the standard 52 inch rifle.
Gun safe width has to be 35 inches minimum for long firearms, and the wider the better if you're going to store several firearms.
Large gun safes are great for long firearms, but impractical for pistols.
Small gun safes are portable and easy to conceal.
Construction Quality
Solid steel and continuous welding are preferable as they're more durable. Avoid low cost safes that use combustible material.
Safes with plastic components should be avoided.
Thick walls are ideal as they're harder to drill through without making a sound.
Locking Mechanism
Safes use different types of locking systems ranging from electronic, to dial and a combination of both.
A combination electronic and dial lock provides additional security.
Some combination safes also have keypad controls built in.
If you're going to purchase a combination electronic safe, make certain the keypad is durable.
Fire Resistance
A well-made safe is fire resistant to some degree. Look for a UL fire resistance rating of at least 350 F for 1 hour.
Some fire resistant safes have waterproofing and anti-leakage properties.
The most widely used insulation for fire is sheetrock. Ceramic wool is also used in more expensive safes.
Other Considerations
You should also consider the layout, i.e. if you can remove the shelves inside to rearrange the items.
Some of the more advanced safes even use biometrics for enhanced security.
Other features you may want to look into are anchor holes, override lock and pry resistant components.
Recommended 5 Product Reviews
Here are the top 5 safes I recommend.
#1: SentrySafe SFW205CWB Water-Resistant Combination Safe Review
The SFW205CWB is one of the best home combination safe today as it gives you security and peace of mind by keeping your firearm safe. There is also space inside for other valuables.
With an interior of two cubic feet, you can place a lot of items here without cramming. Filling the safe also increases its weight and provides additional protection.
Its UL fire protection rating also makes the SFW205CWB  ideal for storing valuables and jewelry. It is also suitable for memory sticks, media storage devices and of course firearms.
The bolts used are larger than those found in standard safes, and the rest of the safe is built for long term use.
High Quality Construction
The SFW205CWB is made from heavy duty steel, and it's going to take a lot of effort to move or lift the safe. With its 6 one inch bolts, there is an extra level of security built in.
Lots of Capacity
There is more than enough space here for your gun, ammo and other valuables. The layout also makes it easy to arrange the items as you like.
The tray and organizer are both adjustable. There is also a compartment, key rack and door pocket for small items.
Impact Resistance
This safe has been built to withstand a two story fall, and the hinges are also pry resistant.
Pros
Available in combination and electronic lock design
Can be bolted on the wall or floor
The handle is made from durable materials
The interior is spacious
Cons
You have to use a desiccant to avoid moisture buildup
Dial makes a clicking sound
Highlighted Features
UL rated for 1 hour fire protection
The bolts are heavy duty
The safe is heavy
There is 2 cubic feet of storage
Manual lock is easy to use
Bottom Line
This is one of the best combination safe under $500, and its roomy interior and lock will keep the items inside secure.

SentrySafe SFW205CWB Fireproof Waterproof Safe with Dial Combination, 2.05 Cubic Feet, Black
Fireproof safe is UL Classified to endure 1 hour at 1700°F and keep interior temperatures safe for irreplaceable documents, valuables, DVDs, and USBs; ETL Verified to withstand a 15 foot fall during a fire and remain closed
Waterproof safe is ETL Verified for 24 hours of protection in water up to 8 inches deep offering peace of mind in the event of a flood
Preset dial combination fire safe for strong security; Combination safe features six live-locking bolts, steel construction, pry-resistant hinge bar, tray, drawer, and bolt down hardware
Exterior: 18.6 inch W x 19.3 inch D x 23.8 inch H; Door requires 17.5 inch of clearance to fully open; Interior: 14.8 inch W x 11.9 inch D x 19.6 inch H; Extra-large 2.0 cubic foot capacity; Weighs 125 pounds
Should your fireproof safe be damaged by fire or water, SentrySafe will provide a replacement safe so the things that matter most are protected for generations to come; US based customer service for product-related questions and services
Last update on 2023-02-04 / Affiliate links (#ad) / Images from Amazon Product Advertising API
#2: Mesa Safe  MBF2020C Fire Safe with Combination Lock 3.3-Cubic Feet Review  
Combination safe reviews have given the Mesa Safe MBF2020C  positive feedback, and it's well-deserved as the safe has the features necessary to keep your firearm secure.
While built mainly for your gun, the security features in the Mesa are enough to protect your valuables too.
Because the MBF2020C is heavy, burglars won't be able to lift it without a struggle. What's even better is you can bolt the safe, and there is a drill resistant plate built into the safe as well.
Heavy Duty Construction
The MBF2020C is made from heavy duty steel, and the 4 inch door is resistant to fire. The body also has dead bolts and locking bolts 3 inches in diameter.
Fire and Impact Resistance
The safe has UL fire resistance rating of 2 hours, so if there's a fire your valuables are protected, and the safe can withstand a fall of up to two stories. The steel hinges provide extra protection, and the safe can withstand up to two hours in 350 F.
In fact the safe has been tested in up to 1830 F, and that tells you how durable the safe is.
Roomy Interior
The safe has 3.3 cubic feet of interior space, giving you enough room not just for your firearms but other paraphernalia and items you want to store. The shelves are upholstered and it also has a seat with a heat activation feature.
Pros
The 4 inch thick door is very strong
There are pre-drilled anchor holes for your convenience
Heavy and sturdy construction
Easy to use
Cons
You cannot create your own combination
One customer said he had trouble getting help with customer support
Highlighted Features
The anchor kit is included
The safe is made of solid steel
The safe has reinforced hinges
Has a 2 story impact strength
2 hour fire protection
Bottom Line
The MBF2020C is an outstanding safe that combines roominess with security, and it's hard to find a better one in its class.

Last update on 2023-02-03 / Affiliate links (#ad) / Images from Amazon Product Advertising API
#3: First Alert 2087F Waterproof, Fire Safe with Combination Lock Review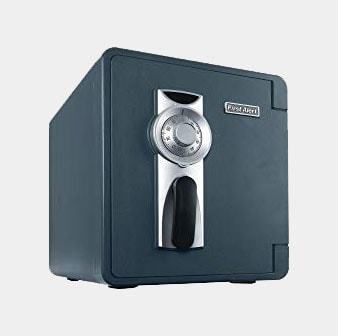 The first Alert has also gotten some of the best combination safe reviews, and I am not shocked as it is well-designed. It is sold in two variants and both are solidly constructed and provide lots of flexibility.
Like the other safes here, the First Alert is perfect for safeguarding digital and electronic media. From USB drives to discs, documents, cash and so on, the First Alert keeps them secure and accessible at the same time.
Unlike simple safes, the First Alert uses both key and combination, giving your firearm and other valuables extra protection. This is in addition to its heavy duty construction.
Solid Hinges and Construction
The safe is built from heavy duty resin, and it comes with Delta hinges that burglars won't be able to pry off. There are also 4 heavy duty bolts on the door, and you can adjust the shelf to suit your needs.
Secure Lock Mechanism
The First Alert has a 4 digit combo lock, and there's also a key included for added security. The inclusion of an emergency override key ensures you'll be able to access the safe even if you forget the combination.
Moisture and Fire Resistant
The Underwriters Laboratories (UL) has classified this as resistant up to 1700 F for one hour. It also has a waterproof seal so the contents remain dry even if the safe is immersed in water.
Pros
Available in .94 and 1.31 cubic feet
Provides protection for digital media
Waterproof
Has a 5 year warranty
Cons
Cannot be bolted onto floors
 The instructions are a bit confusing
Highlighted Features
The safe is waterproof
1700 F fire resistant up to 1 hour
Comes with an override key
Storage shelf is adjustable
Hinges are pry resistant
Bottom Line
The First Alert is not as large as the other safes, but if you just need a compact safe, this will get the job done.

Sale
First Alert 2087F Waterproof and Fire-Resistant Bolt-Down Combination Safe, 0.94 Cubic Feet
Ready-Seal safe protects valuables from fire, water, and theft even when bolted down
0.94-cubic foot capacity offers plenty of storage space for files, electronics, and more
Fire-resistant design withstands temperatures of up to 1700 degrees F for up to 1 hour
Waterproof seal keeps contents dry even when safe is submerged
Pry-proof concealed hinges deter thieves and resist crowbar entry
Last update on 2023-02-03 / Affiliate links (#ad) / Images from Amazon Product Advertising API
#4: SentrySafe Combination Fire Safe SF123CS Review
The SentrySafe Combination Fire-Safe was designed for those who want their firearm safe and sound. As one of the top combination safes for the home, the SentrySafe provides high level security for anything you put inside it.
The SentrySafe doesn't come with a key, but its mechanical dial lock offers enough security. Once locked, your documents and cash are safe and no one will be able to access it.
The safe is made from solid materials and can withstand drops from up to 15 feet. Even with repeated pounding the safe won't give in, and that's indicative of how resistant its built is.
The SentrySafe is also UL rated for 1 hour fire protection, and it is also reasonably heavy for its type. With these specs you'll be assured your stuff is secure.
Quick Access
The mechanical lock is easy to use, so in case of an emergency or break-in you can quickly open the safe and access the contents. Unlike other safes that require multiple confirmation, the SentrySafe puts emphasis on accessibility.
Quiet and Efficient
The SentrySafe does not make a lot of noise. Other safes make loud sounds when you press the keypad, but the SentrySafe won't make any sound when you open it.
One of the more common problems with safes is they make a lot of noise, so the fact that this is silent is welcome.
Easy to Operate
The SF123CS is one of the easiest safes SentrySafe has released. No need to use memory any long codes or use keys, as the combination lock is all that's required for access.
Pros
You can purchase combination or electronic versions
The safe is ETL certified
Heavy duty built
Compact design makes it easy to conceal
Pry resistant components
Cons
Cannot be bolted on walls or floors
No key included, just a combo safe
Highlighted Features
The safe is durable enough to withstand a 45 meter/15 foot drop
Has 1.23 cubic feet interior space
Shelf positon can be adjusted to suit your needs
Live locking bolts for extra security
High quality components used
Bottom Line
If you're in the market for the best affordable combination safe for your gun and few other items, the SF123CS is worth considering. It is low key but effective for storage and security.

SentrySafe Fire Safe, Extra Large Combination Safe, 1.23 Cubic Feet, SF123CS
ADVANCED FIRE PROTECTION: Fire resistant safe is UL classified for fire endurance (1 hour at 1700ºF) to protect documents, records and valuables from fire damage
ETL VERIFIED: Fireproof box is ETL verified (1 hour at 1700ºF) to protect CDs, memory sticks, and other digital media, and ETL verified to withstand a 15-foot drop during fire and stay closed
SECURITY: Combination safe has four live-locking bolts, steel construction, and a pry-resistant hinge bar to help prevent unauthorized entry into your personal safe
SPACIOUS INTERIOR: Extra large fire safe ensures there is space for all your valuables and includes a multi-position shelf and door pocket with key rack for optimal organization; Interior: 13.8 in. H x 12.6 in. W x 11.9 in. D, exterior: 17.8 in. H x 16.3 in. W x 19.3 in. D
AFTER FIRE REPLACEMENT GUARANTEE: In the event of a fire, SentrySafe will replace your fire-resistant product to help get you back on your feet
Last update on 2023-02-03 / Affiliate links (#ad) / Images from Amazon Product Advertising API
#5 : Mesa Safe MBF2620C Fire Safe with Combination Lock 4.1-Cubic Feet Review
The Mesa Safe MBF2620C is a high end gun safe with combination lock. With 4.1 cubic feet of interior room, it is one of the most spacious safes in its range, and while other safes can only store a limited number of items, the Mesa MBF2620C offers a lot more.
You can put the safe anywhere you want, but for added security it is best to bolt it on the floor or wall of your bedroom. This is easy enough to do as the complete anchor kit is included in the safe.
The MBF2620C has the features you'd expect from a high quality safe, and we will look at them shortly.
Secure Locking System
The U.L. Listed Group 2 Combination Lock is very resistant to prying. Once the combination is locked, no one will be able to open it unless they have the combination.
What it all comes down to in safes is the locking mechanism, and the MBF2620C does not disappoint. Once it's locked only those who know the code will be able to access the items inside.
Roomy Interior
The safe comes with shelves that you can adjust to fit the contents inside. The shelves also act as dividers so you can arrange the items inside neatly.
Like the other Mesa Safes, the MBF2620C is an all-purpose safe so you can use it for any valuables you have in mind. Its higher than average fire protection and capacity are certainly pluses.
Durable Design
The Mesa Safes are known for their quality and this is no exception. Solid steel is used in the construction and the door is 4 1//2 inches thick, and additional safety features include 3 inch diameter dead and lock bolts.
Pros
The shelves are adjustable
All the required anchor bolts are included
Walls and floors are metal
Pry resistant design
Lots of room
Fire resistant
Cons
Could have been heavier
Instructions are a bit lacking
Highlighted Features
4 pre-drilled anchor holes are provided in the package
Designed to withstand a 2 story fall
Fire resistant level is 2 hours, 350 F
Comes with a heat activated seal
Lock has anti-drill plate protection integrated
Bottom Line
If you're looking for a high quality combination safe and price isn't a concern,the MBF2620C is a good bet.
Last update on 2023-02-03 / Affiliate links (#ad) / Images from Amazon Product Advertising API
Advantages of Owning a Combination Safe
Having the best combination lock provides you with a lot of benefits over the standard safe.
Durability: these safes are constructed from high quality materials, and they're built to last a lifetime.
Security: the locks are secure and can't be pried off easily. Plus many provide additional layers of security to keep burglars at bay.
Spacious: as I mentioned above, the top safes provide storage for your guns and other valuable items. Instead of buying a separate safe for your other valuables you can store all of them in one place.
Easily Accessible: safes keep your firearm safely locked, but they're within reach. By placing the safe on your bedside, you can quickly get your gun in case of an emergency.
Peace of Mind: if you've got kids in the house, a gun safe is necessary, and even if you don't, a safe ensures burglars won't be able to get to it easily.
Conforming to State Laws: in some states you're required to keep firearms in a safe, so having one ensures you're following the law.
Fire Protection: having your most valuable possessions in a fireproof safe is going to make you feel safe and secure.
Tips for Using and Maintaining Combination Safe
Even the best combination handgun safe won't last if it's not handled properly. Though safes don't need a lot of maintenance, the following does help.
Read the owner's manual: a lot of the problems users encounter stems from the fact they haven't read the manual. This is especially true if you've got a combination / electronic safe.
Store in a safe location: place the safe by your bedside, and bolt it to the floor or wall if possible. Don't leave the safe in the open for everyone to see.
Limit Access: the safe is only as effective as you'll allow it. Limit access only to those you trust with the contents.
Test the Safe: try out all the features of the safe before putting anything inside. If there are problems, return it to the manufacturer or the website you bought it from.
Use the Safe Properly: if the safe is meant for use only in a specific way, do so. Also, don't leave the safe near highly combustible objects even if it is fire resistant.
Clean the Safe: clean the safe and its contents every couple of months or so.
Top 5 FAQs about Combination Safe
What if I lose my lock combination and or keys?

You have to contact the dealer where you bought the safe. Make sure you've got your safe serial number and other details so they can provide assistance. This is the same process if you lose your safe keys.
 How do I change the combination lock?

This feature is available in gun safes with keypads, and requires you to enter the default combination first. Once the combination has been accepted, there is an option to change the keys.
 What does UL resistance mean?

The rating refers to how long the gun safe can protect the contents in case there is a fire. Most gun safes have a UL rating of 350 F and good for 1 hour, but there are many other safes which have a higher fire resistance rating.
 What does safe routine maintenance mean?

This is the routine used to keep the safe's lock in good working condition. This is a job for certified locksmiths only however.
Can all firearm safes be used to store valuables?

Yes, and there's usually enough space for your gun and valuables.
Final Verdict
My top choice is the Mesa Safe MBF2020C. It is well constructed, and there's more than enough here for your gun and other items you want to safeguard.
Its biggest advantage over the others is its layout, as it provides greater flexibility be it for guns, books, documents, jewelry and so on. The Mesa Safe MBF2620C is larger yes, but it's also more expensive, so the Mesa Safe MBF2020C is a good compromise between price and security.
I hope you find the best combination safe reviews here useful. With a little research it won't be difficult to find the ideal gun safe for you.