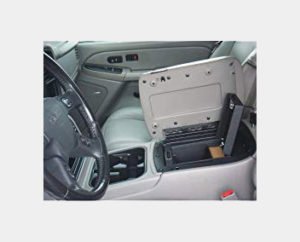 More and more people are pushing for people to install safety equipment in their vehicles. This is why you'll find lots of Console Vault reviews noting just how handy these products are.
As their brand name suggests, Console Vault is a manufacturer of vaults and secure storage vaults and boxes for the console of your vehicle. They also offer other security products for the home, most of which boast innovative features and designs.
With crime statistics noting that a lot of stolen firearms are taken from motor vehicles, it pays to secure yours if you need to take them with you in your travels. The trend is even on the rise as cities report an increase in number of car thefts involving guns.
These shouldn't stop you from taking your gun wherever you are if you're legally allowed to do so. However, you should take the right precautions in keeping it and everyone safe. Installing a console vault is one of the best ways to get this done.
Clueless as to how to get started in adding a secure storage spot in your home or vehicle? Stick to our guide to learn more about Console Vault and their products.
Best Picks of Console Vault Reviews
#1: Console Vault Chevrolet Silverado Floor Console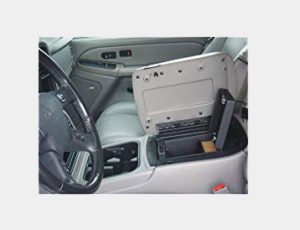 Kicking off the list is the Console Vault Chevrolet Silverado Floor Console. Compatible with Chevrolet Silverado units released in 2003, 2004, 2005, and 2006, this unit can be the very item you need for your truck.
Made with 12-gauge steel and equipped with either a highly secure barrel or keyless lock, it can easily add a layer of protection for your vehicle's console.
What makes this product a big hit is its Triple Lock System. This innovation is a three-point locking system that combines a bank vault-style hinge latch for starters.
This guarantees protection against prying techniques as pins can be vulnerable to some picking and complete removal.
It's also equipped with a front element that allows the lid to be integrated into the body of the vault, which further ensures the unit's security. This engineering feat relieves stress on the area around the lock so it won't be susceptible to attacks.
All of these guarantee great construction that can resist attempts at forceful entries and breakage.
What I Like
Features a 3-point locking system makes it impossible to pry open
Very easy to install
Won't require console replacement and other car modifications
Made in the USA
Available in two lock options: barrel or keyless
Wide compatibility
Drill-resistant
Can be bolted down using factory console bolts
Spring-assisted door is easy to handle
What I Didn't Like
Eats up space inside the console giving you a smaller storage space
#2: Console Vault Floor Console Gun Safe 11-16 Ford F-250/F- 350
Last update on 2023-11-23 / Affiliate links (#ad) / Images from Amazon Product Advertising API
With Ford being one of the most popular manufacturers of pickup trucks, it shouldn't come as a surprise that Console Vault also has products that will work well with its models.
The  Console Vault Floor Console Gun Safe 11-16 Ford F-250/F- 350 is actually one of the most bestselling options from the brand, given the fact that the vehicle itself is a popular pick.
Because Ford's Super Duty trucks are also favored for having some of the largest consoles, it can also be a good pick for those who want to carry firearms in their vehicles without worrying about space.
This will give gun owners more freedom to bring along various models as they won't have to worry about their gun not fitting inside the console.
The Ford F250's console size also makes it a good place to add a safe. Since you'll be carrying a firearm in it anyway, why not install a good Ford vehicle safe by Console Vault in it?
This particular model works well with Ford F250s that were released from 2011 to 2016. It can also work with 2011 to 2013 models of Ford F450 and F350. It also comes with a secure barrel lock.
Like other Console Vault products, this unit also takes pride in its Triple Guard Lock System. It promises three levels of security so the unit won't be easily pried open.
What I Like
Also available in keyless lock varieties
Wide compatibility
Quick and easy installation
Triple Guard Lock System ensures security
Solid construction
Drill-resistant lock
What I Didn't Like
Won't let you use the removable tray your vehicle comes with
#3: Console Vault Floor Console Gun Safe for 12-13 Ford F-150
Last update on 2023-11-23 / Affiliate links (#ad) / Images from Amazon Product Advertising API
Another popular Console Vault product is the Console Vault Floor Console Gun Safe for 12-13 Ford F-150. Also listed as the Ford F150 Flow Through Floor Console Vault, this product will work with Ford F150s that were released from 2009 to 2014.
Also made of 12-gauge steel with the Triple Guard Lock System, this unit can easily add security to your vehicle.
If you ever need to leave valuables inside your truck, you won't have to think twice with its help. The heavy-duty construction and materials used will really be a good deterrent for thieves.
Before purchasing this product, though, it should be noted that it won't fit F150s that come with gear shifters on the steering column.
Only those with their shifters on the floor will work with this safe as they have different sized consoles.
What I Like
Installs in minutes
Offers a secure spot for your valuables
Also available in keyless combination lock variety
1 year warranty
Looks great
3-point locking system makes it invulnerable to attacks
What I Didn't Like
Won't let you use your removable tray on top
Only compatible with models that have their gear shifters on the floor
#4: Console Vault Safe for Chevy + Yukon + Yukon XL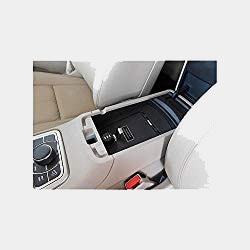 If you're one of those folks who often forget to lock your stuff even if it's so easy to do, then the Console Vault Safe for Chevy + Yukon + Yukon XL might be a great pick for you. This unit won't let you forget about locking your safe as the lid won't even close when unlocked.
This design is made possible by the spring-assisted design of the lid. It needs to be secured to the body by engaging the lock so the safe will stay closed.
While it seems like an inconvenience, it can actually play a huge role in ensuring your valuables' safety. A lot of people can forget to lock their vehicle's safes and that can defeat the purpose.
An unlocked safe is not a secure storage anymore as it won't make it difficult for thieves to get in. So, by making it impossible for you to forget to lock your console safe, Console Vault just made it even easier to secure your firearms and other important belongings in your SUV.
What I Like
Will stay fully open when unlocked
Fuss-free installation
Compatible with your car's factory console bolts
Heavy-duty construction
Works smoothly
Available with barrel or keyless combination lock
Compatible with Chevy Suburban and GMC Yukon made from 2003 to 2006
What I Didn't Like
Can eat up a good portion of your vehicle's console
#5: Console Vault safe for Ford F150 and Lincoln
Console Vault safe for Ford F150 and Lincoln LT Floor Console 2004-2008 1005
Made from massive 12 gauge cold rolled plate steel, welded tab and notch seems.
Superior three point locking system resists prying. Bank vault style hinge latch pins. Balanced spring assisted door.
Easy installation. Secures to factory console bolt holes.
Customers must indicate you need a barrel key lock upon purchase or will receive a 3 digit COMBO lock.
This sale is only for the VAULT itself. The actual center console is NOT included in the sale.
Last update on 2023-11-23 / Affiliate links (#ad) / Images from Amazon Product Advertising API
Ever shied away from using valet service even though you're already in a hurry because of the valuables in your vehicle?
Then you should definitely check out the Console Vault safe for Ford F150 and Lincoln LT if you own any of these trucks.
This deception safe can help you secure your valuables in your vehicle with great ease and convenience. No more needing to tether locked steel boxes under your seats or even modify your ride just so you can have somewhere to lock your firearms, jewelry, money, or gadgets in.
This Console Vault product sits right inside your vehicle's console so it will easily keep your valuables out of sight.
It also has a sophisticated Triple Guard Lock System that will help it withstand attempts of prying. All of which makes it a solid place to stash your items away in.
What I Like
Very easy to install
Secure Triple Guard Lock System
Available in keyless or barrel lock options
Compatible with Ford F150 and Lincoln LT trucks released in 2004 to 2008
What I Didn't Like
Eats up the space for the change slots
#6: Console Vault/Cover Ford Excursion Floor Console Cover 2000-2005, ord F250/F350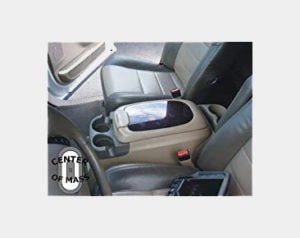 Last update on 2023-12-05 / Affiliate links (#ad) / Images from Amazon Product Advertising API
Not because you drive a massive vehicle does it mean that you can relax and just let your valuables lying around inside the car.
It actually requires more effort in terms of security, since your vehicle will really attract a lot of attention.
This is why the addition of a Console Vault/Cover Ford Excursion Floor Console Cover 2000-2005, ord F250/F350 unit into your truck can be a good idea.
If you believe your truck attracts unwanted attention, amp up its security with a console safe so your valuables won't be touched.
This unit will fit Ford Excursion models from 2000 to 2005 as well as a number of Ford F250s and F350s (2004 to 2007).
It's also made of 12-gauge steel with the Triple Guard Lock System so it promises a secure space for your belongings right inside your vehicle's console.
What I Like
Highly secure
No fuss installation
Available in barrel or combination lock varieties
Uses console screws to bolt the unit down
Pry-resistant
Good choice for a vehicle gun safe
What I Didn't Like
Completely replaces the inside of your console giving it a different functionality altogether
#7:  Console Safe Nissan Titan Full Floor Console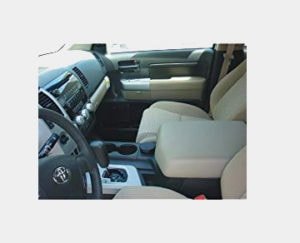 Last update on 2023-11-23 / Affiliate links (#ad) / Images from Amazon Product Advertising API
Pickup trucks are utilitarian in nature, so it makes sense that lots of people want to make it more secure.
In the case of Nissan Titans, the Console Safe Nissan Titan Full Floor Console can be a wise aftermarket addition.
Compatible with Nissan Titan models from 2004 to 2015, this console safe can further increase your truck's functionality.
You'll also feel better about taking your firearm with you wherever you go. It can keep the unit out of reach of those who are not supposed to use it but it will still be easily accessible to you.
What I Like
Sturdy construction using 12 gauge steel
3-point locking system designed to resist break-ins
Spacious storage can fit a handgun, clips, and holster
Quick and fuss-free installation
What I Didn't Like
Doesn't leave any space for other console use
The History of the Console Vault Brand
With the kind of world we live in nowadays, taking appropriate steps to protect yourself, your family, and your property is just prudent.
This is why carrying a gun with you, granted that it's legally acquired and with ample documentation, might just be the best way to help you feel secure.
Owning a firearm and being able to take it with you outside of the house also demands that you take full responsibility of such a weapon. This is why gun safe purchases come hand in hand with gun ownership.
With a concealed carry permit, you might also want to consider having a safe spot in your vehicle to store your firearm. Not only will it keep the weapon safe, but it will also help you protect such an item from those who mean harm. It's just the responsible thing to do.
Console Vault was born out of this necessity. Founded in 2002, the brand specializes in producing secure storage boxes and vaults for vehicles.
Thanks to their name and their expert craftsmanship, they have now become one of the most reliable manufacturers of the best console safes.
If you own a popular model vehicle, chances are, you'll easily find a compatible product from Console Vault. The brand carries a wide number of deception vaults for car consoles, so it's likely that you can get a specific one for your ride.
They also have other products that are designed to help you transport your firearms safely and securely. There's also a number of Console Vault products that are made for home use.
Where are Console Vault Products Made?
Proudly made in the United States of America, Console Vault's products are not just designed in the country but are also manufactured here as well. This can help guarantee quality craftsmanship and materials.
Why Console Vault?
With so many different safe manufacturers vying for your attention, why should you choose Console Vault? Here are a few good reasons that might just help you decide:
They use 12 gauge steel in all of their products.
The quality of the materials you use to keep your valuables safe matters a lot, especially for vehicle safes. This is why it matters that Console Vault only use 12 gauge steel in their products as it helps ensure great construction.
Console Vault specializes in producing safes made for vehicles.
It just makes perfect sense to opt for their products if you're looking for such so you can be guaranteed of quality.
Their products are unique and specially developed to ensure your valuables' safety.
Console Vault has a range of specially designed products for a number of different car models. If you own one, you'd be glad to know that you won't have to make modifications in your vehicle to install a safe.
If your vehicle doesn't make the cut, you can still find suitable options from their range. Their universal vault can do the trick in most cars. You can also just opt for their Gun Transporter to help you hold your firearms when traveling.
Their products are made in the USA.
This one's a no-brainer. Made in the USA products are just deemed as better options all the time due to the higher standards used to evaluate products. The fact that Console Vault products are made locally means you're getting great items.
If you're also the type who factor in the local economy in your purchases, this might be a better deal for you. Being locally made means the company offers jobs to Americans which is always a good reason to patronize the brand.
Console Vault vs Lock'er Down
While there are tons of different brands that offer vehicle safes nowadays, one of the closest competitors of Console Vault is Lock'er Down. This is why, when researching about Console Vault products, you'll very likely to find information on Lock'er Down products as well.
Which one should you choose, though? The thing with Lock'er Down is that it's a great brand as well. It has tons of similarities with Console Vault that it really makes picking one a challenge.
For starters, both offer products that are manufactured in the US. This guarantees the quality of materials and craftsmanship used in their offerings.
Then, there's also the fact that both specialize in the creation of vehicle safes. Lock'er Down also makes console safes that can secure your firearms and other valuables right inside your vehicle's console just like Console Vault.
Both also offer lock options. This will allow you to customize your unit to make it more secure and easier to use, so it's deemed as an important plus for both brands.
But what really sets them apart is the fact that Lock'er Down has a slightly wider range of vehicle safes. They offer long gun storages for vehicles which are not a part of Console Vault's collection.
At the end of the day, it's really up to you which brand to go for. It's best to look at what both have to offer so you won't regret missing out on something that would've been the perfect pick for you.
Console Vault Installation
As Console Vault's products are meant to sit right inside your vehicle's console, it should be expected that it requires a bit of installation. Fret not, though, because this task isn't too difficult. With some skills, it might only take ten minutes to get it done.
To give you an idea how Console Vault products are installed, here are the general steps that you will need to remember:
1.Clear your console.
Your console safe is going inside the console, so it needs to be cleared out first in order for the safe to fit.
2.Grab a screwdriver and remove the screws that bolt down the plastic tray into the base of the console.
3.Place the Console Vault product inside your vehicle's console.
Make sure that it sits flush inside the console so you can easily secure it to your vehicle's body.
4. Bolt down the safe using the screws that come with the unit.
5. If you opted for a combination lock, reset its code.
Make sure to read the instructions how to get this done to ensure that correct results.
Final Verdict
There are tons of different safety vault manufacturers out there so when it comes to options, you definitely have more than a handful. However, not everyone can offer a good addition for your vehicle the way Console Vault can.
As our Console Vault reviews will note, every product shares similar features so they're all great picks in our opinion. Taking a pick is just a matter of choosing the right match for your vehicle.
With the right Console Vault product, you can now stop worrying about being a part of the statistics. It can help keep your firearms and other valuables safe, so you can be more confident about your safety.