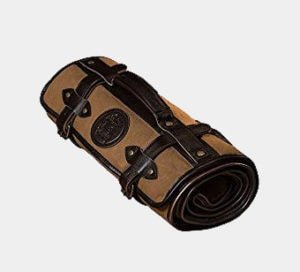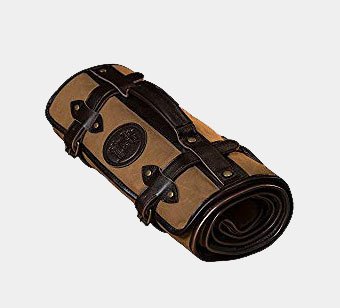 Are you searching for the best gun cleaning mat? There are a lot of options available online, but how do you choose which one to buy?
No need to worry though, as I have done reviews of the top 6 so you don't have to. In the following reviews I cover all the essential features, pros, cons and I also pick out a winner.
Aside from the reviews, I have also prepared a buyer's guide so you will know what to buy. While cleaning mats have various features, the sizes and features vary, which is why it's important you know these figures.
Top 6 Gun Cleaning Mat: Comparison
Best Picks of Gun Cleaning Mat Reviews
#1: Gun Cleaning Mat by Sage and Braker Review
Gun Cleaning MAT by Sage & Braker. Made from Waxed Canvas, Wool and Leather.
HIGHEST QUALITY MATERIALS: Made from 12 oz. waxed canvas, heavy wool and thick leather. This mat was built with the intention of passing it down through the generations.
OVERSIZED AND OVERSTUFFED: Once rolled out, our mat measures in at 69" long X 16 " wide and ½" thick. Big enough work on your your largest firearms and thick enough to protect them from any surface
HOLDS ALL OF YOUR CLEANING PRODUCTS: Built to hold all of your cleaning gear. Four pouches will hold your brushes and picks, your CLP, two bore cleaning kits and a place for your rags. Just roll everything up, buckle it down with the leather straps and throw it in the back of your truck.
PROTECTS GUN AND WORK SURFACE: Prevents guns from being scratched on harsh work surfaces while also protecting surfaces from cleaners, lubricants and oils.
CLASSIC LOOKS: Handsome, functional and built to last.
Last update on 2023-09-20 / Affiliate links (#ad) / Images from Amazon Product Advertising API
If you're looking for an AR 15 gun cleaning mat, then this should be on your list. Made of wool, waxed canvas and leather, the mat is designed for the hunter.
The first thing you'll notice is the mat's thickness. This is a testament to how durable and versatile the material is.
The mat is half an inch thick so you don't have to worry about oils and spills getting on your work surface. At 69 inches long, the mat is also long enough for large rifles.
The Sage and Braker mat is also notable for its pouches that allows it to hold a large array of cleaning products. With these pouches you'll be able to store bore cleaning kits, picks and brushes.
Once you're done cleaning, just fold the mat. This makes the Sage and Braker ideal for hunters as it's convenient to carry.
The mat comes with leather straps for securing the material so it doesn't unroll accidentally. The mat also works two ways, protecting both your gun and the surface.
With the mat, you can use all the necessary cleaning solutions and liquids without fear.
What I Like
Made from high quality materials
Enough space for large rifles
Designed to hold various gun cleaners
Provides protection for your guns
Rugged construction ideal for hunting
What I Didn't Like
More suited for rifles than handguns
Doesn't come with a Sage and Braker kit
#2:TekMat 12-Inch X 36-Inch Long Gun Cleaning Mat Review
In terms of durability and versatility, the TekMat is comparable to any extra large gun cleaning mat and in many cases better. Not only is is durable, but the mat gives you a nice view of your firearm.
The mat has a polyester top and the back is rubber neoprene. This combination ensures the surface won't affect your gun's finish.
Measuring 12 x 36 inches, the mat is suitable for short and long firearms. With its durable finish and high quality, you'll be able to carry this anywhere you need to go.
The mat has a detailed exploded view of the AR15, and this should come in handy when you're cleaning. The durable finish also means you don't have to worry about chemical spills damaging your table or the floor.
The TekMat is suitable for the M16 and AR15, and it works as both a cleaning and repair mat. The mat's polyester material is just right in ensuring chemicals don't lead to deterioration.
The TekMat also does not accumulate dirt quickly, reducing the amount of cleaning and maintenance needed. The spacious work area is another benefit as it allows you to clean with sufficient space.
The TekMat is a roll up so once you're done, just roll nice and easy.
What I Like
Does not stain easily
Large size
Not too heavy
Well-designed rubber backing
Easy to store
What I Didn't Like
Print is small in some places
Rather thin
#3: Lyman Products Essential Gun Maintenance Mat Review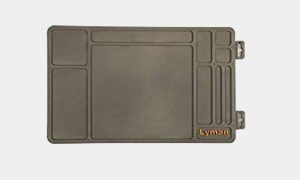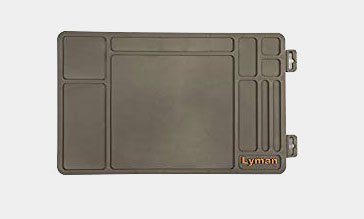 Sale
Last update on 2023-09-20 / Affiliate links (#ad) / Images from Amazon Product Advertising API
If you read gun cleaning mat reviews, you'll notice that the Lyman gets a lot of positive feedback. After reviewing the product I have to agree that it's really effective and worth trying out.
The Lyman mat's most notable feature is its recessed sections. This is a nice feature as it prevents oils and liquids from spilling, and this also means you can focus on just cleaning your guns.
The Lyman mat is also easy to clean up so it's not a hassle to use. The material used is soft polymer, and that's another benefit as it's suited for guns.
One of the most common complaints with cleaning mats is they get soiled easily. The Lyman does not so it's more convenient to use.
The mat's surface material does not absorb liquids the way other cleaning mats do. What his means is you can do a lot more cleaning and be productive.
The mat is also thick so it won't cause any dents on your work table. This is a thoughtful feature that really makes cleaning easier and more convenient.
For man users though, the biggest advantage is the raised sections as it allows for easy management of cleaning solutions.
What I Like
Low maintenance
Suitable for a number of different guns
Material is durable
Doesn't get too dirty
Beautiful design
What I Didn't Like
Too small for very long rifles
Stains need to be clean up quickly
#4: Glock AD00073 Perfection OEM Cleaning Bench Mat Review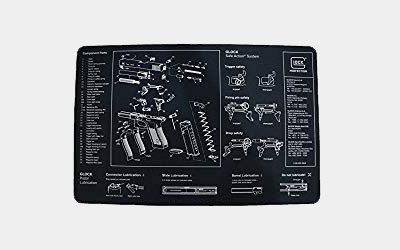 Glock AD00073 Perfection OEM Cleaning Bench Mat
Large 11" x 17" work area (280mm x 432mm)
Constructed of a thin Rubberized Nylon, with an oil resistant surface to protect your table top. Soft cloth top protects your gun from scratches
No slip - lays flat and will not slide around
Exploded diagram of a Glock pistol with a parts list printed on the surface. Also includes the Following useful information printed on the surface: pistol lubrication diagrams, showing the proper lubrication points
Genuine Glock factory OEM product
Last update on 2023-09-21 / Affiliate links (#ad) / Images from Amazon Product Advertising API
The name Glock is well known among gun buffs, and this mat should go along well with your gun cleaning kit. The mat is made from durable materials and its 11 x 17 surface is sufficient for a lot of guns.
This mat underwent rigorous processing to ensure quality, and it is evident in the design here. The material used is rubber nylon and its surface is resistant to oil.
The Perfection mat is not just oil resistant however, as it is also scratch resistant. It is this durability that allows you to clean different types of guns.
The mat is nonslip so it's not going to slide when you use it. The mat is also flat so you don't have to be concerned about the layout.
The mat's surface provides an exploded view of a Glock handgun. Components are listed on the diagram, and there's also lubrication diagrams built in.
The Glock mat also comes with lubrication programs. This is a very nice addition since it serves as a guide for new users.
The mat also provides info on the right lubrication points, ensuring you're not going to make a mistake cleaning.
What I Like
Doesn't absorb liquids
Easy to clean up
Surface comes with lots of useful information
Non slip surface
Genuine Glock
What I Didn't Like
Lettering isn't that easy to read
Has a mouse pad feel that some may not like
#5:Real Avid Universal Smart Mat – 43×16", Long Gun Cleaning Mat Review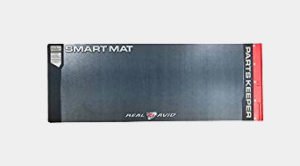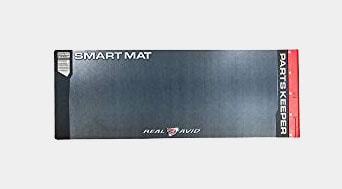 Last update on 2023-09-20 / Affiliate links (#ad) / Images from Amazon Product Advertising API
Some gun cleaning mats with diagrams are so poorly made they only last a few weeks. If you're fed up with those mats, check out the Real Avid mat as it's designed for heavy duty use.
This mat comes with an organizer tray so you won't lose any tools. With all your tools organized it's easier than ever to maintain your guns.
The tray is magnetic and is joined to the cleaning pad. Since it is magnetic you are not going to lose any springs, pins or other parts.
At 43 by 16 inches, the mat is big enough for long and short guns. The back is nonslip so the mat won't move around when cleaning.
The mat's work surface has good padding and is enough to provide protection or your guns. The mat's padding does not soak up either so cleanup doesn't become a chore.
The Real Avid mat's nonslip surface allows you to work without difficulty. There is no slipping or other issues to be concerned about.
For a lot of people, the bundled tray is a nice addition. It's all too easy to lose stuff especially the small parts, but not with the Real Avid.
What I Like
Makes gun cleaning easy
Simplifies organization of tools
Keeps work surface clean
Nonslip
Durable
What I Didn't Like
Rear rivets is rather low
Not all of the tray is magnetic
#6: Premium Gun Cleaning Mat with AR15 Exploded Parts Diagram Review
Manufactured by Silver Tactical, this cleaning mat is most suitable for AR15 rifles. At 12 x 36 inches, it is just the right size for cleaning or repairing an AR15.
Like many cleaning mats, the Premium rolls up nicely for quick storage. The mat also has diagrams to guide lubrication.
The difference here is the diagram is large and clear. There's no need to squint your eyes as the layout is easy to figure out.
The mat isn't called Premium for nothing, as it is made from high quality, durable parts. The mat surface is waterproof so getting the surface wet won't cause a problem when cleaning.
The Premium's edges are stitched for extra durability. There is also double padding for extra protection when you're using it.
All Silver Tactical mats are known for durability, and that's apparent here. The mat is strong enough to take punishment when used outdoors for hunting.
Another thing going for the mat is the ease with which you can roll it up. When you're done cleaning it's easy to store.
Bottom line is, the mat does what it's supposed to without any fuss.
What I Like
The mat is made from premium materials
Diagrams are clear
Size is ideal for popular rifles
Built for heavy duty use
Comes with a lifetime warranty
What I Didn't Like
Not as thick as other cleaning mats
Maybe too large for some
Things to Consider Before Buying The Best Gun Cleaning Mat
If you're going to buy gun accesories you take into account several factors, and that is applicable to these cleaning mats too. Here some suggestions:
Quality Materials: get a cleaning mat made of durable, high quality material. Good materials don't stain easily and last a long time.
Size: some cleaning mats are more suitable for handguns, while others are for long firearms. Choose one that suits your needs.
Storage: an ideal cleaner has enough storage for gun cleaning products, picks and kits.
Low Maintenance: an ideal cleaning mat is easy to maintain and does not stain easily.
Provides Protection: no matter the material type, the mat must provide protection for your guns and also the workplace.
Style: today's cleaning carpets are as stylish as they are functional, so there's no reason to settle for a shabby looking cleaning mat.
When shopping for a pistol cleaning mat or one for long rifles, pay attention to the warranty and design quality. Some cleaning materials look good, but poor construction means it's not going to last.
The brand reputation is just as important. Buying from established brands means you're going to get a good warranty and customer support.
A few more things to keep in mind.
Do not let cost be the primary factor: always emphasize quality
Buy only from a reputable website so you don't get scammed.
Study the vendor's return policy just in case.
How to Clean a Gun Cleaning Mat
A well made leather gun cleaning mat does not need frequent cleaning. In fact that's the reason why they're widely used in the first place.
If the cleaning mat gets dirty, follow the instructions on the package. These mats are made from various materials, so one cleaning solution may not work for another. That's why it is important to clean only as directed to avoid damage.
If the cleaning mat does not specify a cleaning solution, use warm water and soap. Use only mild soap to avoid damaging the material.
A lot of good quality gun cleaning mats do a good job of concealing grime and dirt. It's for this reason why most don't need frequent cleaning.
If the mat needs cleaning, work on the entire surface. Depending on the mats size you may need to use a considerable amount of soapy water.
Some suggestions for cleaning the mat:
Do not clean the mat unless it is really necessary.
Do not use harsh cleaning solutions because it might cause damage.
Use the mat in a clean environment to minimize dirt and grime buildup
If the brand suggests a specific cleaning solution, use that.
Top Gun Cleaning Mat Brands
Deciding what cleaning mats to buy for your gun must take brand name into consideration. Based on my experience, the brand is crucial because established names provide better customer service, have a longer and a more comprehensive warranty.
Sage and Baker:  this brand has earned a solid reputation for their heavy duty design and strikingly beautiful gun cleaning mats.
TekMat: TekMat mats are recognized for their resistance to oils and chemicals.
Lyman: these mats are soft and easy to maintain.
Glock: Glock manufactures a number of quality mats, all of which are nonslip and many have lubrication guides.
Silver Tactical: this is the company behind premium cleaning mats. Their best mats are waterproof and also built to last.
Real Avid: this brand is known for mats that make it easier to clean guns.
Studying and learning brands is necessary when you're shopping for food, appliances and electronics. This also applies to cleaning mats for guns.
Buying a cleaning mat for guns is easier than ever. However that doesn't mean you should just pick any product you see. That's what I feel it is important that you learn about brands.
Final Verdict
All the gun cleaning mats here are of the highest quality. However there is no question that the best one is the Sage and Braker cleaning mat.
There is a reason why it is highly regarded by a lot of gun owners. This mat is made of high quality fabric, and its lather, wool and waxed canvas really makes a difference in cleaning.
This cleaning mat also rises above the rest due to its size, as it is large enough for even the biggest rifles. This means you don't have to worry if your your gun will fit, and that's why it is the best gun cleaning mat.