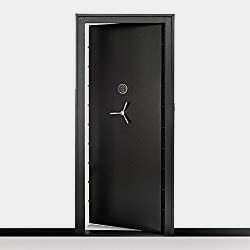 Lots of people who argue against using cabinet safes and other secured storage items consider built-in vaults as the best ways to keep valuables safe.
Of course, it still has a lot to do with the construction and getting the best vault door for the job, but compared to regular boxes and safes, vaults promise to put up a better fight against thieves, home intruders, fire, and water damage.
On top of this, vaults can also offer the most space for your valuables. A built-in vault can be customized to match your needs.
It can easily range from the size of a broom closet to an actual room that can also double as a panic room.
The right vault door plays a huge role in achieving top-notch security for your home vault, though. So it's important to choose properly.
To help you with that, we've rounded up a few tips and some of the best value vault doors in the market today.

Top 5 Vault Doors: Comparison
Best Picks of Vault Doors Reviews
1. SNAPSAFE Aux Vault Door 32×80- Safe Door Review
SnapSafe Steel Vault Door
Enhance the security of any closet, room, or storm shelter with the Snap Safe Vault Door
12 gauge door and door frame
Nine 1" live locking bolts
SecuRam digital lock with key backup (standard) or EMP lock (upgrade)
Steel trimmed exterior
Last update on 2019-11-28 / Affiliate links / Images from Amazon Product Advertising API
Those who are exploring the idea of adding a vault in their homes might find the SNAPSAFE Aux Vault Door 32×80- Safe Door an attractive option.
This customizable unit may be barebones, but with some tweaking, it can get the job done.
Considered as a relatively cheap vault door with its friendly price, this SnapSafe vault door has a removable back panel. This design lets you fill it up with whatever material you might want to add.
This styling makes it possible for the brand to offer an affordable vault door while giving DIYers a chance to create their own security equipment.
When it comes to security, there's nothing to worry about. Its use of 12 gauge steel can already help you rest assured that this vault door can resist tampering and prying.
It also requires the use of a key to turn all of its 9 bolts and ready it for the code entry. Once the correct code is punched into its digital lock, then you'll get access to the vault. This dual locking system makes it more deterrent to thieves.
Inside, it also has a door handle to prevent locking users in. It also has an in-swing design to prevent cases of getting trapped inside their vaults in case of fire or other natural calamities.
What I Like
Features a 12-gauge door and door frame
Easy to install
Tools and hardware needed for installation are included in the kit
Made for doors with standard 32" opening
Also available for doors in standard 36" opening
Uses a key backup
Equipped with the SecuRam digital lock
Digital lock upgradable to EMP lock
Free shipping for addresses within the continental US
Made for DIYers
What I Didn't Like
No fireproofing but can be customized to add some
2. In-swing Vault Door – Tornado Shelter Doors Review
Last update on 2019-11-28 / Affiliate links / Images from Amazon Product Advertising API
Tornado shelters are important additions to the homes of those who live in the Tornado Alley. Adding one to your home will help ensure your family's safety, even in the most horrible weather.
The In-swing Vault Door – Tornado Shelter Doors from Homeland Safes can offer an additional security feature to such rooms.
Designed to provide a sturdy entryway to the most secure area in your home, it promises safety to everyone and everything that's kept inside the vault or shelter.
The first thing that you need to know about this product is that it's constructed to be very sturdy. It's made of 2" composite door and 10-gauge steel with an inch of HRA hardplate, and type X-gypsum fireboard.
It can withstand heavy force and fire, as well as resist drilling.
In terms of security, it comes with a spring-loaded relocking system, 18 1.5" locking bolts, and anti-pry tabs. It's also equipped with a digital lock. All of which contribute to a very secure entryway to your vault.
Since it is designed to work as a tornado shelter door as well, it also comes with a reliable internal release handle.
You won't have to worry about getting locked inside the vault even with the combination punched in as this handle overrides the system to let you out.
The in-swing design is also notable as it can minimize risks of getting trapped inside the vault. It's also an important touch if you wish to add hidden vault doors in your home.
What I Like
Available in various colors
Fire rated at 1 hour/1800°F
In-swing design makes it more useful
Really heavy and secure construction
Won't trap you inside the vault or tornado shelter
Easy to access in case of emergency
3. SNAPSAFE Aux Vault Door 36×80- Safe Room Review
Last update on 2019-11-28 / Affiliate links / Images from Amazon Product Advertising API
Designed to fit doors with 36" openings, the SNAPSAFE Aux Vault Door 36×80- Safe Room is the wider version of the other SnapSafe product listed above.
They share the same specifications, so both will let you customize the security of your vault door with ease.
Also equipped with 12-gauge steel, you can easily fill the space inside the front and back panels with your choice of reinforcement.
Veneer panels, fireboards, and even plywood are some of the most common options for this. It's all up to you, though, as it should all depend on the purpose you have in mind for the vault door.
Security-wise, this unit comes with a two-step locking system. It requires you to unlock the bolts using a key before you can enter the code into the digital lock. It's a simple process but still a very secure one.
What I Like
Very easy to install
Lets you tailor fit your vault door according to your needs
In-swing design makes it easier to conceal and lessens chances of trapping you inside
Comes with an internal release function
Excellent price
What I Didn't Like
Needs additional purchases
4. Out-swing Vault Door – Tornado Shelter Door Review
Last update on 2019-11-28 / Affiliate links / Images from Amazon Product Advertising API
In-swing doors are popular because they can minimize the risk of getting barricaded inside the vault by fallen debris. However, out-swing doors are deemed to be more heavy duty by experts as well despite having exposed hinges.
They can't be kicked in and can be designed to be more airtight, so they can be great options for tornado shelter doors as well.
This makes the Homeland Safes Out-swing Vault Door – Tornado Shelter Door a nice pick for those who want an extra oomph for the most secure room in their home.
Like the In-Swing Vault Door option from the same manufacturer, this unit is also made to be very heavy duty.
It's also a 2" composite door with 10-gauge steel for its back and front panels. Inside, it has an inch of 60 HRA hardplate and Type X-gypsum fireboard to reinforce the door better.
It totals to 6 inches thick, providing a solid entryway for your tornado shelter, panic room, or built-in vault. Some can even find it a good pick for the best gun vault door.
What I Like
Uses a sophisticated locking system
Equipped with a spy-proof lock from Sargent and Greenleaf
Out-swing design won't take up space inside the vault or tornado shelter
Available in seven different colors
Fire rated at 1800° F for 60 minutes
What I Didn't Like
Might be harder to conceal
Can eat up space in your hallway
5. American Security Amsec Usa Door Safe Room Vault Review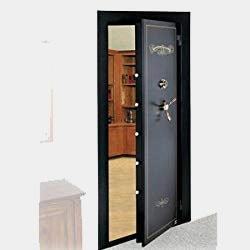 American Security Amsec USA Door Safe Room Vault
Wall opening: 79-1/2" H x 29-1/2" w
Door opening: 77-1/2" H x 24-3/4" w
Adjustable door frame to fit a wall thickness of 4-3/4" to 9-3/4"
No deadbolts Required for in-swing door
2 stage dual Fire seals with palusol door seal
Last update on 2019-11-28 / Affiliate links / Images from Amazon Product Advertising API
Want something made in the USA? Then, check out the American Security Amsec Usa Door Safe Room Vault VD8036BF.
This product is proudly made in the US and is equipped with outstanding features that can definitely guarantee the security of your vault or safe room.
One of the most notable things about this door is that it might just be 2 inches thick, but it has an adjustable frame that can work with walls that are from 4.75″ to 9.75″ thick.
It's also an out-swing door, offering more interior space in your safe room.
This Amsec vault door is also solidly built with its use of ½" steel plate and fire insulation material filling. Its door jamb also uses a 2-stage dual fire seals with silicone seal as well as an expandable Palusol™ door seal.
As for its security, it uses a UL Group 2 mechanical dial lock that's reinforced by ten 1.5" bolts and two relocking devices. It also comes with a safety lock release, though, so you don't have to worry about getting trapped inside.
What I Like
Out-swing design offers more room inside the vault
Made in the USA
A beast of a vault door
Uses commercial-grade, secured hinges
Available in various colors
Also available in in-swing variety
Backed by Amsec's lifetime warranty
What I Didn't Like
Pricier than others in the list
What are Vault Doors Made Of?
Vault doors can be made of heavy duty wood or metal. However, most items that you can find nowadays will be made of thick steel. Ideally, they should be at least ½" thick as anything less would be easy to get into.
A substantially thick steel used for the door's casing will make it more effective than having layers of other less sturdy materials.
This is why most experts also recommend looking at the kind of steel used instead of the thickness alone. Some types of steel are definitely better and more secure than others, so this can be a great way to tell which ones are better options.
Stainless steel, ballistic plate armor, or stamped metal, among many others. They can also be lined with various fireproof materials to further boost their functionality.
How Does a Vault Door Work?
Generally speaking, vault doors work just like a regular door would. It can open and close to offer entry and exit but it's designed to be more heavy duty in terms of construction and locking mechanism. This way, unauthorized entry won't be easily made.
The security of vault doors starts with its very construction. The use of the right materials and design can ensure the effectiveness of a vault door.
It should be capable of resisting break-in attempts whether from drilling, use of explosives, gunfire, or use of massive force just to name a few.
The lock system is also an essential part of vault doors. It can also determine its effectiveness in helping keep your valuables safe as without a good lock, your vault door will only be a very heavy door.
Most vault doors have multiple locking mechanisms set in place. Due to the long history of bank vaults being attacked by thieves, different types of locks were developed out of necessity.
Not all of them may have worked well for banks, but they are still deemed highly useful for home and other applications.
Today, commercially-available vault doors come with biometric locks, dial locks, timelocks, combination locks, and key locks among many others. UL approved group 2 locks are the most recommended varieties, however.
They will also have heavy-duty bolts and relockers that will further secure the door into place when triggered.
These mechanisms offer not just impenetrability for those with unauthorized access. It also promises great quality so you can be guaranteed that your lock won't malfunction and keep you out of your own vault.
Things to Consider Before Buying a Vault Door
Again, getting the right vault door is just as important as constructing a fully secure built-in vault. So to help you find the best vault door out there, here are a few things you should consider:
The Items You Need to Keep Safe
Before even constructing your vault, you should know which items you need to keep safe. This way, you can allot ample space and utilize the right design that will ensure safety for your items.
A large collection of firearms is the number one reason why people build vaults at home. For this purpose, you'll need an impenetrable vault that will keep unauthorized people out. It should also be water and fireproof to prevent any damages to your firearms.
The General Services Administration also has set special guidelines for vaults that will hold AA&E (Arms, Ammunition, & Explosives). Even if you're not required to follow the GSA recommendations, it can still be a better idea to stick to them. This way, you can be sure that your vault will be safe for your valuables and your household as well.
Even if your vault is not going to hold firearms, it's still best to take extra measures when creating a vault and choosing a vault door. As these home additions are not cheap, why don't you already create the most secure one you can afford? This can help you rest assured that your vault will perform well.
Vault doors are only as good as the actual vaults they're attached to. So if you opted to go all out with your vault, you should also do the same for the door. An appropriate door should be used in every secure vault.
Inner Escape Device
Now that you're already shopping for a vault door, one of the things you need to look for is an inner escape device. If your vault will let you go inside the unit, there will always be risks of getting locked in. An inner escape device will let you get out with ease.
Weight
Lots of experts note that the vault door's weight is one of the most important features to look into when shopping for one. As lots of manufacturers skimp on their products, you have to be sure that you're getting a unit that doesn't. A product's heft can help you do that.
How? For one, metal is very heavy. Then, there's also the addition of fireproof and waterproof lining inside. All of these require materials that are substantial, so your vault door should definitely be heavy.
Construction
How a vault door is made is also an important factor when shopping for one. These items are not made equally, so make sure to pay close attention to how they're made.
The first thing to note about a vault door's construction is its compatibility with the vault you had made. The vault door should be as thick, sturdy, and well-equipped as your actual vault to get the best results.
Vault doors made of thick steel and high-density concrete amalgamate are deemed by many experts as the best options around. This combination, alongside a good locking system, can already complete your fully secure vault.
What Owners are Saying About a Product
Vault door reviews are also very reliable sources of information. As a buyer, you want to know more about the performance of the product you're eyeing. Relying on marketing copies won't be enough as all of those will make you believe that what they're selling is a great product.
Reviews tend to be more honest and are ideally written by consumers. This makes them more reliable if you want to know whether a vault door actually delivers on its promises or not.
Final Verdict
Choosing the best vault door can make or break your vault's security. You may have built a highly secured room in your property but with a poorly made and faulty vault door, everything can go to waste.
Among the five items listed above, the crowd favorite would have to be the Amsec VD8036BF.
With its heavy-duty construction, top-notch security features, and great overall performance, it might just really be all you need to complete your home vault or safe room.
It is pricier than others, but since it won't require any tweaks anymore, it can already do a good job for most households.