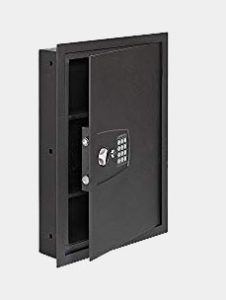 Safes are, by far, some of the best places to store important and even dangerous items. This is why they're important must-haves for lots of households, especially the ones with guns.
However, they're also some of the most challenging things to add to any home. This is why I have decided to do a SnapSafe review.
Most gun enthusiasts will know that SnapSafe products offer an alternative to the bulk and heft of traditional safes.
Their modular design makes them a major hit among those who are looking for more adaptable methods of keeping their belongings safe.
If you're one of these folks who are having a hard time finding a suitable safe for your home, learning more about SnapSafe might be beneficial to you.
Stick around and you might just find the info you need on this brand to help you make a good call.
Top 5 SnapSafe: Comparison
The Best Picks of SnapSafe Products
SnapSafe caters to a wide range of needs with its vast selection of products. Here's a quick lowdown of some of the most popular ones:
#1: SnapSafe In Wall Safe
SnapSafe In Wall Safe, Electronic Hidden LED Home Security Safe, Measures 16.25"x 22"x 4"
Constructed of 16 gauge steel body and .15" steel door. Exterior measures: 16.25"W x 22"H x 4"D. Interior measures: 14 3/4"W x 18.25" H. Weight of safe is 35 lbs.
Features an electronic keypad lock with key backup.
Features two storage shelves and a magnetic jewelry clip and document holder included. Hidden security compartment on bottom shelf.
Emits an audio and LED visual warning light when the battery us running low.
Easily installed between 2 wall studs and secured by 6 lag bolts.
Last update on 2019-11-28 / Affiliate links / Images from Amazon Product Advertising API
Some people believe that the most secure place to put a safe is somewhere no one can easily find it. The concealment can add further protection to the most important items you want to guard.
If this is what you want to have at home, then you might want to check out the SnapSafe In Wall Safe.
Designed to be easily mounted in between two wall studs with a 14 ¾" space in the middle, all you need to set this safe up are six lag bolts that are also included in the package.
You can place it anywhere around the house as long as it fits.
You can place it inside a built-in closet or even any wall as it's quite easy to hide behind clothes, curtains, or wall hangings. It's designed to sit flat on your wall, so unless it wasn't installed properly, its position shouldn't be given away easily.
Like other SnapSafe products, the In Wall Safe is made with 16 gauge steel body. This guarantees that it's very heavy duty. It's also a good guarantee that it won't easily bend under pressure.
Most people also like that it comes with a key backup aside from its electronic lock. This can help further secure your belongings inside since anyone who wants access will need a key to get in.
What I Like
Uses an electronic keypad lock with a key backup
Comes with a battery life light and audio warning
Very easy to install
Plenty of space for various belongings
Designed with a false bottom as a hidden compartment for more important items
Equipped with a few hooks, a magnetic jewelry clip, and a document holder
Very easy to conceal
Made of heavy-duty steel
What I Didn't Like
Inner width measures 14 ¾" which can be a bit too wide for some structures
#2: SnapSafe 75400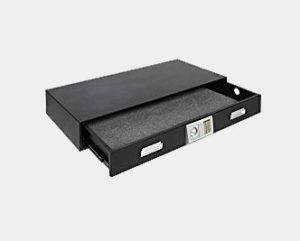 Sale
SnapSafe Under Bed Safe 75400, Matte Black, Gun Storage and Security
HEAVY-DUTY & EASY TO INSTALL: Constructed of 14 gauge heavy-duty steel, with pre-drilled bolt holes for permanent installation.
MULTI-USE CAPACITY: Large slide-out drawer accommodates firearms, jewelry, documents, and more. Can you be used under other types of large furniture or in vehicle.
PROVIDES PEACE OF MIND: Pry resistant door keeps children and unauthorized users from gaining access. Robust 5-foot cable provides added security when anchored to a stationery object.
ELECTRONIC & MANUAL ACCESS: Digital access plus traditional key entry. Programmed with 3 to 8 digit access code.
Last update on 2019-11-28 / Affiliate links / Images from Amazon Product Advertising API
In the market for something that will help you sleep soundly at night? The 75400 SnapSafe Under Bed Safe might just do the trick for you.
This safe is designed to sit under your bed, so it's always within reach during emergencies in the middle of the night while still being tucked away from sight.
With its size, it can easily hold your long firearms, other large weapons, and a lot of valuables.
What makes the SnapSafe 75400 a great choice for a lot of people is that they don't require installation.
Its low profile allows it to be stashed away under stuff, so you don't have to drill and hack open any part of your home.
It's also very heavy at nearly 150 lbs, so if you fill it up with weapons and additional items, it will then be very hard to move. While you can still secure it to the floor or your bedframe, it's definitely not a must.
Constructed with a 14-gauge, heavy-duty steel, it guarantees a secure protection of your valuables. It also comes with a key lock aside from the electronic system to add more security to the system.
What I Like
Large size will fit a lot of various items that you want to secure
Designed with a "pry-resistant" door that will keep contents out of reach
Equipped with both electronic and manual locks
Made of heavy-duty 14 gauge steel
Very easy to install
Will fit under most beds
Can be secured to the floor or bed frame
Huge slide out drawer design will accommodate various belongings
No assembly required
Can fit inside large SUVs
Comes with a heavy-duty tethering cable
What I Didn't Like
Packaging can be improved
#3: SnapSafe (2 Pack) Keyed Alike Lock Boxes
Sale
SnapSafe Lock Box Keyed Alike, X-Large
X-Large - 10"x7"x2"
16-Gauge heavy steel construction
Easy to operate key lock (4 keys)
1500 lb. Test steel security cable (2)
Thick protective foam interior
Last update on 2019-11-28 / Affiliate links / Images from Amazon Product Advertising API
In my experience, there are tons of reasons to get a high-quality portable safe with you everywhere. It can keep your important documents and valuables safely tucked away but still within your vehicle, person, or luggage.
It can also be a good way to store a small firearm in many occasions.
This is why I also made a point to add a SnapSafe lockbox review in this roundup. The SnapSafe 2-Pack Keyed Alike Lock Boxes are some of the bestsellers from the brand for a good reason.
For one, they're very handy. Designed to fit most small handguns and other valuables, this SnapSafe Lock Box is also TSA and airline approved.
You can take them with you anywhere and you can rest assured that your items are secured nicely.
Being a SnapSafe product, it also comes with the promise of great quality. Made from 18 gauge steel, a secure key lock, and a well-designed piano hinge, this product can be your best protection against thieves and other malicious individuals.
What I Like
Two lock boxes in one package
TSA-approved
Comes with two 4 ft, 1500 lb-rated security cables that allow tethering to a stationary object
Can be used for your home, car, office, or travel
All-steel construction
Will easily fit most small handgun models and other small valuables
Relatively lightweight so you can take it along with you
Comes with foam inserts so items inside won't move around and get scratched or dinged
Very affordable
Heavy-duty material used
Looks nice
What I Didn't Like
Sides don't have cushioning which can cause scratches on its contents
#4: SnapSafe 75220 Keyed Lock Box For Handguns
Last update on 2019-11-28 / Affiliate links / Images from Amazon Product Advertising API
Conceal carry permit holders may like having their firearms around, but it doesn't mean that they will just carry it everywhere.
On occasions where they need to put it away, they'll need a safe place to hold their valued possession without any risks.
This is where the SnapSafe gun safe makes itself very useful. Designed specifically to fit most handguns, the SnapSafe 75220 Key Locked Box for Handguns can be a great pick for a reliable portable gun safe.
The biggest draw of this product is that it meets safety standards. It's even approved to be used to store firearms during air travel by the TSA and a number of airlines.
However, it will still be prudent to check with the airline you're flying with whether they have specific rules for bringing in firearms on their flights.
When it comes to air travel, it's better sure than sorry, so always remember to ask for details.
Quality-wise, it guarantees reliability with its use of 18-gauge steel. The material guarantees durability and will withstand heavy use.
What I Like
Great price
Good size
Will fit most small items and standard handguns
Can be used to store firearms when traveling
TSA-approved, most airlines also allow its use
Also available in combination lock variety
Items are cushioned with some foam padding inside
Heavy-duty material used
#5: SnapSafe Modular Gun Cabinet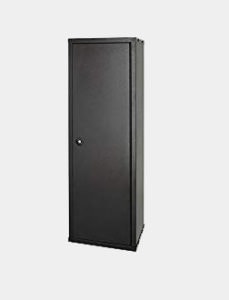 Last update on 2019-11-28 / Affiliate links / Images from Amazon Product Advertising API
If you just want a good storage space for your valuables and firearms but don't really need a heavy-duty safe, then the SnapSafe Modular Gun Cabinet might already do a good job for you.
This product is more of just a steel cabinet with a lock instead of an actual gun safe, though, so it's best to be used as such.
Designed to securely hold large firearms with its rifle holder, you can also use this item for various other purposes.
The removable shelf can be positioned in other ways, so you can easily tweak your unit without breaking a sweat.
Featuring a 20-gauge steel construction, you can expect this unit to be quite heavy duty. While it doesn't have the fancy features the other SnapSafe products offer, it can still protect your equipment without having to spend much.
Its modular design, however, can really make it a good pick for lots of people. You won't have to worry about lugging an unwieldy steel cabinet with this option and might even do a better job than its alternative.
Keep in mind that this product is a straightforward gun cabinet and not a safe. It will lack the essential features safe have, hence the lower price. It has a sturdy key lock, though, so it will still be able to keep out little ones.
What I Like
Modular design makes it more portable and flexible
Place it anywhere inside your home without having to call in the big guns
Very easy to assemble
Comes with a foam rifle rest
Removable shelf allows further flexibility for the unit's configuration
Really large capacity
Uses 20-gauge steel that can guarantee great durability
Very reasonable price
Basic, fuss-free features
What I Didn't Like
Doesn't have the sophisticated safety features the more expensive models have
The History of the SnapSafe Brand
SnapSafe was created by Edward J. McGunn, a third-generation safe-builder and gun collector. His extensive experience in the field afforded him the knowledge that he needs a secure place to store his guns. It should also be fireproof, just in case.
His wide experience in the safe-manufacturing industry made him fully aware just how difficult, unsafe, and expensive, it will be to move a safe from one place to another.
Not only is it an impractical undertaking, but most of the time, the safe doesn't even go to an ideal spot.
SnapSafe was born out of the idea that a modular safe would be easier to move from one spot to another. It promises to afford owners a safe way to store their guns and other important items without any hassle.
As this brand's products come in pieces, they're easier to move and transport. They also quickly assemble together with a comparable quality to welded units.
In 2015, the popular security company, Hornady, acquired SnapSafe. Founded in 1949, this brand has already established itself as an authority in the production of ammunition and lots of other security products.
Where are SnapSafe Safes Made?
One of the only major downsides that SnapSafe has against its competition is that it doesn't list where it's made. This can make lots of people doubtful, especially since if it's made in the US, such information will be plastered everywhere.
However, its performance tends to compensate. It has a very sturdy and special construction that's definitely noteworthy. A lot of people also trust the special lining inside its panels, making a good case for these products.
Where are SnapSafe Safes Made?
One of the only major downsides that SnapSafe has against its competition is that it doesn't list where it's made. This can make lots of people doubtful, especially since if it's made in the US, such information will be plastered everywhere.
However, its performance tends to compensate. It has a very sturdy and special construction that's definitely noteworthy. A lot of people also trust the special lining inside its panels, making a good case for these products.
Why SnapSafe?
There are lots of good reasons why SnapSafe can be a solid choice for a safe for your home. A few of the best points that might just convince you include:
1. It's relative portability.
Of course, the first thing why many people give SnapSafe products a shot is its modular design. It's easily more portable than the other reputable safes in the market today because you can take it apart and just snap it together right where you need it to be.
2. Its fireproof claims may not have details, but the construction shows great promise.
SnapSafe products have a 2300F Fire Shield protection claim that promises to last for an hour. Lots of people are quite convinced that the claim has its merits because of the units' construction.
These safes are lined with ceramic fiber materials with magnesium oxide. These make it highly fire resistant. They also have heat activated doors, so the contents are sealed inside to protect them from water and hot air damage.
3. Free shipping!
These items are heavy, so if you're going to pay for shipping costs, you might end up settling for a less than stellar safe that's locally available. That will be a shame when you already have a good option like a SnapSafe modular safe.
I know you must be thinking that SnapSafe products aren't exactly cheap. Then everything evens out, right? You can just consider the fraction of the item's price to be the freight costs and you're good to go.
4. Ships faster than the closest competitor.
5. Still a bit more affordable than other comparable products in its size range.
Final Verdict
Among the five items in this roundup, we might go for the SnapSafe Under Bed Safe because of its huge capacity and relative flexibility. While it's not a modular product, it can still be a good pick for many people.
The fact alone that it can sit under your bed and safely hold your large guns is a nice way to make your home feel more secure.
You can easily access it in case anyone tries to come at you in the middle of the night. Its solid construction makes it an even more attractive option.
I also like that it doesn't require any assembly at all. It might not be as big as a SnapSafe trunk safe, but it will already do on many occasions if you don't really have a big collection.
The brand's great reputation and promise of great convenience are just a few of the best reasons why SnapSafe products can be a good choice for you.
I hope this SnapSafe review helps you get to know this manufacturer better so you can easily decide whether it will be a nice fit for your home.