A lot of people have problems with pests like rats and squirrels in their property. However not a lot of landowners are not that keen on using real bullets to take on vermin, hence some invest on the best .177 pellets for squirrels and other small-medium game.
Majority of folks who use air pistols and rifles on their targets agree that the use of pellets is more humane compared to blowing the quarry into pieces like real bullets would. So if you want a more benevolent approach to tackling pests in your property, you can always check out airguns and pellets.
However it can be a challenge especially for beginners to choose which among those lineup of products available that they need to purchase. No worries though since this brief yet handy guide is here to guide you to the right path.
Here are some products that you might want to check out in case you want high-quality pellets for your stock.
Best Picks of .177 Pellets for Squirrels
#1: H&N Baracuda Hunter Extreme Hollowpoint Airgun Pellets, Deadly Accuracy for Hunting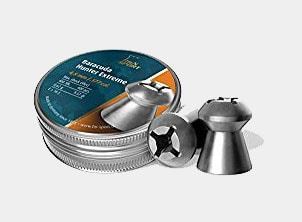 For starters, H&N's Baracuda Hunter Extreme pellets come with a hollow-point shape. The product is designed and processed to exacting standards and every pellet according to the company is ensured of excellent quality and precision.
Hollow-point pellets are ammo which suits hunting best. They are typically on hand in every standard caliber and give hunters and to some extent, plinkers another option.
This product is a pellet that comes with a total of 4 notches which clips on the head's sides. Due to this design, the so-called mushrooming impression of a hit gets amplified upon impact and this means it can take down the prey in one quick swipe, lessening agony on your prey.
However if you want to maximize the use of this particular ammo shape, you need to make use of this pellet type with powerful airguns which are capable of driving the ammo at an intense, consistent pace. If the pellet does not have advanced velocity to work with, the hollow-point's design is for naught—hence this is only recommended for extra-powerful stock in order for it to fully work to its highest potential.
Hollow-point pellets if used in a low power setting can tackle pretty much like wadcutter ones. This is not actually a bad idea due to the fact that the even, impact surface converts great force to the quarry you are after.
These are powerful pellets which can take down game in a more humane fashion. The accuracy it provides is solid because of the rounded head shape and lastly it gives off an excellent ballistic coefficient and decent mushrooming.
The product is produced to exacting tolerances and a good load of chambers can accommodate it. This is something you might want to check out especially if you are after accuracy and great knockdown power.
Last update on 2023-09-13 / Affiliate links (#ad) / Images from Amazon Product Advertising API
#2: RWS R10 Match Competition-8.2 Grain-.177 Caliber Air Gun Pellets
These gun pellets from RWS are competition-grade products bearing a wadcutter-shaped head. The pellets have undergone meticulous testing conditions in order to maximize its accuracy.
Wadcutter pellets are built for low velocities. They are typically used as ammo for target shooting and at close ranges due to the fact that it is capable of producing sizable holes in items like target paper.
It's not only for target practice or competition though—this kind of flat, broad head shape are great for tackling vermin at close range up to 25 yards. It is also pairs significantly well with high-power .177 caliber stocks.
The pellets are contained in a foam holder which splits every pellet from each other so they will be protected from scratches and nicks until you choose to use them.
It gave a steady, reliable and performance and was able to provide tight groupings as well. It is pricy though however with such a well-thought of container, you get your money's worth indeed.
It is handy enough that users can put the boxes inside their shirt or jean pockets and it will not create any noise. Each and every pellet is kept away from each other thus you will get smooth and well-maintained pellets any time.
Plus once you have used up all of the ammo, you can still utilize the box by filling it with the pellets or just about any pellet from other brands.
Due to its price, it is best that you make use of the pellets for competitions instead of plinking in your backyard. However the inclusion of a great container for the ammo gives plenty of bang for your buck so I think this is a worthwhile investment if you are fond of target shooting and entering competitions.
Then again, you must also consider the fact that the product might contain tolerated levels of lead.
RWS 2315014 Competition Air Gun Pellets 8.2 Grain 0.177cal 5
Produced in the classic diabolo shape; Head design, tail section and special form of the pellet plate give optimum stabilization of the pellet in the air rifle's barrel and create sharply punched holes
Tight production tolerances combined with strict testing conditions lead to further optimization of accuracy; Constantly monitored for quality during the entire production phase to give the shooter the ultimate in accuracy and performance
Optoelectronically inspected for absolute consistency in size; Made with exceptional material quality that delivers a spotless surface finish that is protected from oxidation for long term storage
Heavyweight: 8.2 grains; Lightweight: 7 grains
Quantity: 500 pellets
Last update on 2023-09-13 / Affiliate links (#ad) / Images from Amazon Product Advertising API
What are the Best .177 Pellets for Squirrels?
Hunting requires precision so the best .177 pellets for squirrels are ammo which focuses on this factor. The ammo must have enough weight in order to make the pellet's flight stable, plus it should also be made up of materials which will further enhance its capabilities.
Proper ammo for your .177 stock is not enough though because pellet placement is also crucial for hunters in order to accomplish the task. Some say that the .22 caliber is the more ideal caliber for hunting non-flying prey but then again, the ability of the hunter is a huge factor too.
Regardless of the caliber the hunter carries with him if he has enough abilities, the right stock and pellets then will be more than capable of taking down vermin without hassles.
The market is filled with a nice variety of products hence hunters are given more options to discover what pellets will bring their hunting game to another level.
Final Verdict
After all that testing and taking notes, I think the best .177 pellets for squirrels goes to the H&N Baracuda Hunter Extreme product. It has topnotch knockdown power, gives solid precision and is quick enough to make fast kills.
Featured Image by Orin Zebest/ CC BY