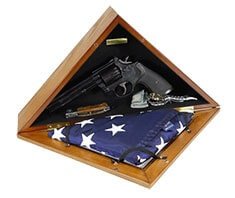 Owning a firearm comes along with responsibilities. Among the paramount obligations of a gun owner is the responsibility to ensure that their firearm is always out of unauthorized hands. Gun cases are used to ensure the safety and security of your gun.
Gun cases come in different types and forms. When classifying gun cases, there are two main categories:
Mounted gun cases
These are gun cases that are fixed at the gun owner's residence. Apart from being used as storage points for firearms, they are also used to display the collection of guns the individual has.
They are also used to showcase prizes or trophies that the person has gathered using the firearms. They are usually large and decorated and will fit in the living room as a piece of furniture.
Mobile gun cases
These are relatively smaller compared to mounted gun cases. They are used to carry firearms as one is traveling. They are generally light and will carry only one or two rifles.
These types of gun cases are conspicuous and anyone you come across is likely to know you are carrying a firearm.
When deciding to make a gun case, it is important to know which type of gun case you need.
Another key factor to consider when deciding to make a gun case is the primary material that your gun case will be made of.
Gun cases are made of a wide range of materials depending on specifications and use.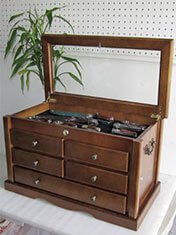 Military gun cases are high tech and are made of indestructible materials. Their construction is more focused on strength and not aesthetics. They will be made of strong metals and indestructible wood.
Hunter and sportsmen gun cases are designed to be light for carriage and do not require very aggressive construction material. Aesthetics are also put into considerations when making them.
Personal gun cases do not have a specific method of making and are designed depending on the user specifications. They can be either mounted or mobile gun cases.
Among the many materials used to make gun cases, wood is chief among them. There are several reasons why wood is used.
Advantages of using wood to make a gun case
Lightweight: Wood is among the lightest building materials you are likely to come across. This makes it handy when making gun cases that are carried around.
Strength: despite its weight, wood is among the strongest materials available to make gun cases.
Durability: if well treated, wood is very durable and will last for a long time.
Aesthetically pleasing: when well designed, wood makes items that are very good looking to many people.
The following is a guide on how to make a wooden gun case.
The process describes how to make a mounted gun case that can hold two firearms. The process describes a simple method of making a simple gun case.
Materials Required
6 pieces of wood paneling- a minimum ½ inch thick
5×3 foot thin paneling
Screws
2×2 inch wood-about 3 feet long
Hammer
Varnish/paint
Paint brush
Lock fixtures
Drill
Screw gun
Carpenters square
Tape measure
Hinge fixtures
Handle fixtures
Power saw
Latch fixture
Sand paper
Gloves
Masking tape
Procedure
Using a tape measure, carpenters square, and a power saw, cut four sections of wood paneling, 5 feet long, 1 ½ feet wide each.These pieces will form the sides and door of the gun case.
Still using the same tools, cut two more pieces of wood paneling with dimensions; 3 feet long and I foot wide.These pieces will form the top and the bottom of the case.
Using the screws, join the two short pieces and two of the longer sections together to form a large rectangular frame.Countersink the screws to make the design neat
Using small nails, attach the thin paneling on one side of the rectangular frame to make a box shape.
Next, create the doors of the case. This is done by attaching hinged fixtures to the open side of the box.The two pieces should be attached in a way that they move freely. Fix handles on the two pieces that make the door.
Fix by nailing a 2×2 inches section of wood along the anterior edge of the bottom part of the case.This part acts to prevent the firearms from sliding out of the case.
Fix the latch and lock according to the user instructions provided by the manufacturer of the lock.The drill should come in handy to help you make holes for the lock
Use the sand paper to smoothen the entire surface of the gun case and remove any excess dust using a wet rag.
Paint the gun case.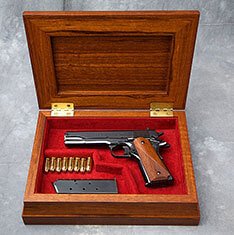 Remember to cover the latch, handles, hinges and lock with masking tape s they do not require painting.
After finishing making the wooden gun case, you can nail it on the wall or use other mounting structures to fix it on the wall.
The wooden doors can be replaced by glass if you wish to display the contents of your gun safes. You can also use tools to make patterns and carvings on the sides of the case for aesthetic purposes.
The internal surface of the gun case can also be lined with leather or linen to improve the appearance of the gun case.
For more information you can navigate through our archives.
Related Videos
Making A Wood Handgun Case
Pistol Box / Table Saw build