Do you own handguns, rifles or any kind of ammo? The best way to keep your weapon secure is getting a gun safe. With it, you can also store a variety of other valuable items to you like important documents, jewellery, expensive cameras, binoculars or cash.
Looking for the best gun safe can be a daunting process. There are many safes in the market but today we'll look at the Stack on 22 Gun Safe Review.
I hope after going through the details of this safe, you will be convinced that it is a great product to have in your home.
So if you're seeking for security for your valuable items, I highly recommend this gun safe. It works well if not better than it looks on the outside.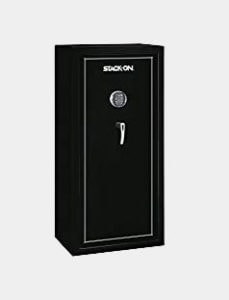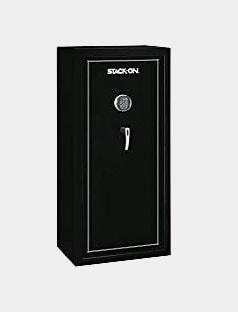 Stack-On SS-22-MB-E SS22 Safe, 22 Gun, Black
Holds 22 rifles or shotguns up to 54 inches tall, or 11 firearms and storage, or all storage
4 Adjustable shelves
Exterior has a black epoxy paint finish with chrome accents and silk-screen on the door
Electronic lock includes operational lights for open, low battery warning and incorrect entry
Fully carpeted interior
Last update on 2023-09-13 / Affiliate links (#ad) / Images from Amazon Product Advertising API
Product Specification
Item weight – 245pounds
Product dimensions – 17.6 x 55.1 x 26.8 inches
Interior capacity – 22guns or 11guns and storage
Interior Volume – 11.82 cu.ft
Color – Black
Item model number – SS-22-MB-E
Part number – STKSS-22-MB-E
Shelf count – 4
Batteries included? – Yes
What are some of the features of this Stack on 22 guns safe?
These are some of the features and benefits that are included in this Stack on 22 guns safe review.
Electronic Lock System
Other than biometrics, an electric lock system is the best when it comes to safes. It's a fool-proof plan for theft or unauthorized access.
The electronic lock of the safe is powered by 9V batteries. These batteries come with the safe and are easily available from local retailers.
It allows you to create a passcode of 4-8 characters according to your preference. As you input them into the safe, the operational lights of the safe indicate whether you're punching in the right or wrong code.
The lights also show whether the battery is about to die. In cases when the battery dies completely or you forget the passcode, the backup keys of the safe allows you access to your valuables.
Sufficient Storage Capacity
Just as the names suggests, this Stack on 22 guns safe once installed, it can hold up to 22 shotguns or rifles that are up to 54 inches tall. This makes it one of the best gun safes on the market.
In addition to that, it comes with four adjustable shelves. When all the shelves have been installed, you can still store up to 11 rifles. With these shelves, you can create additional space for handguns.
These adjustable shelves allow you store the easily misplaced valuables like jewellery or rare coins. The permanent divider in the middle of the safe allows you to put your rifles on one side and other valuables on the left allowing for easy organization.
Safe And Secure
This entire Stack on home security safe has been made out of the highest quality steel. Steel is one of the toughest materials in the planet. It can't be easily drilled, burnt, cut or dented. This makes your valuables safe in it.
Although it's neither waterproof nor fireproof, the Steel offers enough protection for your valuables.
To ensure that the safe is secure, it has been made with 6 locking points that lock at six different places. This makes it very secure. It also has interior hinges that are the impermeable hindering unauthorized entry.
The safe comes complete with bolts to secure it to the floor just for more security. No one will be able to pull it out of the ground.
Fully Carpeted Interior
Compared to other safes in the market, this safe has a fully convertible carpeted interior. There are some valuables like documents or cash that can get torn or creased or muffled especially in a crowded safe.
It's responsible for protecting your valuables from scratching or creasing. Its convertible feature allows you to customize the safe to your needs.
The interior also features patented molded barrel rests with standoff inserts. It allows for your guns to easily fit into the safe.
These barrel rests have also been made in such a way that they will not deteriorate or wear over time. The contours of the barrel rest are responsible for accommodating rifles as well as side-by-side shotguns.
Elegant Exterior
This safe measures 17.6 x 55.1 x 26.8 inches. It, therefore, can't fit in your closet or under the bed. It needs to be a stand-alone safe.
Whether you're into interior decor or not, the exterior design of the gun safe matters for it to blend in with the rest of your house. This Stack on 22 gun cabinet has been made with a sleek and attractive design to ensure that it's beautiful and elegant.
The exterior has been finished with black matte with chrome accents at the front. The keypad also at the front of the safe is black with chrome accents. The safe handle is made from Chrome. This makes this safe a great addition to any type of décor in your home.
Additional Standard Features
Two backup keys for emergencies or when the battery dies
Comes with bolts for easy mounting
It has a 2-way locking 1inch steel live action locking bolts
Comes complete with a battery
Single chrome handle that allows you to turn and open the safe
Gray upholstery
Center vertical divider
Pros
Uses an electronic security system that requires a 4-8 digit passcode. Makes unauthorized access impossible
It has enough storage capacity of up to 2guns that are 54inches tall. With its 4adjustable shelves, you can create more space
Made from high-quality steel and interior hinges making the safe very secure
The fully convertible carpeted interior prevents scratching or creasing of your valuables. It also allows you to customize according to your needs
Elegant interior that's durable, impermeable and elegant
Two back up keys allows for access during emergencies and when the batteries die
Comes complete with 9 V batteries and bolts for easy mounting
Cons
Just like other electronic safes, this safe malfunctions a few times. It's also noisy when you input the passcode
The safe isn't waterproof or fireproof. It can, therefore, damage your valuables when submerged or burnt
Highlighted Features
Electronic security system that requires a 4-8 digit passcode for access. Operational lights allow you to know whether you've input the right or wrong code
Enough storage capacity of 22 guns and 4adjustable shelves to create more space
Made from high-quality steel and interior hinges for impossible unauthorized access
Has a fully convertible carpeted interior to prevent scratches and creases and for customization
Durable, elegant and impermeable exterior
Comes with two backup keys for emergencies and 9V batteries
Frequently Asked Questions
Q: What is the thickness of the steel? Is it the same as file cabinets or thicker?

A: any safe that has the same thickness as a file cabinet is low quality. The whole idea of a safe is security and authorized access only.
This safe is thicker than sheet metal or file cabinets. Although with the right tools someone can gain entry, it does a great job at keeping your valuables safe.
Q: Does it come with adjustable legs to level it?

A: No it's not designed with adjustable legs. You need to put it somewhere flat and leveled to make it easy to mount.
What are some of the alternatives?
Steelwater Standard Duty 20 long Gun Fire protection Safe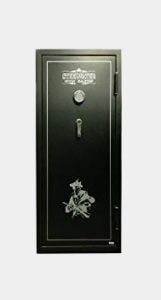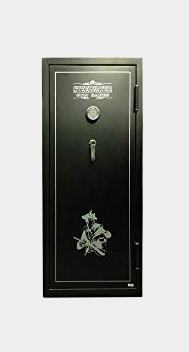 The
Steelwater
can hold up to 20 long guns with an average capacity of 12-16 long guns. It's made from semi-gloss textured powder coat black with silver pin striping with a chrome lever handle.
It has up to 45 minutes of fire protection for up to 1550 Degrees F. It is 5-inch thick steel door has two layers of fireboard in the walls, ceiling, floor and door jams. It's also fully carpeted.
It uses an electronic and reprogrammable 3-8 digit passcode for access with a high-security bypass key. The hardened steel plate protects the body from being drilled into or manipulated.
Mesa Safe MBF3820C All Steel Grey Safe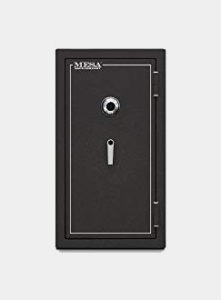 This safe not only protects your valuables and documents but also your handguns and firearms. It's made from high-quality steel for durability.
With an overall thickness of 4 ½ inches and fire-resistant lining material, your valuables will be safe from burglary and fire. Its steel locking bolts, deadbolts, and heavy duty steel hinges make this safe very secure.
It comes with 4 pre-drilled anchor holes for easy mounting. For extra storage, the safe comes with 2 high strength adjustable and removable shelves. The safe has a fire rating of 1830 degree F for up to 2 hours.
Final Verdict
If you've been looking for the Stack on 22 Gun Safe review, I hope this article has shed some light.
For those who don't want to spend so much money on a safe, go ahead and buy this Stack on home security safe. It's also the best beginner safe for those of you who have never owned one.
So if you recently bought guns or have them lying around the house, you need this safe. The safe is very secure to protect against unauthorized access from children or thieves. If you don't like this safe, the other two alternatives work great.
[wp-review id="4516″]