Are you looking for a gun safe for your guns and ammunition? Look no further because the Stack on 36 Gun Safe Review gives you all the information you would love to know about the gun safe.
This is the best safe that provides maximum protection on your valuables and firearms.
The safe features great resistance to fire and water. With its carpeted and additional barrels, you can easily adjust the height depending on whether you want to store long guns or short guns.
This safe also includes an installed electrical socket for powering any of your electronic devices that you have placed inside the safe.
For safe storage of your firearms, the 4-way locking mechanism has tapered live action locking bolts.
The Stack-on has a greater impact when it comes to the safety standards and affordability. That is why it is most preferred to other gun safes.
Find the full review of the safe so that you can know everything you need before purchasing.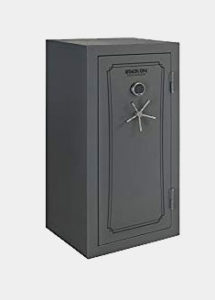 Stack-On TD-40-GP-E-S Total Defense 36-40 Gun Safe with Electronic Lock, Gray Pebble
Can hold 36 to 40 guns or a combination of storage and guns, Includes 5 shelves
Fire resistant for 75 minutes up to 1400 F
Waterproof in up to 2 feet of standing water for 72 hours (Safe must be bolted to the floor to maintain waterproof rating)
Backlit electronic lock includes operational lights for open, low battery warning and incorrect entry. Backup key included
4-way locking with 1.5" tapered live action locking bolts
Last update on 2023-11-15 / Affiliate links (#ad) / Images from Amazon Product Advertising API
Product Specification
Item weight – 580 pounds
Product exterior dimensions – 25.5 x 29.2 x 59 inches
Interior capacity – 36 to 40 guns
Interior volume – 16.24 cu. Ft.
Color – Gray pebble
Shelf count – 5
Comes with batteries
Features of the Stack on TD-40-GP-E-S Total Defence 36-40 Gun Safe
These are the intricate features and their benefits that will ensure your valuables and firearms are locked in safely. You will never have to worry about the safety of your items anymore.
Fire and Water Resistant
To provide protection against fire, this gun safe has a robust 75 minute 1400 degrees Fahrenheit fire rating. This ensures that in case of fire the gun safe can withstand it for a period of 75 minutes.
For waterproofing purposes this safe has a 2-foot waterproof rating for a period of two hours on standing water, hence none of your firearms will come in contact with water. It eliminates the two possible threats that may cause damage to your valuables stored in the safe.
Customized 36-40 Gun safe capacity
The interior design has been structured in a way that you can make your own modifications.
This enables you to fit the safe with the number of guns you want which must not exceed 40. You can achieve this by configuring the two compartments responsible for storage.
Choose the half-guns and half storage strategy or storage in all compartments. The safe also provides the needed flexibility of storing long guns, MSR and ASR by using the adjustable barrel rests.
For more configurations, the safe has 5 adjustable shelves for convenient storage. The shelves can be used to store valuables and firearm accessories.
An added barrel rest allows you create and configure the safe. This allows achievement of maximum gun capacity.
High-end total security
This gun safe comes either with an electronic or mechanic lock depending on your preferred choice.
To ensure that this safe has optimum security to your guns and accessories, there is a thick metal body made from hardened steel which prevents any form of drilling.
The door of this safe includes one and a half inch steel bolts which covers all the 4 sides of this steel door. This shows the high level of security rating the safe has for optimum protection from any form of theft.
The safe has a 3 number combination lock located on the steel door. To have 10 locking points, this lock has 1-inch deadbolts and also has seven live action bolts.
This ensures that the contents of the safe are properly and safely locked up in this safe.
Factory installed electrical cables and sockets
The safe comes with a socket in order to power any of your electronic devices that you have stored in the safe.
To add to the sockets are waterproof electrical cables which are used to plug in your lighting system or dehumidifiers.
This makes it easier to view the contents if you have placed your safe in the garage or in a dark basement.
You are also able to conveniently charge your devices easily without having to use wall sockets.
Accessorized storage design
The safe enables storage of accessories and firearms whereby the steel door has pistol holders, sew-in pockets, and MOLLE strips.
With its patented barrel rests and standoffs you are able to set a position for scoped rifles to be away from the wall.
This enables storage of not only rifles but side-by-side shotguns. With the accessorized storage design you are able to gain easier access to your firearms and accessories.
Additional Standard Features
The safe also has additional features to provide the required security for your guns and accessories. The safe features a brushed nickel finish on the lock trim and a 5-spoke handle. This gives the desired stylish look in order to concur with the safe exterior design.
This serves well to those who not only look out for the product's benefits but focus on the looks of the product. In this case, it is the stack on 36-40 gun safe.
To ensure complete security of the guns and other items stored in the safe. You are served with a backup key in the situation that the electronic functionality fails. This overwrites any technicality you might come across to ensure that access to your valuables is guaranteed.
Pros
The safe is fire resistant and waterproofed
You can make modifications to the interior
Durable due to the hardened steel body
Safe can have an electronic or mechanical lock
It has live action bolts and deadbolts making it theft proof
Gun capacity of 36-40 guns
Patented barrel rest for short guns and rifles
Cons
Some of the customers find it hard to use the locking mechanism
Highlighted Features
Waterproof and resistance to fire
Customized interior for maximum gun capacity of 40
Factory installed electrical sockets
Customized steel door
Backup security key
Drill resistant hard steel plates
Frequently Asked Questions
Q: Does the safe come with a backup key and where will I input the key?

A: Yes it does. The safe comes with two backup keys to solve any technical related issues when you have pre-programmed or forgotten your password to your safe. In order to access the keyhole, you have to remove the digital keypad.

The slot dial placed there allows you to input the backup key. The backup key serves you well whenever you are in any predicament. This ensures that you no longer have to make calls to the company or having to worry whenever you have lost your password.
Q: Does the depth measurement include that of the handle and the keypad?

A: The dimension of the safe measures 25.5 inches in terms of depth. This does not include the handle and the keypad. The handle measures about 2.5 inches. This means the handle sticks out further compared to the keypad. So, it is safe to say that the depth estimated is only for the safe itself and it does not entail the measurement of the handle.
Other Alternatives
Stack-On TD-40-GP-C-S Total Defense 36-40 Gun Safe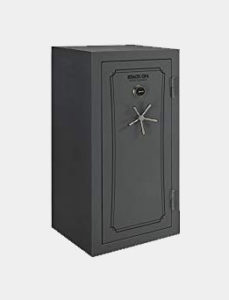 If you need a safe that provides you with ample storage and high fire resistance, this one will be a great option.
The stack-on TD-40-GP-C-S safe has the same fire-resistant characteristics as the stack-on 40 Gun safe. Fire resistant rating is up to 75 minutes on 1400 degrees.
When it comes to water resistance, this safe has a synthetic rubber gasket combined with other sealants.
This safe provides you with great security featuring 3- number combination lock that is drill resistant. Additionally, it features a hardened steel plate that enhances its security.
It has a large capacity that can hold up to 40 guns. The safe features carpeted barrel rests which gives you flexibility when you are storing long guns.
Stack-On A-40-MB-E-S Armorguard 40-Gun Safe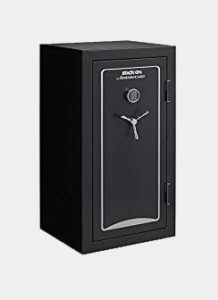 The Stack-on Armorguard 40-MB-E-S is a convertible fire resistance safe. This safe is different from the other two safes on fire resistance rating. This safe is only fire-resistant for 30 minutes on a 1400 degrees Fahrenheit.
In regard to other features, this safe has a lot of similarities with the other two safes. The safe also includes an all-steel handle with large 3-spoke in order to retract and rotate the live action locking bolts.
The Armorguard exterior has a stylish design consisting of a powder paint finish. It also has chrome accents to complement the stylish design of the safe.
In terms of the locking unit, the safe has a 2-way locking bolt which has 1.5 inches tapered live action bolts. To create 6 locking points the lock is furnished with 1-inch steel deadbolts.
Final Verdict
When it comes to acquiring the best gun safe, the stack on 36 guns safe has all the specifications, features and benefits you would love to find in a gun safe.
This is a great safe that gives you with high-end security and maximum protection of the contents of the safe.
The safe utilizes live action bolts and deadbolts and hard steel plates which are impenetrable. The safe also has great fire resistance and waterproofed for two hours when there is flooding.
This stack on 36 guns safe review highlights well-researched features and benefits that you will enjoy when using the safe.
That is why I will highly recommend this product to you. To add to this the safe meets all the requirements needed by the California Department of justice.
[wp-review id="4544″]