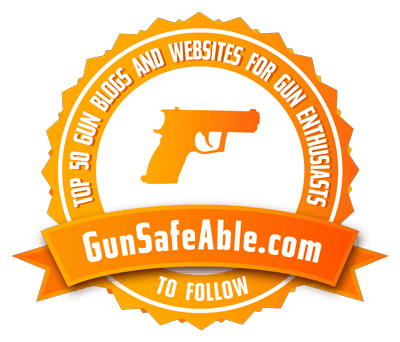 There are so many reasons why people own guns. You could be a professional shooter, hunter, law enforcement officer or just for home and family protection.
According to statistics, over 55 million Americans own guns. The demand for owning guns is still rising and this has resulted in more demand for firearm contents.
I found it necessary to provide you with a list of 50 top blogs and websites that all gun enthusiasts should follow.
All these top gun blogs and websites provide you with resourceful information about the best gun reviews, training, gun laws, gear, defense tips and much more. You will learn a lot from these top blogs.
Note: The blogs and websites featured here are arranged in no particular order. We're fans of all of them.
The Truth About Guns
Do you want to know facts about guns? Then you should follow The Truth About guns blog. They provide you with a wide range of gun reviews, gear reviews, guns for beginners and hunting guns. They also have high-quality videos that you can watch to know more about the type of gun you need for a particular purpose. They encourage new talents by accepting videos and gun reviews. All they need is the truth about guns and excellent writing skills. Visit this top-rated blog to clear your thought on what you would love to know about guns.

Guns and Ammo
Looking for a nice blog with interesting posts about guns and ammo? Guns and Ammo give you that and much more. This blog focuses on gun and ammo reviews, accessories and resourceful contents relating to guns. They also have interesting-to-watch videos about shooting and gun advice. You will also find important posts on how to clean and maintain your gun for a long-lasting use. Some of the posts are written by their staff while others by members. You can follow this blog to get varied information regarding guns and ammo.
The Fire Arm Blog
The Fire Arm Blog is a one-stop place for everything related to firearms. They provide resourceful contents about hunting, firearms, military, and defense among others. The main aim of this blog is to provide all types of news regarding firearms. If you want to get more information about your firearm manufacturer, self-defense pistols, AK carbines, hunting rifles, AR-15s, short guns and much more, this is the place to be. This blog has a worldwide audience because they are only dedicated to providing information about firearms and shooting and not particular country politics.

Ammo Land
Ammo Land is an interesting blog to follow if you are interested in shooting sport news and guns. They provide incredible information on shooting as well as other guides that help shooters. On top of that, you will find interesting posts on ammunition, conservation, firearms, gun rights, gun gear, competitive shooting and much more. The site has a simple user interface so you will not experience any trouble as you navigate.
Guns.com
Guns.com is majorly a news website that provides a wide range of topics related to guns. They also have extensive reviews of the best guns and gear that you can check, this blog also features a Gun Bazaar, a multimedia section where you can get some really nice posts. They allow their writers and contributors to give their perspective by accepting different stories that are believable and accurate. Follow this site to get news update in the gun world. You can also follow them on their social media platforms.
Personal Defense World
Even with the increasing demand for personal guns for protection, it is paramount if you know more details about the guns and other firearms. Personal Defense World is a blog dedicated to providing you with guns and gear perfect for home protection. They provide you with a variety of handguns, rifles, and shotguns that guarantee you with effective protection. They also provide you with news, gear, knives and self-defense tips and tactics. Visit this blog to get comprehensive guide about the best firearms available today and how to use them safely.
Guns America
Guns America is a top-rated website that provides guns reviews, gear reviews, and news. If you are looking for recommendations for handguns, rifles, and shotguns, this is a nice blog to follow. They also update you on current events and industry updates to keep you abreast with the current information. They have a group of remarkable authors who contribute to interesting topics that keep visitors glued to the site. Visit this blog for the best recommendations on guns and gear as well as other resourceful contents regarding guns.

USA Carry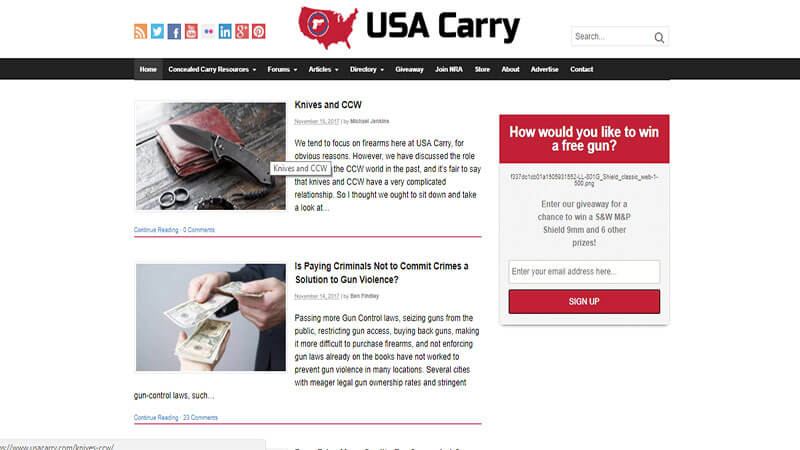 This blog was started in 20007 by Luke McCoy who is a devoted web developer. It is one of the top concealed carry resource communities. This includes concealed carry maps, concealed carry permit infor, permit reminder and firearm classes and events. You will find concealed carry news, training, posts and other articles related to firearms. It has over 50,000 active members who post every day. Users also get the opportunity to find more resources concerning gun stores, firearm instructors, gunsmith and gun ranges among others.
Gun Mag Warehouse
Are you a veteran shooter or simply a beginner looking for an incredible shopping experience? Gun Mag Warehouse is the place to be. This site was founded in 2012 with an aim of keeping all magazines in production, in-stock and those ready for shipping. They specialize in proving any veteran gun lover with any type of magazine produced. They make your work simpler and timely by providing shooters with all types of magazines for your shotgun, rifle or handgun. Their website is easy to navigate so you can be sure to find what you need in seconds.
Giffords Law Center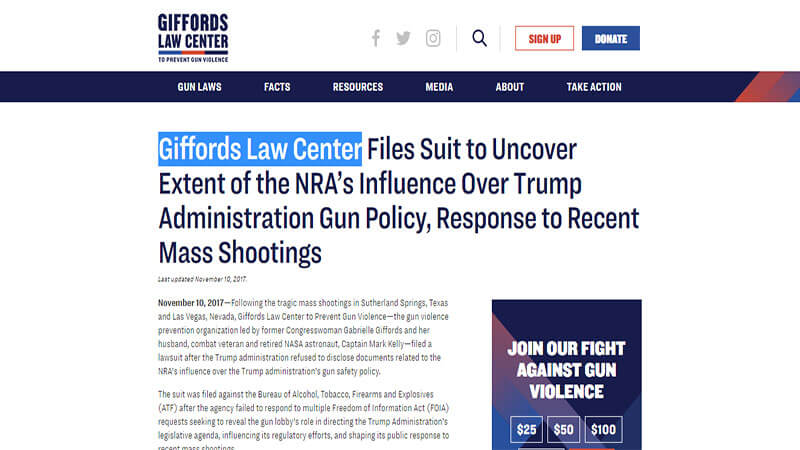 Owning a gun is not enough. You need to have more information regarding weapons for safe use. This is why you need to follow blogs like Giffords Law Center which a team of legal expert who research, write and defend the law, programs and policies. Their main aim is to save lives from gun violence. If you would love to know more about gun laws, facts and other resources relating to guns, this site gives you all those and much more. They also provide comprehensive summary of federal, state and local firearm laws and policies. You will also find first-hand information and analysis on study finding, statistics and polling to support strong gun regulation.
SilencerCo
Does your gun always have to be loud? If you care about the environment and the people around you, you need a silencer for your gun. SilencerCo is one-stop for any silencer that you need for your weapon. It doesn't matter if you have a pistol, rimfire, rifle or shotgun, you can get the best silencer here. On top of that, they also provide you with other important accessories. Apart from running their own blog, they also produce top-notch silencers on the market that are quieter, long lasting, lighter and shorter.
Gun Holsters and Gear
Looking for a perfect weapon can be tough. Gun Holsters and Gear is a website that ensures you get the best firearm that meets your needs. This website was started by Richard in 2007 who provides you with information that will help you pick the best gun and gear. They specialize in providing news and gun reviews as well other shooting gear like scopes, knives, ammo, tactical flashlight and much more. Additionally, they provide even news regarding gun announcements, producer moves and any other information that relates to shooters.
Rem870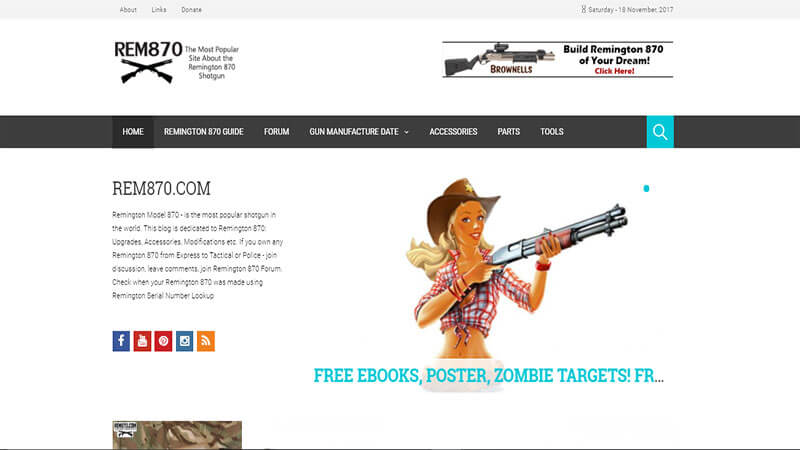 If you love shotguns, you must probably have heard or come across the Remington Model 870. This is one of the most recognized shotguns in the market. Vitaly, Range officer, Practical shooter and Firearm instructor started this blog to provide you with all information you need to know about Remington 870 shotgun in one place. This blog shares tips, advice, photos, and information regarding the Remington 870 short, accessories and available upgrades. Vitaly has also written several books about shotguns and firearms check details on this blog for more details.

Springfield Armory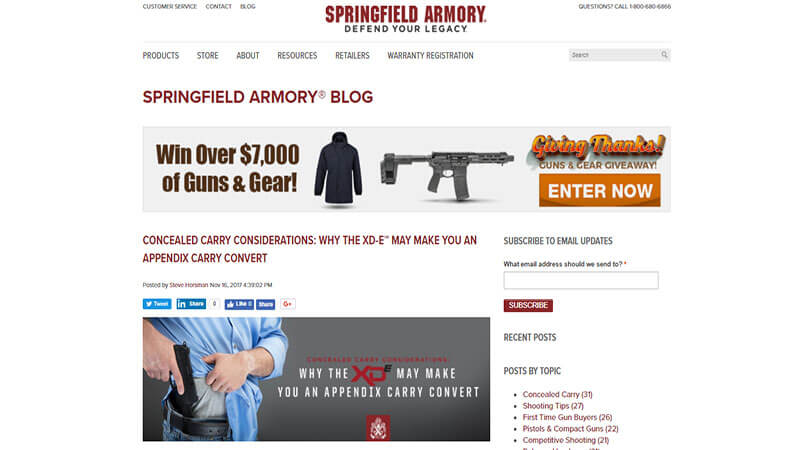 Springfield Armory is probably one of the oldest gun website today. This site was created in 1777 as ordered by George Washington as a way of storing revolutionary ammunition and gun carriages. By the year 1974, they started producing some designs like The Armory- M1 Garand, 1911-A1, and M14. With the advancement in manufacturing techniques, they have produced several firearm designs with improvements every year up to 2014. Visit their blog to find more details about the different designs available. They also provide you with important resources such as safety information, warranty, videos, manuals, catalogs and much more.
Eagle Gun Range
Are you interested in shooting and searching for a nice firearm training center? You have come to the right place because Eagle Gun Range has got you covered. This is a 24 lane state of the art facility located in Lewisville. They also have a firearm retail shop, training center, and firearm safety. They have the best shooting yards up to 25 yards that suit both ardent, beginner and occasional shooters. If you are interested in learning more information about firearm ownership and safety, join their firearm training center.
Everyday no Days off
I believe nobody wakes up day and starts using a gun without training. You must learn how to use the weapon effectively for you to be safe. This is why blogs like Everyday no Days off are created to provide you with information about gunfighting, gun yoga, training and much more. You will find some interesting videos and posts on this blog that will help you become a better shooter. To get more details and updates, you can follow them on their social media panels.

American Shooting Journal
If you own a gun, it is great if you also equip yourself with relevant information concerning shooting. American Shooting Journal is one of the best resources online that provide you with relevant information regarding shooting. On this website, you will get information about shooting with long guns, handguns, hunting, reloading, ammunition, black powder and much more. They also showcase rifle gallery, pistol gallery, buyer's guides, AR, parts gallery and product reviews. If you are an avid shooter, you will also love following their shot show and news about shooting.
Jerking The Trigger
Most of us remember to purchase the best weapons but hardly remember the importance of tactical gear. Jerking The Trigger is a blog created to provide you with the latest tactical gear reviews as well as trending news. They help you get the best tactical gear that will ensure your safety and survival in harsh environments. So, if you need the right gear for defense or face worst situations, they have got you covered. Their main objective is to connect you with innovative small businesses and craftsmen who make the best gear on the market.
The Gun Writer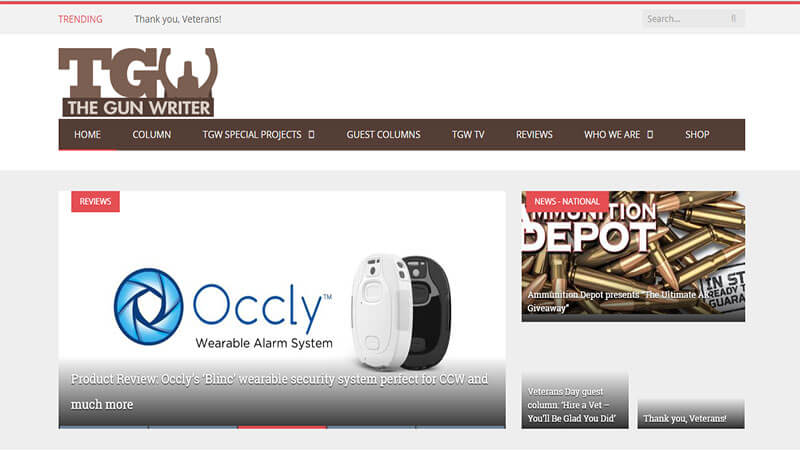 There are many sites and blogs online that provide information about guns and firearms. But are they all credible and dependable? Of course not! If you want to get reliable news and information regarding firearms, follow The Gun Writer. This is a trusted and ethical site that provides information relating to firearms such and other accessories, shooting sport, gun culture, training and other important information about legislation. They also provide honest product reviews to help buyers select the best firearm to meet their needs and wants.
The Firearms Guide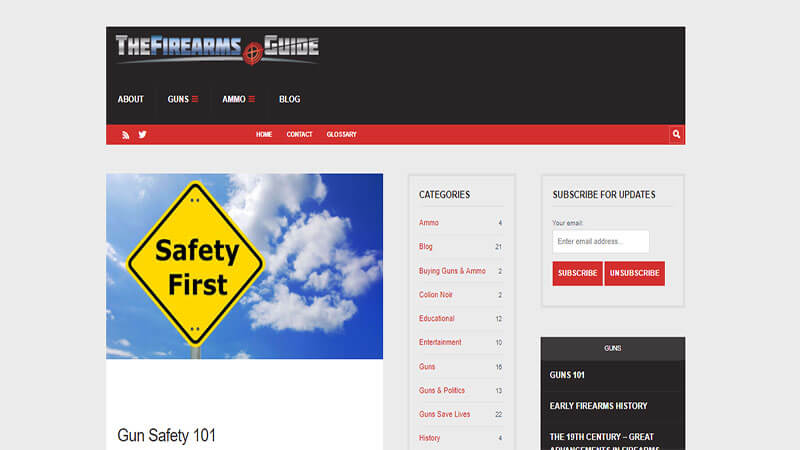 How much history of guns do you know? A little knowledge does no harm, right? The Firearms Guide is a website that gives you all the details you would love to know about gun and ammo. Follow them to know more about early firearm history and the advancements that have taken place. They also provide interesting posts about firing method evolution, bullet cartridge, and bullet sizes. They believe that if you understand about firearms, this will boost gun safety. Quite a number of people fear to have guns simply because they lack information about the same. This is the best website that will help you overcome firearm fears by giving you a deeper understanding of guns, ammo and how they work.
Guns Guns Guns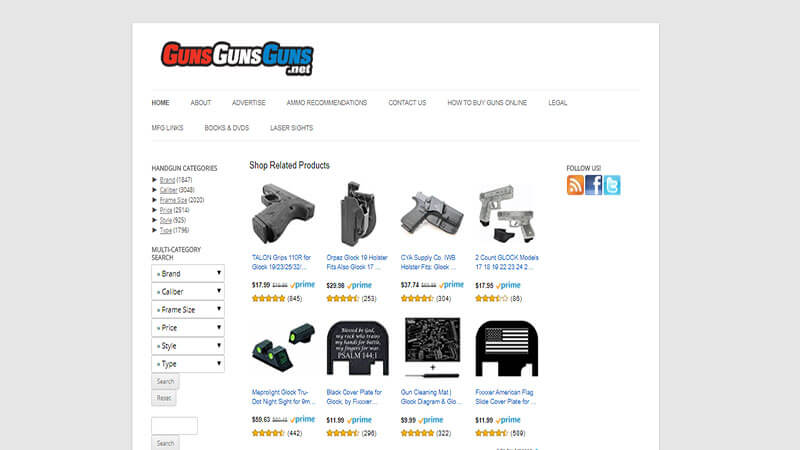 Why should you follow Guns Guns Guns? If you love guns, you have all the reasons to follow this website. They pride in proving you with independent gun reviews so that it will be a simpler task to choose the best. They do this by giving you gun descriptions, visitor's comments, and gun ratings. We all know that conducting a research before buying firearms is important. This is why you should visit this website for top gun recommendations, ammo recommendations and more resources on how to buy guns online.
ArmoryBlog
Follow ArmoryBlog to get gun news, reviews, and opinions. This is one of the best blogs that provide you with better deals and resources regarding guns and other accessories. If you would love to know more about rifles, handguns, shotguns, and ammo, this is the right place. On top of that, they update you on top news, humor, short shows as well as more details relating to sword and knife blades and gear. They cover a wide range of product reviews with an aim of providing you with honest information that will help you pick the right product you want.
Firearms Policy Coalition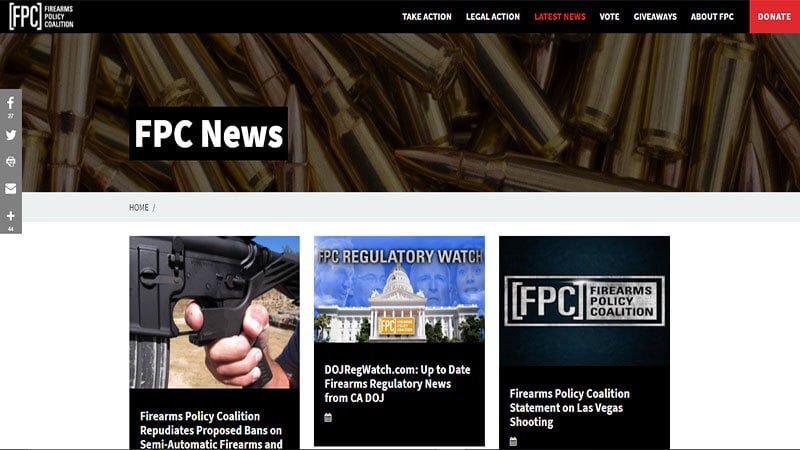 Would you love to get more information about the right to keep arms? Firearms Policy Coalition gives you such details and much more. This is a coalition of many patriots, non-partisan public benefit organization. The sole objective of this website is to defend the constitution and the rights of the people of the United States. This involves the fundamental and the right to have and bear arms. They protect, defend and advance the ways in which people in the US exercise the rights, limitations, acquisition, carry, use care, disposition, hunting and much more about arms. On top of that, they also promote shooting sports and unlawful use of firearms.

Guns and Tactics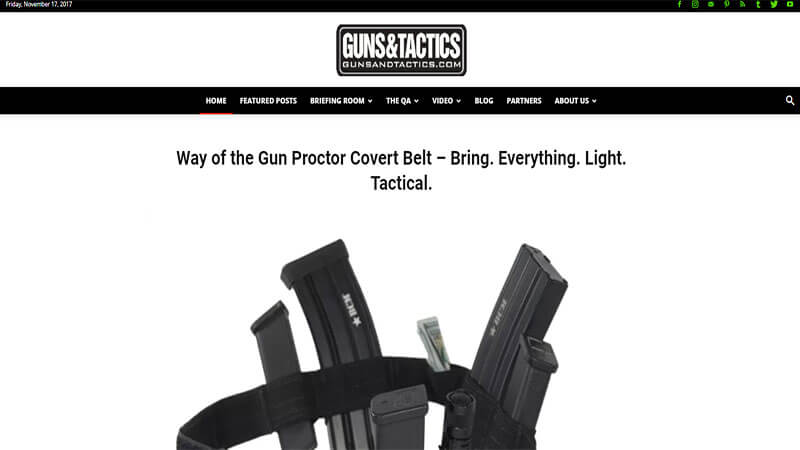 Getting everything that you need in one destination gives you some peace of mind as well as save your time.  This is why following websites such as Guns and Tactics is important if you want everything at one point. The site was founded in 2011 by Jae Gillentine who is passionate about firearms, photography, and anything dealing with tactical. This site gives you photos, interesting videos, and posts about everything you need to know about guns and tactics. They have different own and guest contributors with varying specialization who provide a wide range of helpful contents for the visitors.
John 1911
This website was created by Marky and Freeze primarily for the people of the United States and firearm community. They also provide a secondary reach worldwide. There are so many people who have experienced hate and persecution from Democratic Party cooperatives and social justice liars. In 2015, they made a major move to overcome this situation. This means that there will be no more censorship on the leading social media platforms like Facebook, Twitter, Google, YouTube and the rest. Their mission is to shoot and have fun, after all, what is the importance of having a shooting gun if you cannot enjoy it? They post interesting articles daily. If you love and support their program, you can also buy their t-shirts.
My Gun Culture
Everybody loves reliable information that adds value. When it comes to guns blogs and websites, you can entirely depend on My Gun Culture. This is a one destination place that provides you with news relating to business, crime, Shot show and much more. They also provide shooting tips, important gear recommendations, and guns. They also cover different types of product reviews ranging from ammunition, holster, guns, accessories and much more. You can be sure to get the best products that match your needs here.
Looser Rounds
Looser Rounds is also another blog that you can follow for more updates, reviews, and guides on guns and other accessories. If you want to get more details about that and much more, this is the place to be. They have a wide range of exciting posts that you can read about firearms and other related products. They also provide videos to enlighten you about guns and other facts relating to guns. Follow the blog for more details or through their social media platform.
Weapon Blog
It doesn't matter the reason for owning firearms. It could be for personal protection, hunting, target shooting and much more. As such, you need back information about the correct use of your weapon, gun control, and other important regulations. Weapon Blog covers all those and much more. They also have a section of product reviews where they cover only the best products that you can consider trying. Follow this blog to get all the information that you need regarding weapons.
Canadian Firearms Blog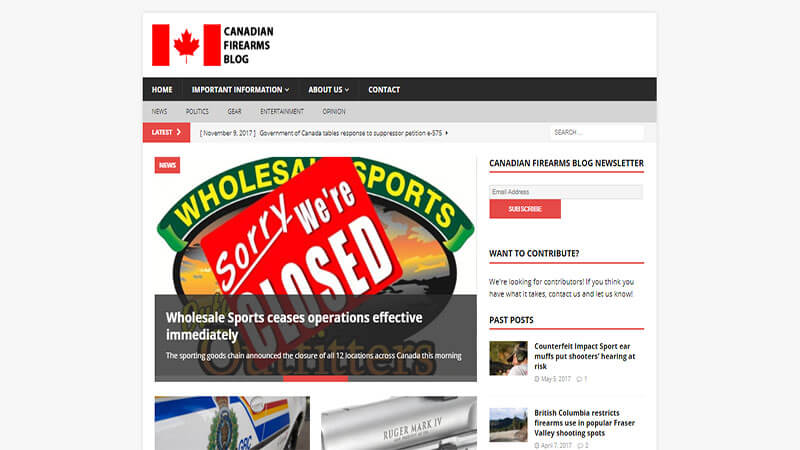 Just as the name suggests, this is a Canadian blog that offers truthful and non-partisan information for gun enthusiast in Canada. Any gun lover will love the posts on this site. In future, they are looking forward to providing more details reading to product reviews, and instructional videos and much more. It is also worth noting that the site does not substitute for rules, regulations, and laws that are passed by the Canadian government. Therefore, they are not liable for the information provided on the site. Always confirm the accuracy before reading on the site.
Women's Outdoor News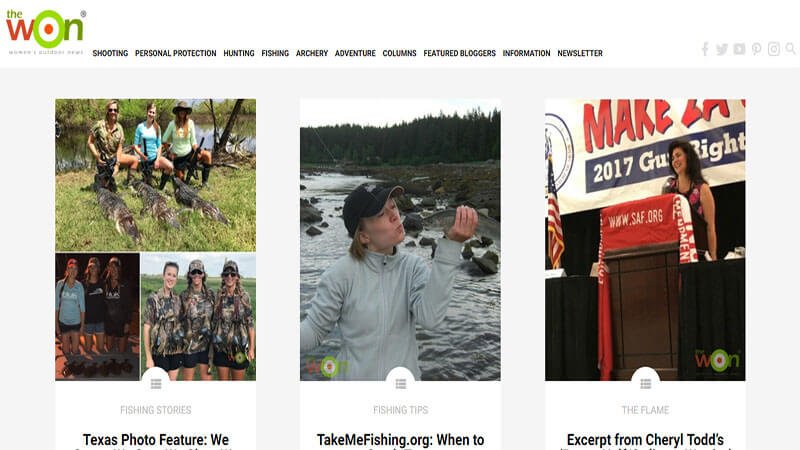 Are you an outdoor enthusiast woman? It can be a great idea if you follow the Women's Outdoor News to get all updates and other relevant information that will you make you the toughest woman out there. Whether you love hunting or simple want to learn more about firearms and keeping yourself safe, this site covers all that. You will also get more details about shoe fits, and the right wear for a woman when you are outdoors. For that and much more, follow this interesting outdoor blog.
Pagunblog – Shall Not Be Questioned
This is another incredible blog to follow that provides details about firearms, firearm public policy, and second amendment advocacy. This blog is run by Sebastian and Bitter who are passionate about firearms stems, shooting sports and self-defense. Their aim is to enlighten visitors with relevant information regarding the gun culture. They also accept other views from firearm lovers and well as those who do not support firearms. You can follow the blog to learn more about guns and any other questions you might have regarding the same.
Misfires and Light Strikes
This is one of the most interesting and informative gun blogs available at the click of a button. 'Misfires and light strike' is the idea behind Kevin Creighton; a gun ardent cum writer on a lot of realities today surrounding gun ownership. His immense accolade is famously read on Bearing Arms, the captivating Shooting Illustrated, Downrange.tv, Tactical Gear.com, Ammoland.com, and Ricochet.com among many other contributions and publications. Besides, the site has a lot in store for you with regular updates including helping the gun apprentice do more with guns, shooting and defense tactics, gun training and a bunch of other info.
The Gun Blog
Initially created in January 2015 as a blog targeting Canadian gun users, this is a remarkable site that has outlived its boundaries with a lot of enlightening articles on the respectful, responsible and skilled use of firearms. It anchors of facts, latest news and a bunch of juicy analysis surrounding firearms. Opinions and inquiries are highly welcome. Enjoy all you ever wanted to know on gun collection, competitions, relaxation, photographic content, gun training, defense, war, fun, hobbies, support for gun rights and freedom, policy, politics, plus a lot more. This is the ideal balanced and thoughtful approach to issues, thanks to the input of Nicolas Johnson; an NRA certified instructor and certified range-safety officer.
Gun Culture 2.0
Seeing through the lens of Michael Bane, David Yamane brings forward extensive research and personal experience in hunting, military, law enforcement, encouraging newbie shooters under concealed carry/defense and the shooting sport. Additionally, the blog takes you through the questions surrounding the existence or nonexistence of gun culture in the US and all related issues. Inspired by Baruch Spinoza, Gun culture 2.0 is your epic experience through hard-to-resist write-ups including 'Gun Owners are People, Too: Talking Gun Culture 2.0 on the Gun Blog Variety Cast', the charming Wilderness Tactical Products: "Overkill Never Fails", the hankering for this blog is unlimited and striking.
Epic Tactical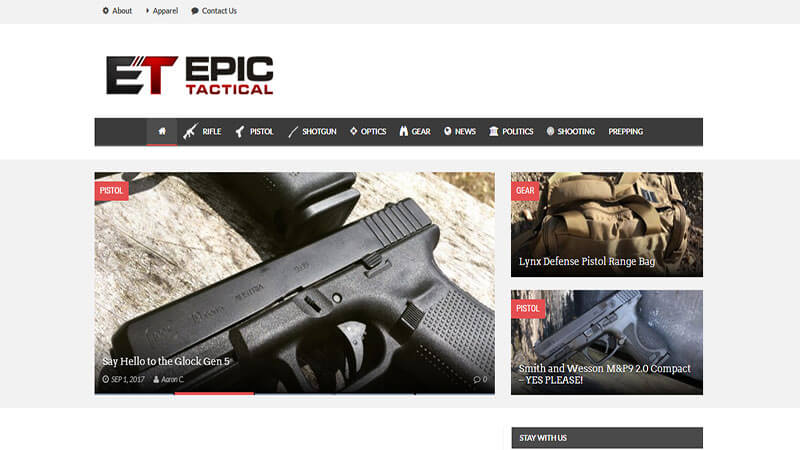 Since inception in 2009 courtesy of Michael, Epic tactical has boasted tactility to the gun fervent alone but also invaluable, clean and organized reviews for all interested in firearms. An associate of many acclaimed writers community, he engages a dedicated staff to provide you all you ever want to know about gun reviews, gun accessorizing, shooting ranges, supported by remarkable YouTube training posts. If you ever want to know what gun is just right for your specific needs, the Epic tactical is your ultimate blog to catch up with.
Concealed Carry – U.S. Precision Defense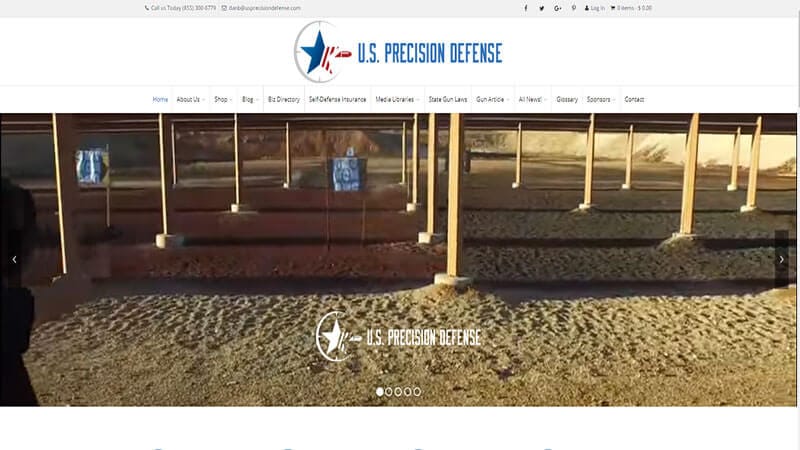 Concealed carry is a wide range of staff expertise and writers with either or both extensive law enforcement or military experience. The Concealed carry blog is a premier resource for all information relating to self-defense laws, firearm instructions and education.  You stand also to learn a lot about the Second Amendment protection and rights, all the details you need about firearms training, gun safety, handguns, automatic pistols. In addition, you will get to know types of shooting, self-defense accessories, state gun laws, a well-documented business directory, self-defense legal protection, a comprehensive content on self-defense insurance plan plus a lot more.
Gun Owners of California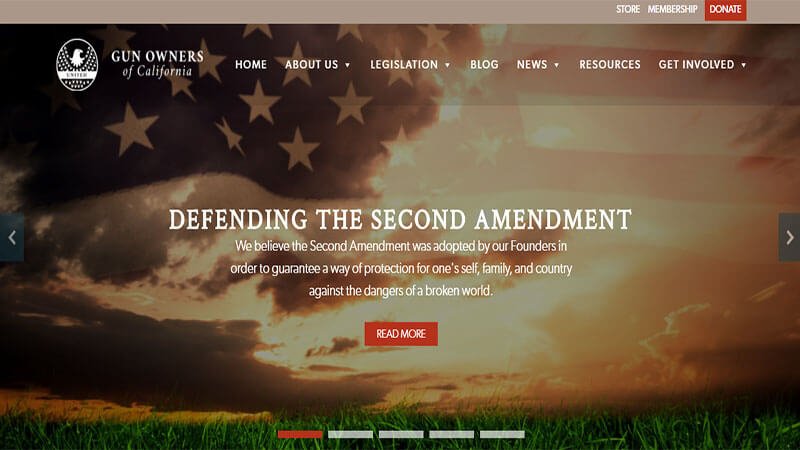 Senator H.L Richardson (Ret) is the founder of the Gun Owners of California and Gun Owners of America. Popularly known as a defender of freedom, the 22-year old year veteran of the California state senate is the provocative champion of the second amendment that has helped recognize and cherish; America's extraordinary heritage of firearm ownership. The blog crows an array on the popular; gun owners blog' section addictive-to-read blogs like , AB 7 – Another Long Gun Prohibition and Camel's Nose Under the Tent, Why Be Armed and Informed?,  That's Right: We Need More Men with Guns – Not Less among so many other posts you will be glued to once you visit the site.
V D M S R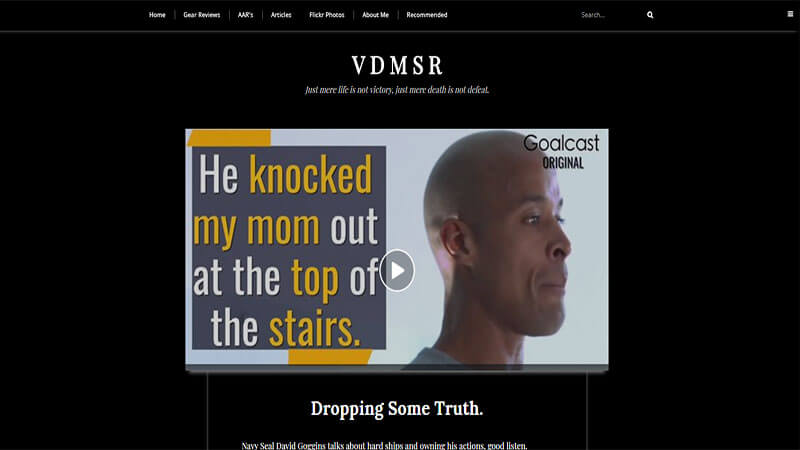 As a part-time photo-mercenary, a full-time LEO, T&E, marketer, and stuff specialist, VDM has tremendous input to this blog touching real-life stories on gun use, in-depth industry reviews, and so many other articles. Having visited many forums like Pistol-Forum.com WeaponEvolution.com, M4carbine.net, AR15.com, the VDMSR blog provides gun training, carrying gun and safety and a lot more. You are likely to be treated to mind-blowing articles like Oregon Umpqua Community College Shooting, "Tactical De-escalation" at work, Cognitive Dissonance at work, Gun Crazy; Action is faster than reaction, The Carry Reload, Run. Hide. Tell. Die. Plus who is Responsible for Your Safety, and much more. Once you visit the site it incites your thought with the words 'Just mere life is not victory, just mere death is not defeat'. This is your blog choice for unstoppable reading.
Arms Vault
Arms Vault is known today among gun aficionados as a blog that not only provides a collection of information regarding gun ownership but also latest developing gun news, including gun reviews. Bolstering efforts to protect the Second Amendment, the site is notably renowned for thrilling write-ups like the Bushnell Elite Tactical XRS II Riflescope for Extreme Long Range Precision, Creedmoor Sports Adds New Reloading Accessories, ATN Thermal Riflescope on Guns & Gear; the list is full of an endless captivating enlightenment surrounding guns. Impressively, you can enjoy shopping for your favorite guns on remarkable discounts.
Say Uncle
What exactly enthusiasts you as a gun owner is well briefly packed on this blog. The moment you visit the site, you could be tempted to think it doesn't hold much until you access the links with an array of information from gun gear reviews, gun nuts media, training on pistols, an illustration of shooting, and a lot from the gun industry. The firearm blog awaits you with some in-depth look complemented by enchanting articles on gun rights issues, politics around guns, and the fight against gun ownership plus right-wing conspiracy theories on gun rights.
Dan's Gun Blog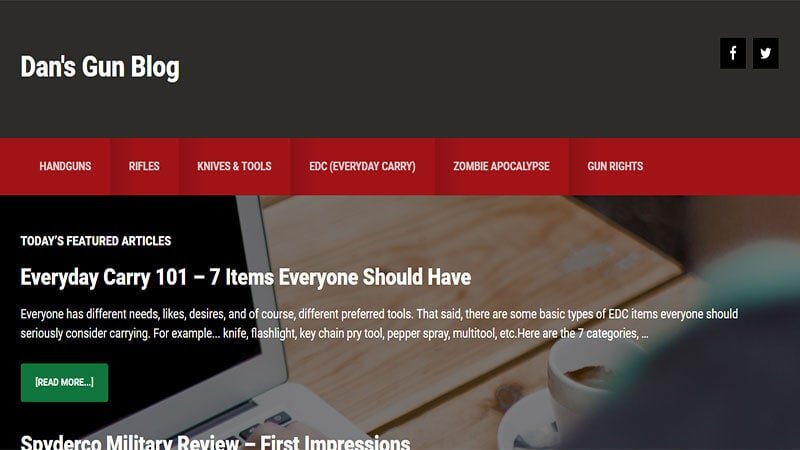 Founded by Dan, Dan's gun blog brings to you a lot of information about cool gun gear, guns, tools, and guide to quality products.  You are sure to enjoy helpful and entertaining tips to distinctive gear, plus reviews from readers of the blog. This is your site of choice if you want to learn about knives, self-defense, Every Day Carry (EDC) with the most thrilling survival and the much about the popular Zombie apocalypse.  Apart from that, understand how to exercise your civil rights, fundamental rights and outright responsibility of any woman and man, appropriate defense of yourself and those around you. This is the hub of the much you can get time to read.
Black Man With A Gun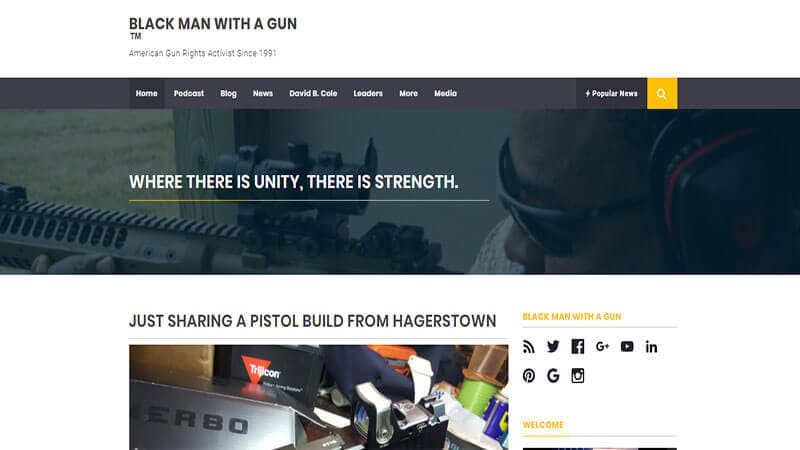 Having taught security and qualifying civilians and law enforcement officers for armed tasks, Reverend Kenn Blanchard is a USMC veteran, the founder of the 'Black Man with a Gun' blog since 1986. In 1991 he helped create the national shooting club for African Americans, popularly known as the 'Tenth Cavalry Gun Club'. His inspiration for this blog is outstandingly endless. Get to know more about the many issues, thanks to numerous and famous site articles like 'Just Sharing a Pistol Build from Hagerstown', Just Sharing a Pistol Build from Hagerstown; this is just a taste of the pie waiting for you.
Nc Gun Blog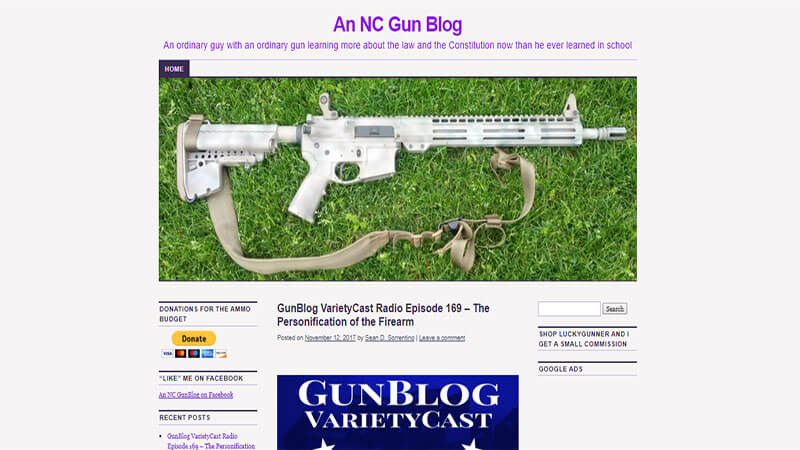 I have to admit; this is that site you visit, the design is marvelous and information clearly displayed on all tabs you ever wanted to know about guns, courtesy of Sean's motivation from his adventurous life while in the US Navy. I love his thought-provoking blog write-ups and blogrolls like 'How to cause anarchy by telling people what the law actually says', newbie shooter, of arms and the law and the Independence Day bike riding. The world of guns has a lot to say and this blog takes up to the challenge to almost deliver on a wide-range of issues. An NC Gun Blog is about; an ordinary guy with an ordinary gun learning more about the law and the Constitution now than he ever learned in school.
Ammo Subscription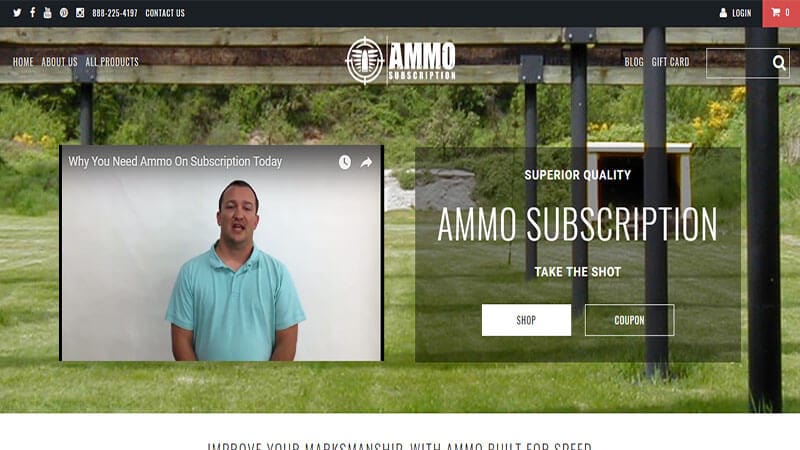 Would you love a nice ammo subscription? Finding the best ammo subscription can be tough. This is why Ammo Subscription was created. This blog started in 2017 and provides all types of ammo that many gun enthusiasts love. Their objective is to spread ammunition love all over the globe. Apart from ammo subscription, they are planning to launch more calibers in future. For all your ammo subscription needs, follow this blog for more details and updates.
Firearms UK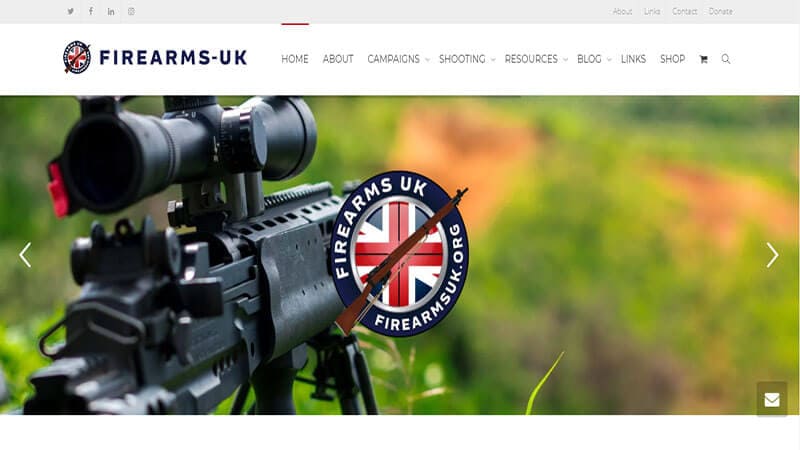 This is a website in the UK majorly focusing on protection of firearm ownership and shooting sports in the UK. The main aim of the blog is to bring unity to the shooting community in the UK as well as promote positive actions by the organizations and the members. They act as a unified voice for the UK shooting on social media. This is to eliminate the misinformation among the media and the public. They introduce shooting enthusiasts to shooting and encourage them to be active.
ALS Firearms Blog
If you love firearms, you need to follow the ALS Firearms Blog. On this blog, you will learn more about golden guns, pistols, revolvers, rifles, shotguns, tactical firearms and much more. On top of that, if you are interested in learning military information, you will get it here. They also provide a wide range of photos, videos, press releases and firearm information such as US firearm shipping, firearm history, and firearm safety warning just to mention a few. All the information provided here will be of significance to any firearm owner.
Christopher Burg
If you love following some interesting to read blogs, this one should be on top of your list. This is a blog by Christopher Burg, a geek with guns who is a resident of Minnesotan. Christopher loves computers, reading, watching and science fiction. He is also passionate about guns and talks about gun rights in his posts. When you go through the posts on this blog, you will note that most of the information deal with gun rights. Not only does his blog cover Minnesota gun rights but also nationally. There are so many story categories that you can follow on this blog ranging from gun rights, guns and gear, humor, illegal guns, politics, events and so much more. You can visit this blog to find more.
The War on Guns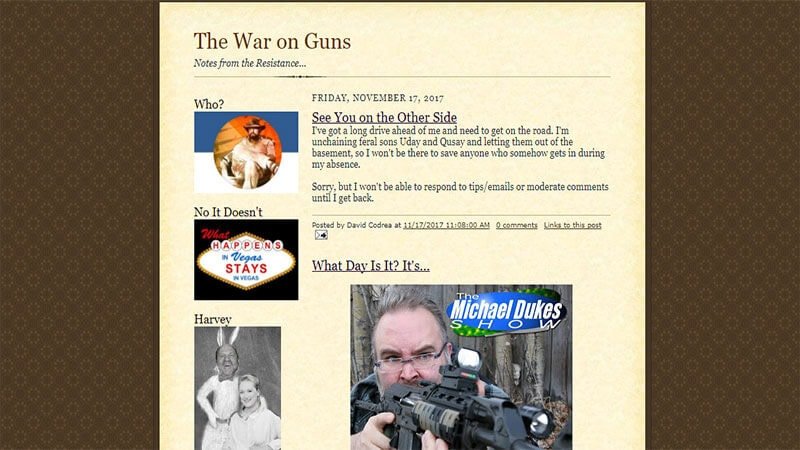 Would you love to follow the latest news, events and any other information relevant to guns? Then you should think of following The War on Guns. This blog has been there for quite a number of years providing visitors with resourceful information regarding guns. There are many interesting posts that you can follow on this blog that will give you a deeper understanding of guns and other related items.
Armed Candy
This is a gun blog for everyone. The blog was started by Gabby Marcus who wanted to get more answers about firearms. After doing research, she found out that the existing resources lacked information relevant to female shooters. This blog provides information about guns that everyday girl would love to know. You will find product reviews, how to contents, press and events and much more. They are also considering opening a shop to provide products that are relevant to the ArmedCandy community.
Gun Pro Plus
Last but not certainly the least, we have the Gun Pro Plus. This is one of the top-rated America's premier daily digital news portal. On this platform, you will find factual information published by a wide range of groups such as professional firearm journalists for both guns and accessories, wholesalers, retailers, hunters, competitive shooters, law and military personnel and much more. This gives you diverse information from different sources relating to guns and other accessories. Follow this blog to get the latest gun information and much more.
Final Words
With the rising demand for gun ownership, there are so many blogs out there such that you can find it tough to know which provides you with reliable information. This is why I researched and presented you with these amazing blogs and websites that are interesting to read.
The above are top blogs and websites that you need to follow if you want to get diverse information concerning guns and firearms. Every blog is unique and provides different topics scopes. You can choose your favorite blogs to follow that you will find relevant.