I own a couple of guns and had been looking for a secure way to store them safely away from my children and guests. My search was long and tasking because of the wide range of gun safes in the market.
After researching, I found a 24 gun safe and I loved the features of this safe. This is why I made the stack on 24 guns safe review to give you more details about the safe and why you need it to secure your weapons and other valuables.
The Stack-On FS-24-MG-C 24-Gun Fire Resistant Safe with Combination Lock gun cabinet will be sure to keep all your guns secure and in good condition. Read more to get a full review of this gun safe.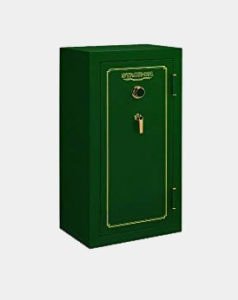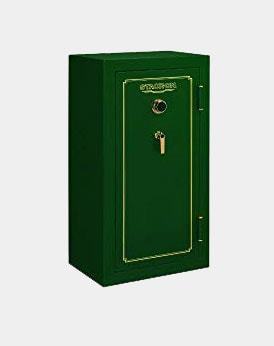 Last update on 2023-09-07 / Affiliate links (#ad) / Images from Amazon Product Advertising API
Product Specifications
Item weight: 414.7 pounds
Interior dimensions: 26.89″ W, 14.47″ D, 52.72″ H
Exterior dimensions: 29-1/4″W (74.3cm), 20″ D(51.6 cm) 55″ H (140cm)
Model number: FS- 24 -MG – C
Part number: STKFS -24-MG-C
Capacity: 24 Guns
Color: Hunter Green
Power Source: No power source
Batteries: It requires no batteries
Features of Stack on 24 Gun Safe
There is a wide range of features that make many gun owners to appreciate the safe. Check out some of the key things that make it outstanding.
The Combination Lock
The dial combination lock is very reliable.  If you don't hit a number exactly as you should, you have to start all over again. This gun cabinet comes with a 3 dial combination lock system that is sure to keep unauthorized intruders from your safe.
It is also quick to open but only to the user. After a little practice, it becomes almost as easy as opening your high school locker.
To further enhance its security, the combination lock comes with an anti-drill steel plate that will make it very difficult, slow and loud for an intruder to drill through the gun safe.
Unlike its counterpart, the electronic digital lock, it's much easier to maintain since it requires no batteries which need to be replaced and it will not fail you as an electronic lock would once the battery dies.
Security Mechanisms
The additional security mechanisms reinforce the combination lock system to ensure the security of the contents of your gun cabinet. These features include:
The fire retardant material that is lining the steel doors will keep the contents of the gun cabinet such as documents safe in case of a fire. The safe has been verified to be fire resistant for 30 minutes up to 1400° by ETL.
It has 2-way live action locking bolts and five locking points that will prevent unauthorized entry into your gun cabinet.
Remember the purpose of a gun safe is to delay the intruder. These features help to do that. The cabinet is easily bolted to the floor which makes it hard to move. The 414 pounds of the safe also make it difficult to move.
Adequate Storage Space
With the 4 adjustable shelves and the interior dimensions of the gun cabinet, the Stack-On gives enough space to store various firearms, their accessories and ammunition. You can also store documents and other important items except for electronic devices.
The trick to fully utilizing this space is creativity. Placement of the adjustable shelves can be varied to suit your needs. Also, the placement of the barrel rests will help you to organize your guns better.
It also organizes your firearms in a safer way. It will be easier for you to remove a firearm whenever you like and a rifle won't be tipping out of your gun cabinet when you open the gun safe door.
Ideal Interior
The interior is well prepared to make sure that your items stay in the best condition.
The carpeted interior ensures that your documents and cash do not become crumpled or creased. It also ensures that your guns do not get any scratches on them.
The molded barrel rests provide a designated place to put your rifles. For scoped guns this is very important, you want to make sure that the scope never gets bumped during storage or it will lose it's zero.
The divider in the middle of the safe is useful in separating your guns from your documents and your cash.
Ease Of Installation
The dimensions of the gun cabinet make it a stand-alone gun cabinet but it can easily pass through doors. It's important to measure the door of the room you want to place it in.
It can easily be moved by two people at most. My dad and I simply needed to place a thick towel underneath it and slide it into position. It didn't damage my wooden floors.
The hunter green painted exterior of the gun cabinet accentuated the décor of my house.
Additional Standard Features
The permanent divider in the middle of the gun cabinet
The gray upholstery
The 2-way live action locking bolts and the 5 locking points
The anchoring bolts
Pros
The 3 dial combination lock system is very reliable. Much more foolproof than electronic systems
The combination lock system is easier and cheaper to maintain
The cabinet offers a capacity of up to 24 guns
Interior can easily be set up to suit your needs with the four adjustable shelves
The fully carpeted interior will ensure that the contents remain in good condition
Cons
The numbers on the dial combination lock are small so this may be difficult for the elderly or people with eyesight problems
To change the combination of a dial combination lock although rare, is very costly. You need to call a technician to have it changed
The hunter green exterior may not blend in with your décor
Highlighted Features
The dial combination lock system that is highly reliable and easy to maintain.
It has a storage capacity of up to 24 guns.
It has four adjustable shelves that make it easy to change the interior setup to suit your needs
The fully carpeted interior ensures that the guns and any other content remain in good condition
The patented modeled barrel rests ensure that scoped guns are kept in good condition that won't bump the scopes
It is fire resistance material will keep the contents of the gun cabinet safe in case of a fire.
Frequently Asked Questions
Q: What is the gauge of the steel used to manufacture Stack-On gun cabinets?

A: 11 gauge steel as confirmed by a phone call from the Stack-On offices. The lower the gauge the better. This gauge is lower than other gun cabinets in the market. Although high-end safes such as those found in banks have a much higher steel gauge, this gauge will definitely slow down intruders and at a fair cost.
Q: What are an RSC and a gun safe and which one is safer?

A: Residential Security Containers or Cabinets (RSCs) are listed as such by UL(Underwriter's Laboratory). They have a steel gauge of between 10 and 12. This is thin. They are guaranteed to resist breaking in for only five minutes. In some states, it is a requirement to have an RSC if not a gun safe to keep your firearms. And they are cost friendly. They keep children and guests away to avoid any accidents.

Gun safes, on the other hand, are made of much more heavier materials and would require the use of high power tools to break in. They are much more costly even if they are safer.
Final Verdict
I hope this stack on 24 guns safe review has helped to solidify your decision if you were looking into buying one. I highly recommend this product to anyone who reads this review.  It will keep your firearms secure and in good condition. It's cost-friendly and most of all, it will protect your children and your guests by keeping them safely away from your guns.
As uncomfortable as you might be with some features of this gun cabinet, I assure you that your family and firearms will be much safer with it at home as without one at all.
Don't prolong the process, go ahead and purchase one. If you find the other alternatives suit your needs better, go ahead and buy them.
[wp-review id="4564″]