Owning a gun can come with a lot of controversies when it lands in the wrong hands. You may find yourself faced with a lot of fines and sometimes jail term. It is advisable to consider having a gun safe if you have weapons in your house.
If you're thinking of getting a safe to keep your guns or other valuables secure, read the BIGHORN 19ECB Gun Safe review below. This safe is large enough to accommodate many long guns and other valuables you would love to protect.
As compared to other competitors, the safe has a thicker steel and extra fire lining to provide more security.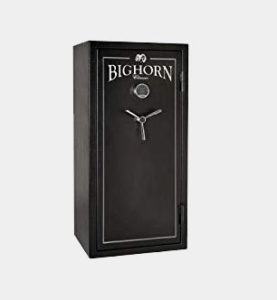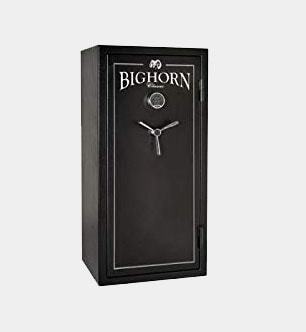 Highlighted Features
Designed with very thick 12 gauge steel material
Spacious interior that can hold up to 21 guns
Endures heat of up to 1200oF for 30 minutes making it fireproof
Stainless Steel finish with Chrome accents for durability
Electronic lock security system using either numbers or words to eliminate guesswork
Overall thickness of 4.75′ with 8 bolts that lock the door at 8 different positions for added protection
The door opens at 180o and can be easily removed for easy transportation
Features of BIGHORN 19ECB Gun Safe
The safe has several impressive features that any gun owner will appreciate. Being from a reputable company with over 15 years in the business, you can expect the best features from this safe.
The following are the aspects that set the safe aside from other competitors.
 Designed with thick Steel material
A lot of safes have Steel doors. These same safes with the correct expertise can be accessed by intruders. The BIGHORN safe, on the other hand, features thick Steel material which is guaranteed to offer exceptional security.
With up to 2.78mm 12 gauge thick steel, there's no way someone who's unauthorized will gain entry into your safe.
It's a well-known fact that steel can't be easily drilled, dented, cut and is very tedious for transportation. So wherever you'll be, you'll be at peace knowing that the safe is keeping your valuables safe.
Spacious Interior
Whether you have a lot of valuables or not, space is an important thing. You wouldn't want the guns to 'touch' each other or your important documents to get creased and torn.
This rock solid BIGHORN gun safe has 19 cubic feet of interior space. This is an equivalent to holding up to 24 long guns without having them run out of space.
That's not all. With up to 3 shelves, you can store anything valuable in it. So whether you have expensive jewelry, loads of cash, ammo, important documents or limited edition items, this safe will keep them all safe.
Completely fireproof
Fire can destroy guns and ammo in an instant. For this reason, you need a safe that will keep your guns safe from fire.
BIGHORN gun safe was designed with the highest quality fireproof features and materials. Once the door of the safe senses fire, the seals expand and keep smoke and heat away from your guns.
Because of the well-built heavy duty 12 gauge steel exterior, this safe can endure the heat of up to 1200oF for 30minutes.
It normally takes less time for the fire department to respond to fire calls so your valuables will be safe.
Stainless Steel finish
The BIGHORN gun safe is one of those very few gun safe with Stainless Steel finish. Above the 12 gauges heavy duty steel that has been used to construct it, it's coated with black Stainless Steel that makes it attractive and durable.
It also has Chrome ascent finish that also adds some beauty. These two make the safe look really elegant and at the same time offer exceptional durability. So, even with fire or water the safe won't rust, get burned or tarnish.
Electronic lock system
Say goodbye to walking around with safe keys. Not only can they get lost, someone else who's unauthorized may gain access to your valuables.
This BIGHORN gun safe has incorporated the use of an electronic lock. Electronic locks are one of the safest methods for keeping things secure. It's not easy guessing the code.
The biggest advantage of this gun safe is that you can input a complicated code. The keypad it comes with has both letters and numbers. You can use them to come up with a passcode no one will ever guess.
Additional Features
The door has an overall thickness of 4.75′
The door has 8 door bolts to lock the door at 8different points
It can open at an angle of 180o for an easy time storing valuables
The door is removable for easy transportation
The safe has been tested and been listed with UL
Pre-drilled holes at the back can be used to run wires into it.
Pros
It has been constructed with 12gauge heavy-duty steel to offer maximum protection for all your valuables
With the spacious interior, you can keep your guns, ammo, cash, jewelry or other important valuables
The seams in the door don't allow heat or smoke into the safe. It can, therefore, endure fire of up to 1200oF for 30minutes
It has Stainless Steel finish with Chrome accents that makes it durable and elegant
With its top-notch electronic lock system, it's impossible to guess the passcode
The door can be easily removed in cases when you need to move the safe
Easy to mount
Cons
Once you forget the combinations you entered for the safe, you won't be able to access it. It doesn't come with backup keys so you'll need a specialist to open it.
It weighs 435 pounds. This makes it bulky to move or transport
Frequently Asked Questions
Q: How wide is the actual door not the entire safe? Can it fit in a standard closet?

A: This safe is long and very big compared to the usual gun safes in the market. It can fit in a very roomy closet. This is because the door opens up to 180o. The actual width of the safe with the door open is 43inches
Q: Does this safe come with a key?

A: No it doesn't. That's the whole point of the excellent security of this safe. No one else can access it unless they know the combination
What are other alternatives?
Winchester Ranger Deluxe 19 Gun Safe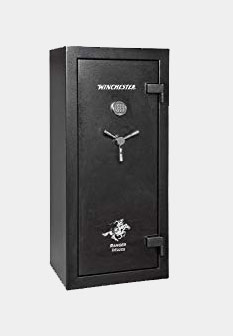 It's constructed from 12gauge solid steel with 10 (1.25′) locking bolts that lock 10 different points. This makes it very secure.
The external door hinge allows for full fireboard protection with a 180 degree door swing. It also has three layers of fireboard in the door and two layers of fireboard in the body with a fire rating for 1hour at 1400oF.
It can hold up 24 guns, has a door panel organizer and has up to 19 cubic feet of interior storage space. It uses an electronic lock with a four-way locking bolt system for access and security.
Steelwater Standard Duty 16 Long Gun Fire Protection Safe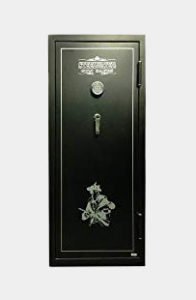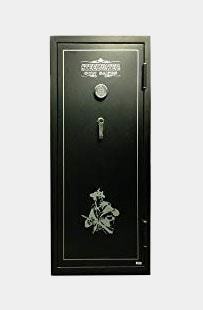 Last update on 2023-09-09 / Affiliate links (#ad) / Images from Amazon Product Advertising API
This safe uses the EMP Proof Electronic Lock System with a high-security double bitted bypass key. With it, you'll never be locked out of your safe.
With up to 45 minute at 1550o F fire rating, this safe is completely fireproof. It has a carrying capacity of a maximum of 16 long guns with a capacity of 8-10 long guns.
It's constructed using a 4 ¾ inch thick door-drill/ballistic resistant hard plate. This makes it hard to cut through or open. Its 305lbs weight capacity makes it impossible to carry or move around.
Final Verdict
If you're in the market for a gun safe or still doing your research, I hope the BIGHORN 19ECB Gun Safe Review has given you some insights, and you will consider purchasing.
The price may be steep but with all those features, you'll not regret buying this safe. The fact that the safe is both theft and fire-resistant makes it perfect for keeping all of your valuables secure.
However, if you feel that it's not good enough, the two alternatives listed work as well if not better than the BIGHORN 19ECB gun safe.
[wp-review id="4422″]