Car gun safes are meant to guarantee the safety of your gun whenever you leave it in the car. Although it is not recommended that you leave your handgun in your car, situations arise that require one to leave the handgun in the car.
Over the years, car gun safes have evolved to increase the security they offer to the car owner and their guns. One of the main considerations in making a car gun safe is the location of the safe.
A car gun safe is meant to repel the efforts of a wannabe thief who breaks into your vehicle for a considerably long time until either they lose interest and leave or you or someone else catches them in the act. No gun safe is completely foolproof thus its location also plays a huge role in protecting its contents.

The console of a car has become a popular point for installing car safes. Due to the various functions that are installed there, it is unlikely that one will think that there is also a safe lurking in there.
The following are two of the most popular car safes that are currently used: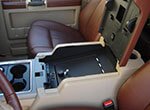 The vault is a high-quality combination safe that is installed in the console of the vehicle. It is rigidly made from cold steel and is very difficult to break into. The safe has a three-point locking system for maximum security.
The safe is made to mimic a bank vault both in design and construction. It has a rigid body made of 12-gauge rolled steel for maximum strength. It also has handles similar to those found on a real bank safe.
Although the location where it is supposed to be installed is rather complicated, the safe is very easy to install. It comes with a series of bolts and nuts that are easily used to bolt down the safe into position.
From the description, it's clear that the safe is stationery safe and cannot be removed from position easily.

Despite its relatively small size, the safe can easily handle a firearm.
Features of the console vault
12 gauge rolled steel body
Equipped with a three-point locking mechanism
Secured into position using factory bolts and nuts
Advantages
Device is easy to use and install
The device comes with auxiliary parts, e.g., bolts for securing it into position
The location of the device makes it easy to conceal but easy to access if urgent need of the gun arises
Rigid body that is very hard to break into
3 point locking mechanism makes it almost foolproof.
Disadvantages
Although the device is fairly secure, some console vaults unlock easily if handled by an experienced thief.
Verdict
The console vault is a product that is designed with security in mind. It is designed with most of the attributes that would make it stand a burglary attempt long enough for it to be noticed and the situation rescued.
Additionally, the location of the safe makes it easily concealable and also makes it easy to retrieve the gun if the need arises. Therefore it is a worthy device to invest in.
Locker Down
Like the console safe described above, the Locker Down is a car gun safe that is used to store your gun in your car when you leave it. It also has all the main security features that one would desire in a reputable gun safe.
What makes this safe different from the console safe is its versatility when it comes to installation. Not only can it be installed in the console of a car, but it can also be bolted down in the rear of any vehicle, the trunk of most vehicles and also under most vehicles.
The safe is manufactured from cold steel which gives it enough strength to fend off many buglers.
It is also equipped with a four-digit combination lock for extra security of the safe.
Features
Four-digit combination lock
Cold steel body
7 sided key cam locks
Abloy high-security locking mechanism
Advantages
The versatility of installation points; can be installed in many parts of a vehicle
The safe comes with a set of auxiliary parts including mounting structures
The safe is easy to install
The safes are very versatile and can be used in many types of vehicles
Disadvantages
The safe can be rather expensive to some people.